Finding an engagement ring is mind-boggling. You have got plenty of options to choose from. But what about finding a wedding band that goes along with it? Feels like a 10x complex task? Let's dig deep into how to match engagement rings and wedding band sets.
Engagement rings and wedding bands symbolise a couple's commitment and mutual love. Not only this, your engagement and wedding band sets also hold deep sentimental values. As a symbol of promise to one another, both these ring styles should harmoniously sit together. Wondering, how?
Let Fabulously take over! Use the guide below to help ensure that you find your perfect engagement and wedding band sets.
But before we learn to find the perfect combination, let us first understand their differences.
Difference Between Engagement Ring and Wedding Band Sets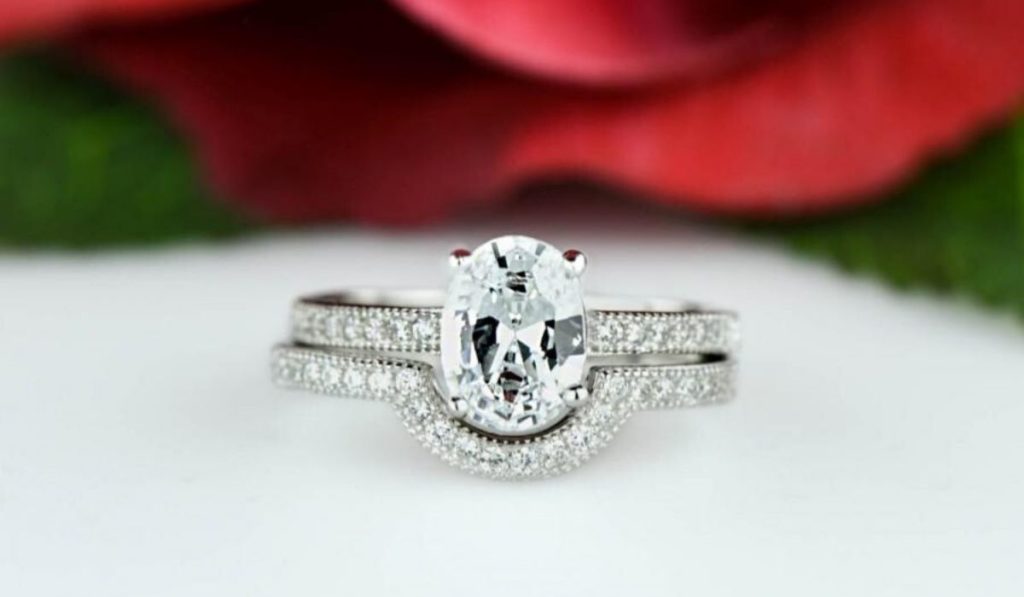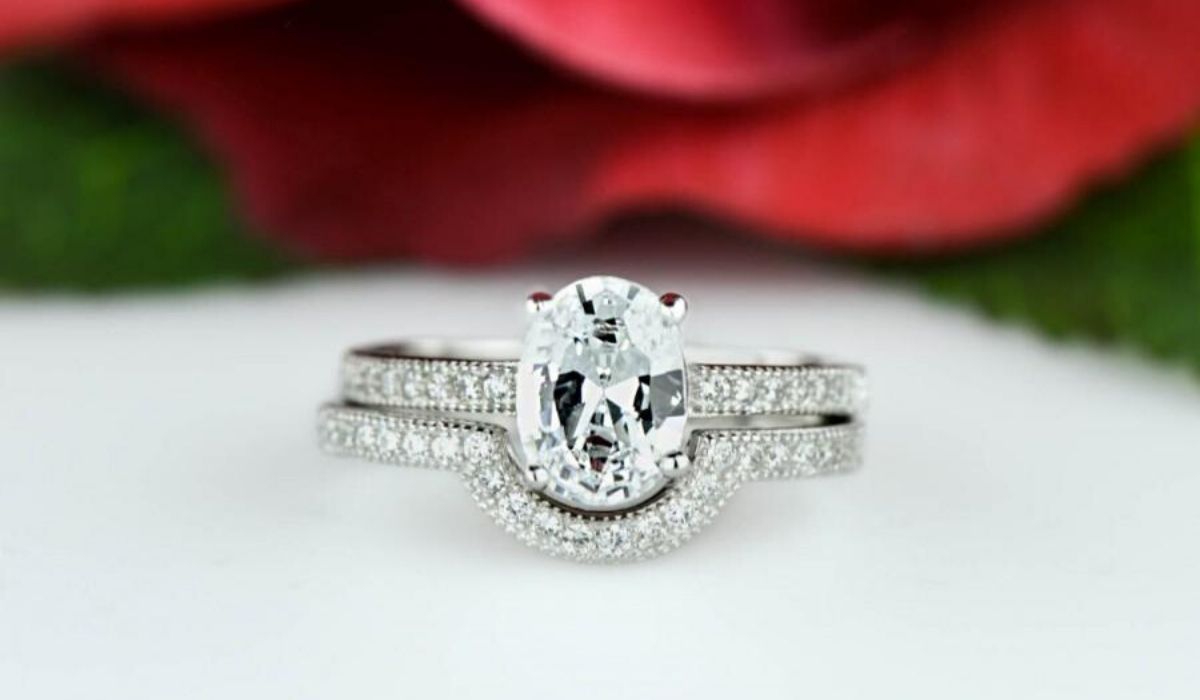 An engagement ring is offered or gifted at the time of proposing for the wedding. Typically, a traditional engagement ring has one dominant stone. Further, the centre stone either is surrounded by numerous other smaller stones or stands alone.
On the other hand, a wedding band is either a plain metal band or a diamond-encrusted eternity band. It is given during the wedding ceremony when the couple exchanges the vows. In terms of the price, there's a significant price difference between both the ring styles. Generally, the total carat weight of a wedding band with ornamented diamonds or other gemstones is less than that of the engagement ring.
Of course, you can keep traditions aside. Renowned diamond consultant and engagement ring designer for Lauren B. Fine Jewellery and Diamonds, Taylor Lanore says, "People are doing whatever they want, and wedding bands offer the opportunity to have more flair." Hence, it's no more about following the traditions. But couples, brides, in particular, prefer ring styles and designs of their choice.
How to Wear an Engagement Ring and Wedding Band?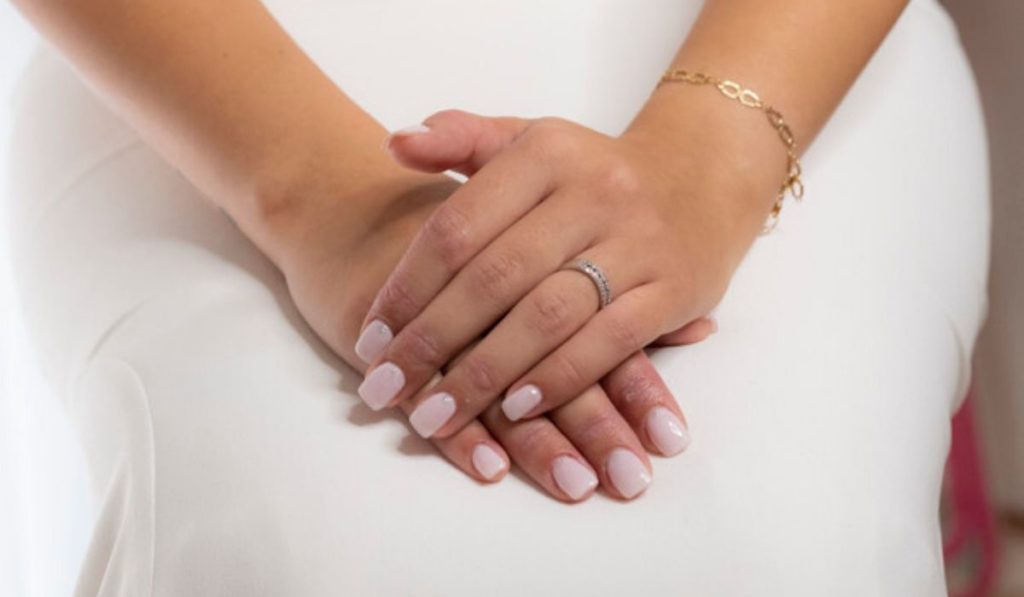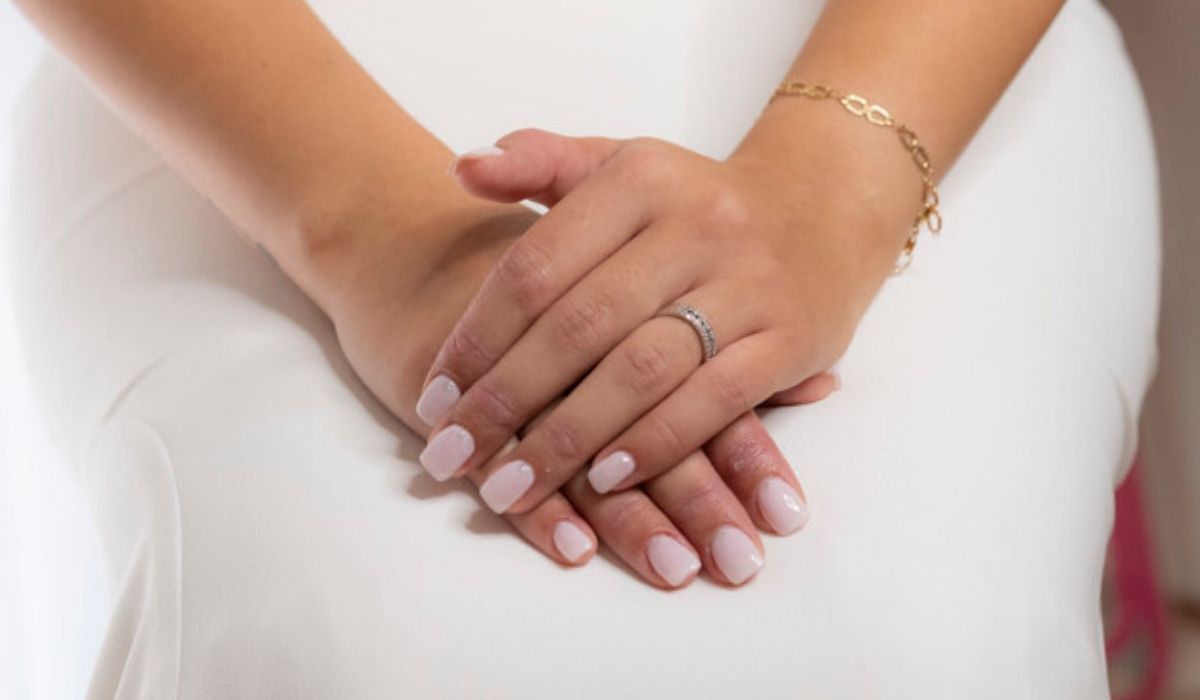 Wearing the engagement ring and wedding band set on the same finger looks graceful. However, this works even better when the wedding ring (commonly) is quite modest, and the engagement ring being flashier. A solitaire diamond engagement ring, for instance in combination with a simpler wedding ring when stacked together, looks lovely. Further, stacking an alliance ring (for a wedding band) with a wonderful paved diamond or halo engagement ring will also look amazing. There is no hard and fast rule as such when it comes to wearing an engagement ring and wedding band. While some prefer wearing it as per their tradition, others go with the designs.
How to Wear an Engagement Ring and Wedding Band?
One Band on Each Hand 

There's a group of people who don't prefer stacking the rings at all. Be it because of their personal preference or that the rings don't match at all. For instance, two wide rings or rings in different styles and colours don't complement each other. As such, people prefer wearing the engagement ring and the wedding band set on different hands. Further, the wedding band is usually worn on the left hand and the engagement ring goes on the right hand.  Again, it's a matter of personal preferences. 

Engagement Ring and Wedding Band Set Pairing

Buying an engagement ring over the wedding band is a matter of personal preference, usually. Typically, an engagement ring is worn alone for a few months until the wedding ceremony.  But you can also consider the band style for you and your partner while buying the diamond engagement ring. If you want, you may also buy the engagement rings and wedding band set, as a pair.
You may choose to buy a wedding band that either contrasts or complements your engagement ring. No matter what you go for, there are a few things to consider when selecting the perfect pair. These include the band thickness, the type of metal, and the setting. One major consideration when choosing a style is your partner's personality. 



Solitaire Engagement Ring with Diamond Wedding Band

If you choose to buy a solitaire ring, it'll typically have a solitaire diamond placed at the centre of a plain engagement ring. A wedding band made of several small diamonds will pair perfectly with the solitaire engagement ring. This is one of the simplest combinations of engagement rings and wedding band sets.

Wedding Band to Go with Oval Engagement Ring

When choosing an oval engagement ring, avoid buying a huge wedding band. Instead, go with a wedding band that caps or complements your engagement ring. Your wedding band should be built in a way that it looks like an add-on to your engagement ring.

Custom Made Wedding Bands to Fit Engagement Ring

Is your engagement ring too big and beautiful? Well, then you can go for a wedding band that customises the cap of your engagement ring. Adding a custom wedding band to fit your proposal ring can be a great idea here.

Princess-Cut Engagement Ring with Round Wedding Band

A Princess diamond is usually made of over 50 chevron-shaped facets. It is a very popular choice among couples. A princess diamond is designed on a plain band with a single diamond on top. Hence, choose a wedding band that maintains the sleek look of your love ring.

Plain Engagement Ring with Diamond Wedding Band

Such rings are designed with an oval-shaped plain diamond. The diamond doesn't have any solitaire value but will make your fingers look slim. To pair up, you can either go for an infinity wedding band or stick with a small stud diamond wedding band.

Thick Engagement Ring Thin Wedding Band

Isn't it quite obvious? A thick engagement band will never go with a thick wedding band. It will look like a misfit on your hands. Instead, choose a designer version of an engagement ring keeping your wedding band as plain as possible for the perfect look.

Wedding Bands for Odd Shaped Engagement Rings

If you want to wear an odd-shaped engagement ring, it will be a great idea to make your wedding band half its size. For the perfect pairing, add the wedding band as the cap to your engagement ring.

Disney Engagement Rings and Wedding Bands – UNIQUE MATCH OF ENGAGEMENT RINGS AND WEDDING BAND SETS

If you are a Disney lover, here's the good news! Disney has its own collection of princess diamond rings. To maintain that royalty, choose a customised wedding band based on your Disney ring design.

Kate Middleton Engagement Ring and Wedding Band

Celebrities have always been an inspiration when it comes to style and fashion. If you are a Kate Middleton lover, then you can go for a blue sapphire ring surrounded by several smaller solitaire diamonds. You can either choose a gold or platinum ring. Complete the pair with a yellow gold classic wedding band.

Infinity Engagement Ring and Wedding Band

Choose an infinity ring as your engagement ring and the solitaire fix as your wedding band to achieve a perfect look for your elegant fingers.

Pear Shaped Engagement Rings with Wedding Bands

If you want to avoid the hassle, get your wedding band and Engagement Ring designed into one. When you decide to stick to both bands, there's so much for you to try out! For example, you can hinge a marquise oval-shaped diamond with a wedding band made of small emerald-cut diamonds on both sides. 

White Gold Engagement Ring with Rose Gold Wedding Band

One of the top choices for couples is the engagement rings with a single diamond in white gold. Some also prefer the setting in a thin platinum band. You can go for a wedding band made of rose gold metal to maintain the charisma of your white gold lover ring.

Non-Matching Wedding Band and Engagement Ring

You can always defy the rules! It's cool if you want to try something that doesn't seem like a perfect match.  Go rogue with your proposal ring and try it with a designer wedding band. Further, you can also pick different metals together. We bet you'll never run out of options if you go for such match-less engagement rings and wedding band sets.

Mixed Metal Engagement Ring and Wedding Band

How about trying a mix and match of two metals as your engagement ring and wedding bands? Get an engagement ring in platinum embellished in diamond studs and pair it up with a wedding band of gold. You could also try channelled studs or a single solitaire in the band.

Twisted Engagement Ring with Wedding Band

No, we don't mean a twisted ring, exactly! Twisted here means that it doesn't have to be completely twisted. Instead, you can select a criss-cross engagement ring with a central solitaire diamond. To complement it, try getting a wedding band with a simple channelled stud.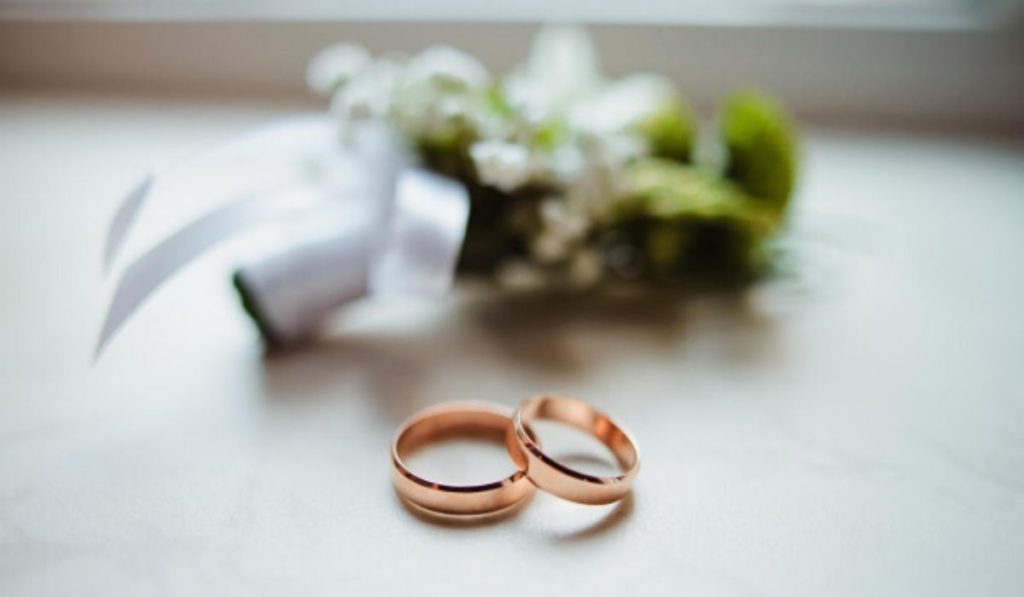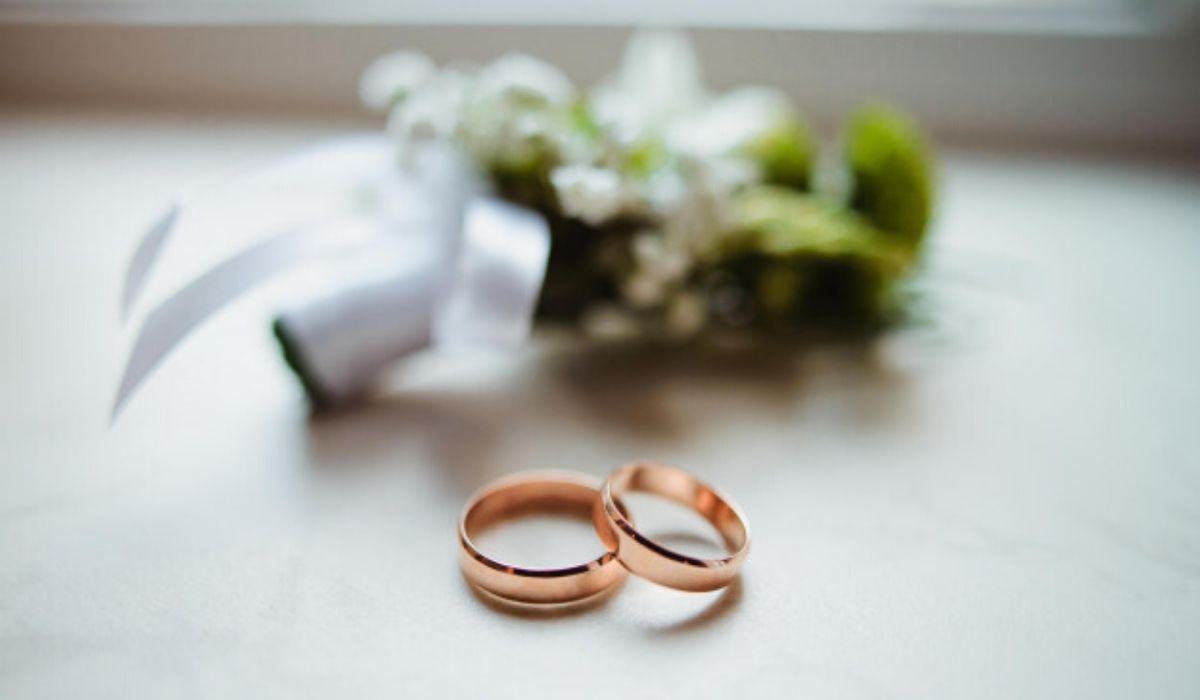 Conclusion
In a nutshell, matching the engagement rings and wedding band sets depends on individual choices. Also, the way you wear these is crucial, considering whether you're wearing both the rings together or in different hands or fingers. Here, traditions come into play. Nevertheless, we've given several options for you. Choose what you feel is the best for you!