Your engagement is a very special moment in your life. You must also consider your engagement ring to make sure it is perfect. Are you confused about what ring to choose, or are you unsure about how to choose an engagement ring that suits your hand shape? We are here to assist you.
Choosing a ring might be more stressful than proposing to your partner. Before purchasing something expensive, we all think a lot. This article will answer your questions about "how to choose an engagement ring."
Before purchasing a diamond ring, you should understand the significance of the 4 Cs. Carat, color, clarity, and cut are the four Cs. The diamond carat represents the diamond's size and weight. The color of the diamond indicates how natural it is. The diamond inclusions are identified and rated on a scale. Diamond cuts also enhance the shine and overall luster of the diamond.
Things to Remember Before You Choose an Engagement Ring
Aside from the 4 Cs, there are several more factors to consider when purchasing a new engagement ring.
So how to choose an engagement ring that suits your hand?
Do you realize your hand shape is important when choosing the ideal diamond-cut engagement ring?
The anatomy of the back of your hand has the potential to determine which diamond cut is best for you. The shape and size of your hand directly impact the rings you should manufacture. Your engagement ring will be with you for a very long time. You don't want it wrecked by selecting the incorrect structure and size, do you?
When you think about your wedding, the bridal gown is the first thing that comes to mind. You would want everything to be flawless on that particular day. Your hairstyle, clothing, and accessories should match your wedding dress. The typical mistake many people make is buying a large engagement ring to match their wedding gown. You will not only wear the perfect engagement ring to your wedding- you'll be wearing it for the rest of your life. As a result, you should select a ring that complements you both on your wedding day and regular days.
Know your hand's shape before choosing an engagement ring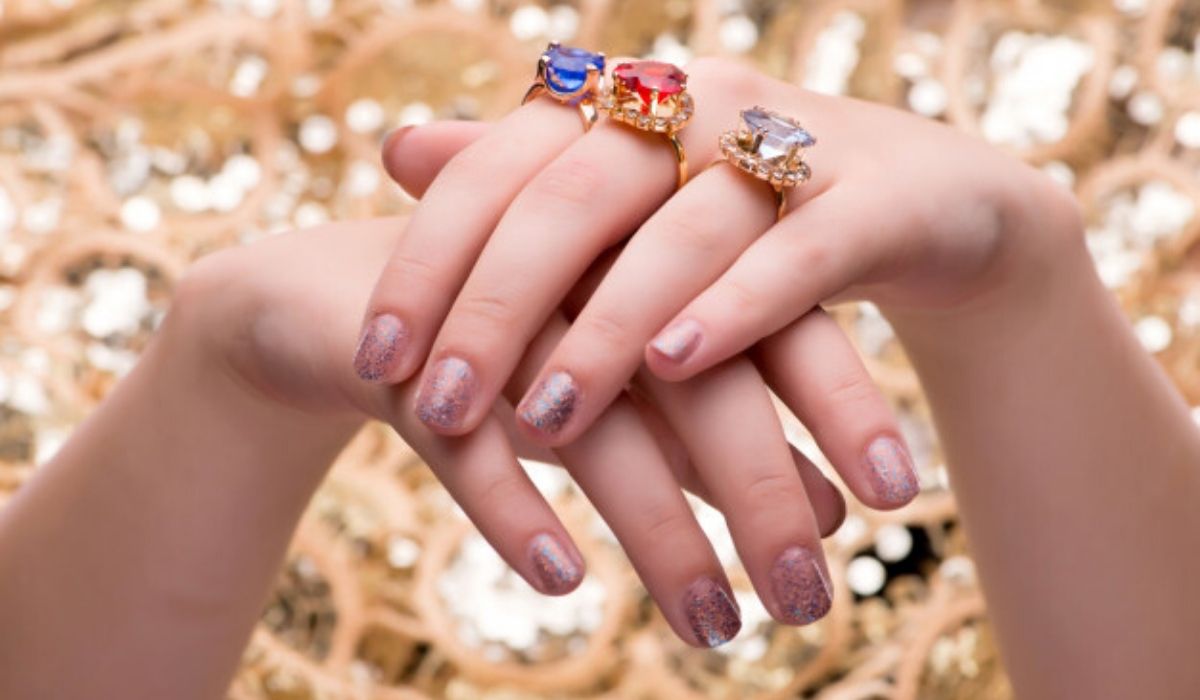 Looking for information on "how to choose an engagement ring that suits your hand?" Don't be concerned! Examine your hands and fingers for form, size, and length. Analyze them and consider the ring types you wish to choose for your hands. You may want a diamond cut that does not suit your hand, but you can make it work with the correct band. The ring size might alter how the diamond appears on your hand. You must make the right choice to discover the best match for your hand.
Engagement ring for short fingers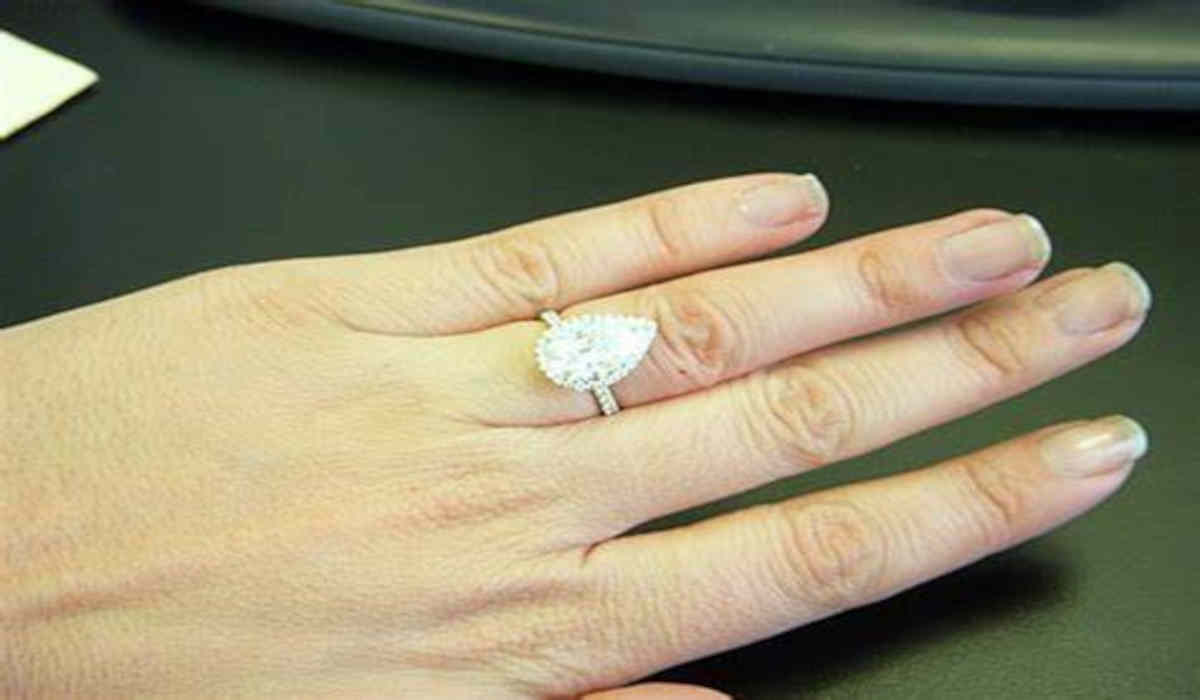 Consider your fingers if you are wondering how to choose an engagement ring that suits your hand. If you have short fingers, you'll need something to make them appear longer. It is not recommended that you use an excessively thick band.
Choose elongated diamond shapes such as baguette or marquise; oval or oval diamonds are also options. Oval diamonds balance out your fingers.
Choose narrower bands. It will assist in lengthening your finger visually. A diamond band that is too thick can make your fingers appear big. It's like putting ankle straps on little legs!
Long and Slender Hands and finger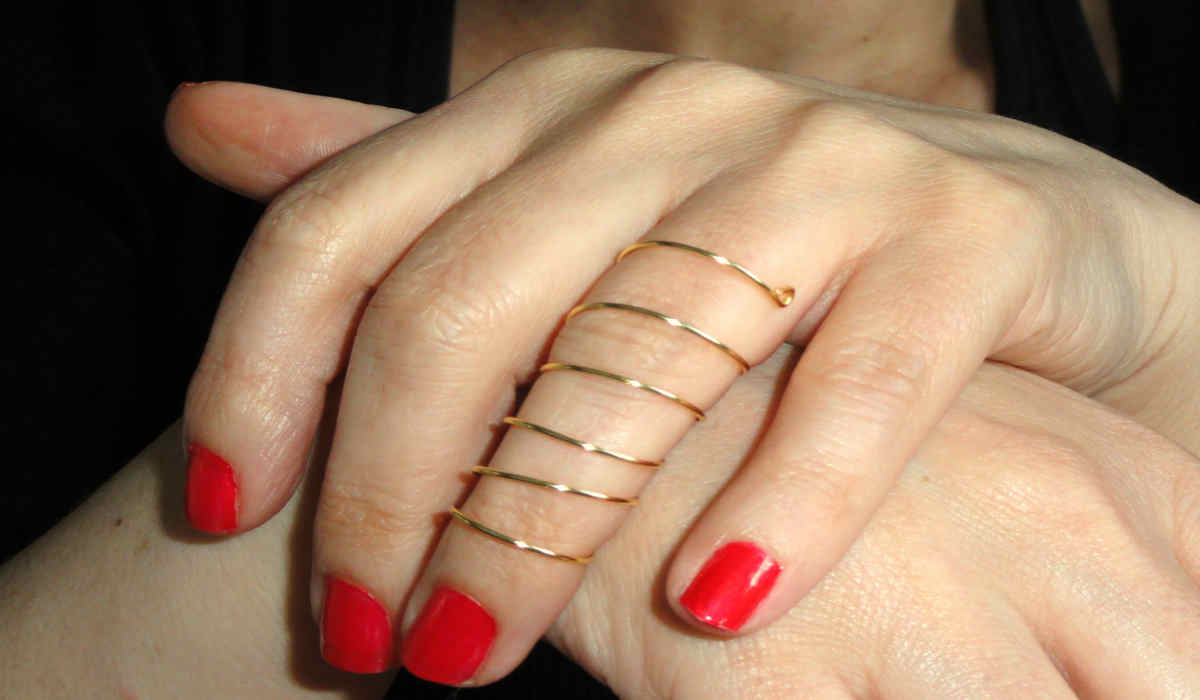 If you have long fingers, you have already met the beauty requirements. As the saying goes, the larger, the better. You can choose any kind of diamond engagement ring that suits your hand. Still, you can pull off huge, bold ring sizes, so why not do it right? Princess-cut diamonds and rounder stones will look best on your fingertips.
A broader band would allow you to rock the length of your fingers. If you want huge stones, ensure your brand isn't too thin. It will enlarge and throw off the equilibrium of your stone.
Long fingers look great with varied colored and set diamonds funneled into a larger stone and band. Choose the extravagant!
Rings for Slim Fingers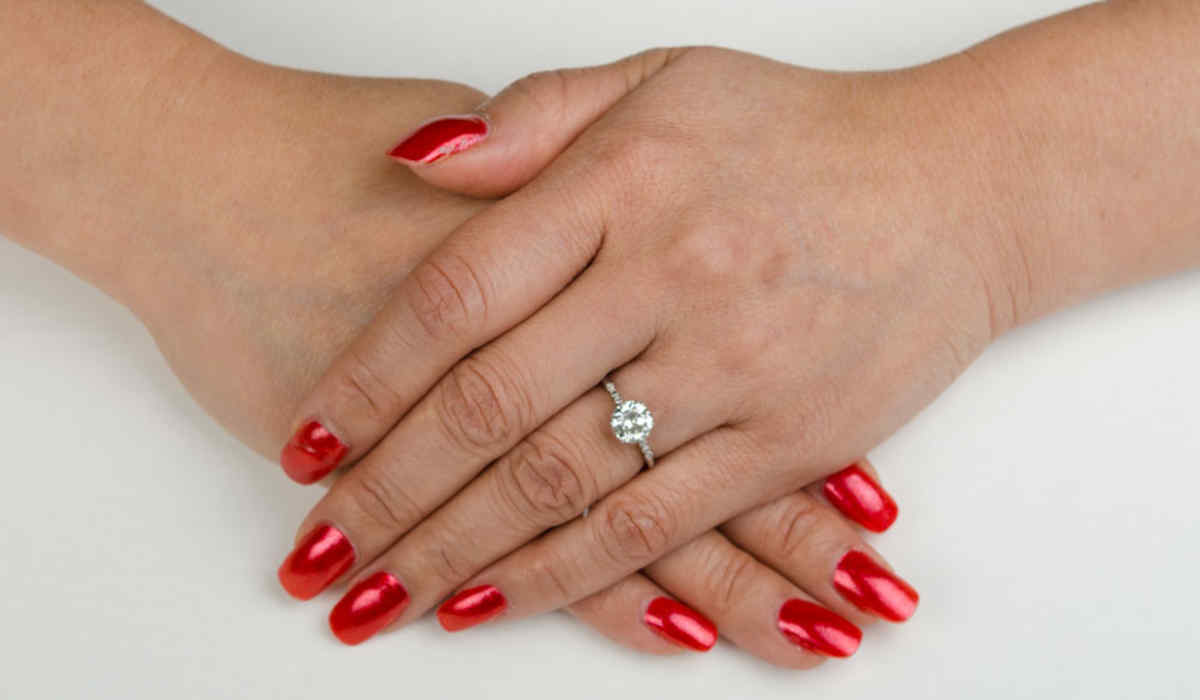 One thing to remember is that if you have slender fingers, you should avoid purchasing large stones. It will make your hands appear thinner. Instead, get little diamonds funneled into a larger ring, making your hand appear less slender.
You should seek a marquise cut if you have short and thin fingers. The marquise shape makes your finger appear longer than it is.
A cushion-cut diamond is suitable for your fingers because it is long and slender. A large stone and band without the channel structure would be too much for your hand.
Big fingers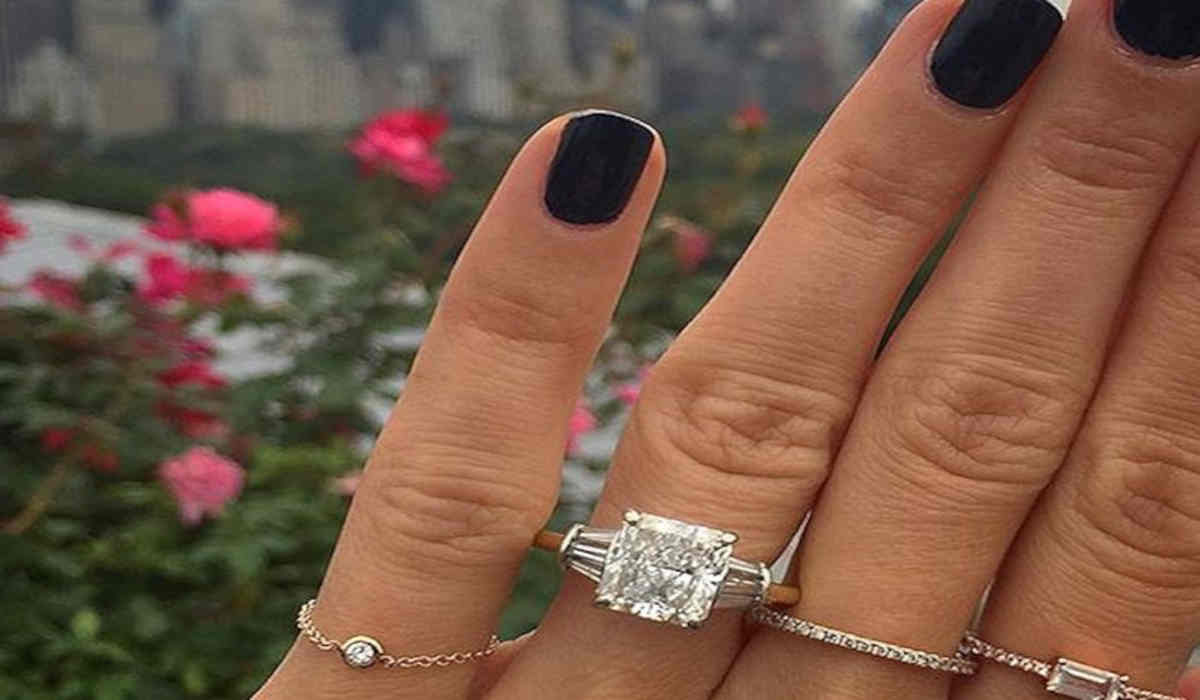 Avoid small stones or rings that expose your skin on each side if you have large fingers. Your best cut is the emerald cut. You might also consider rectangular cuts. – Your ring style is Trinity rings; the more, the merrier for broad fingers. Minor cuts and diamonds will make your hand appear larger. Choose medium to thin bands.
Small Hands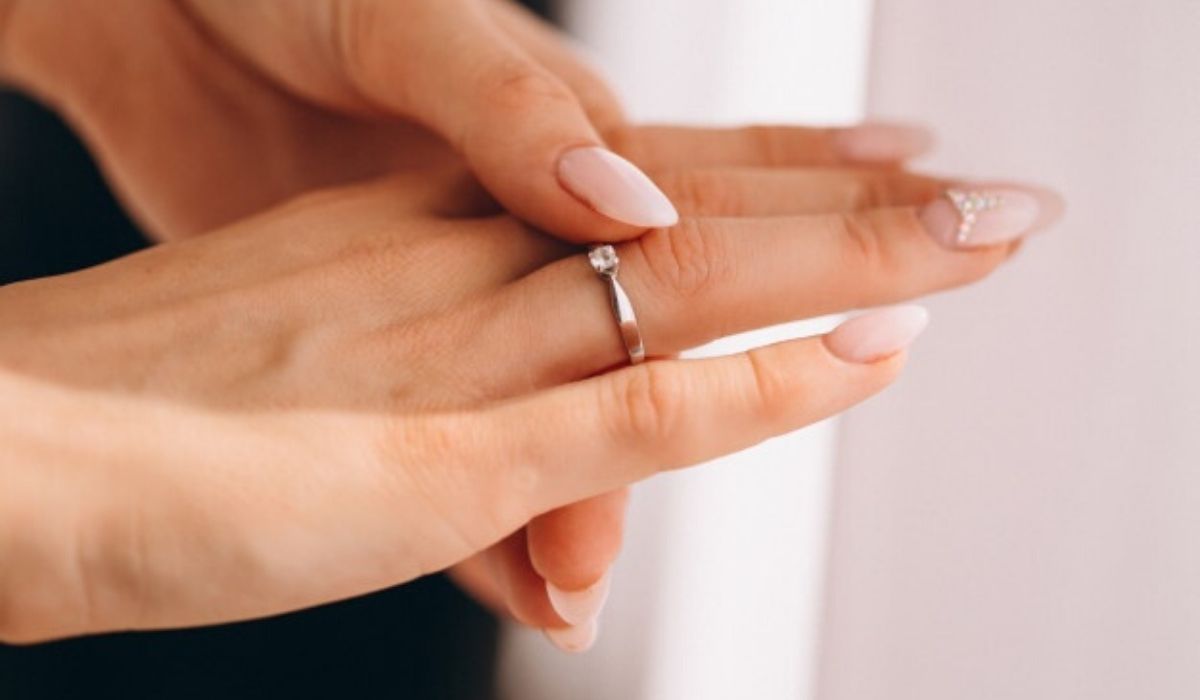 If you have small hands, you should prioritize quality over quantity. In your hands, a better-faceted diamond will appear better than clutter. It is often considered that large stones and bands should be avoided. However, the inverse is true. Look for clarity and color in the product. Choose a ring set (trinity or princess) with a tiny diamond in the center (princess cut, oval, or rectangular shaped). Choose thin to medium bars for the band. They wouldn't suffocate your fingers or make the stone appear unbalanced.
Engagement ring for Big Hands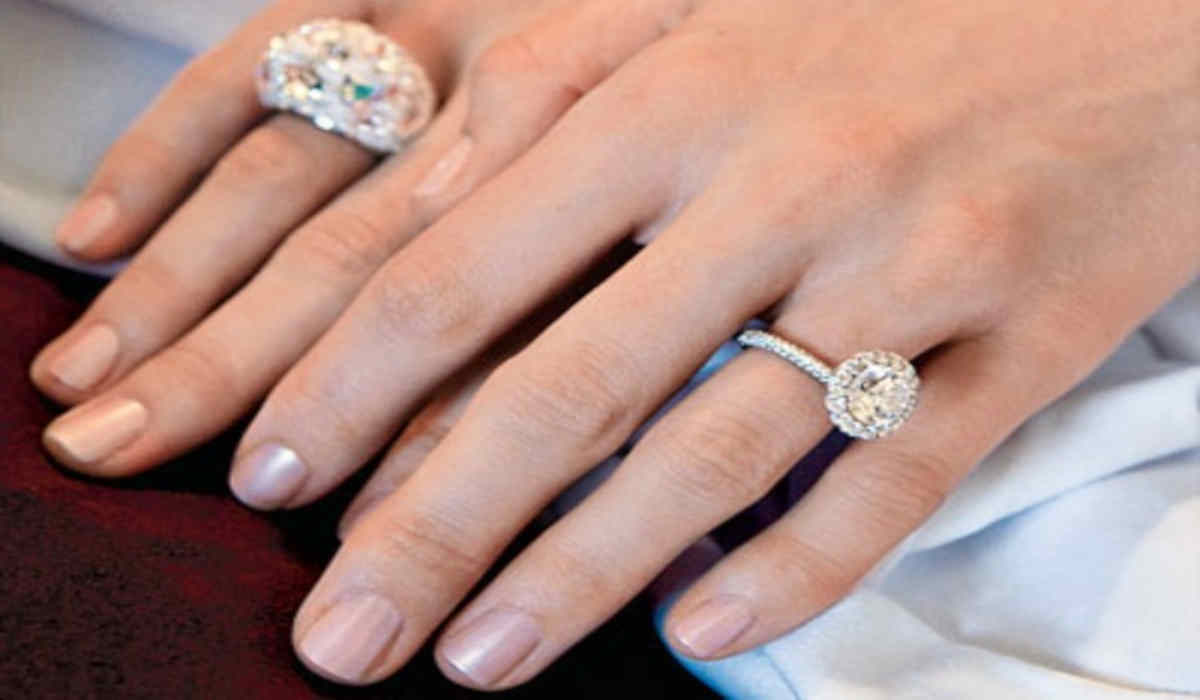 If you have bigger hands, this is the moment to make a huge, aggressive move. Choose an engagement ring that suits your hand and does not seem little to you. Your hand is deserving of a large stone. You can wear your ring with a halo effect.
Clusters in a halo or channel, as well as Asscher cuts, are ideal for you. You should make large, bold cutbacks, and you should be OK.
A medium to wideband might be appropriate for you, depending on the size and shape of the stone.
Make this one of the most important moments of your life the best it can be. You should not be perplexed. We are here to help you.
Let Fabulously guide you to the finest options, and you will decide.
Mistakes to avoid while buying an engagement ring:
What is the challenge of selecting an engagement ring that fits your hand? There are two faults you should avoid while purchasing an engagement ring:
1. Not setting a budget
When choosing an engagement ring, it is critical to do so with a budget in mind that is grounded in reality. This will assist you in reducing the number of options available to you and prevent you from spending more than necessary. This is just a general guideline, but a good rule of thumb is to spend about the equivalent of two month's salary on the ring. However, this may not be appropriate for everyone and is just a suggestion. Consider your financial situation and the amount you can spend without feeling financially strained.
2. Not doing your research when choosing an engagement ring
Having a fundamental understanding of diamond or gemstone quality is important before you start looking for an engagement ring, as this will help you make more informed decisions. Carat weight, cut, color, and clarity are a good place to begin when evaluating a diamond's quality. Each of these aspects will impact the total value of the stone and its appearance. You should also research a variety of ring styles and settings so that you can get a sense of what you prefer.
3. Choosing a ring without considering your partner's style
Remember that your partner will be the one wearing the ring for years to come, so while you may be tempted to choose the largest and most expensive ring you can afford, it is important to remember that they will be the one wearing the ring. Spend some time analyzing their unique sense of style, and don't forget to seek the opinions of those who know them best, such as close friends and family. You could also consider buying an engagement ring together as a couple or proposing a ring that serves as a placeholder so that your partner can select their ring later.
4. Not getting the ring insured
After you have acquired the ring, it is essential to have it insured to safeguard your financial investment. You can either add it to your existing home or renters insurance policy, or you can buy a separate policy from a jewelry insurer. Both options are available to you. Be sure to keep the certificate of appraisal and any other pertinent documentation in a secure location.
5. Rushing the process
Purchasing an engagement ring can be a stressful and overwhelming experience; however, it is essential to take your time and research before making a purchase. Do not put undue stress on yourself to decide immediately or by a predetermined date. Before settling on a final option, it is in your best interest to investigate several jewelry stores, gather information through questioning and investigation, and take your time doing so.
Conclusion
If you are wondering how to choose an engagement ring that suits your hand, remember to choose one that suits your hand because this is a significant investment and a symbol of love and commitment. To ensure you find the perfect ring for your partner, it's important to avoid common mistakes such as not setting a budget, rushing the process, and not considering your partner's style.
Researching diamond or gemstone quality, ring styles and settings, and even the shape of your partner's hand, can help you make an informed decision. Remember also to get the ring insured to protect your investment. By following these tips and taking your time to find the right ring, you can make the engagement ring-buying experience a positive and memorable one.
FAQs:
Q: What should I consider when choosing an engagement ring for my partner?
A: First and foremost, you need to consider each person's individual style. First, you should take into account their style. Examine the kinds of jewelry that they normally put on to get a sense of the fashion choices that they like to make. Consider whether they prefer straightforward or intricate patterns, classic or contemporary looks, yellow or white gold, etc. The second thing you need to do is consider your financial plan. Because of the wide range of prices for engagement rings, it is essential to establish a spending limit before beginning the search for the perfect ring. Third, consider the contours of your partner's hand and fingers. Certain ring styles may flatter or accentuate their hand shape better than others.
Q: How can I determine the shape of my partner's hand?
A: You can determine the shape of your partner's hand by looking at the length and width of their fingers and the shape of their hand as a whole. Round, square, oval, and elongated are some of the most common hand shapes. You can also note anything that makes them stand out, like big knuckles or thin fingers. If you are unsure, you can always seek the advice of a jeweler who can assist you in selecting a ring that will look beautiful on your partner's hand.
Q: How do I choose an engagement ring of the right size?
A: The easiest way to find out your partner's ring size is to ask them or borrow one of their rings and take it to a jeweler to be measured. If you want to keep it a secret, you can measure their finger while sleeping or use a printable ring sizer you can find online. Remember that the ring may need to be adjusted after it is bought to ensure it fits perfectly. It's always safer to err on the side of caution and choose a slightly larger ring size since it can be resized more easily than a too-small ring.
Q: What should I look for when I choose an engagement ring when researching diamond or gemstone quality?
A: The 4Cs, which are carat weight, cut, color, and clarity, are what you should think about when researching the quality of a diamond or gemstone. Carat weight is a measure of how big the stone is, and it's important to find a good balance between the size and quality of the stone. A stone reflects light based on how well its angles and facets are made. A well-cut stone will sparkle and shine more than one that isn't. Color refers to the stone's hue and intensity, and choosing a stone that looks white or colorless to the naked eye is important. Lastly, clarity means that there are no marks or imperfections. A stone with fewer flaws or other things will be worth more and sparkle more.
Q: Should I choose an engagement ring online or in-store?
A: There are pros and cons to each choice. When you buy in a store, you can see and try on the ring, which can give you a better idea of how it looks and how well-made it is. It also allows you to ask questions and get guidance from a salesperson. There may be more options and lower prices when you buy online, but it can be harder to tell if the ring is of good quality and the right size. If you decide to buy something online, do your research and buy from a seller with a good reputation. Look for reviews and ratings from other customers, and ensure you know how to return the ring if needed.

Q: What should I do if I cannot choose a perfect engagement ring?
A: If you can't find the right ring, you could have a jeweler make one for you. This will let you make a ring that fits your partner's tastes and the shape of their hand. A custom-made ring can cost more than one already made, but it may be worth it if you want to give your partner something unique and special. You could also think about changing an already-existing ring by changing the setting or adding more stones. This is a good option if you find a ring you like but want to make a few small changes to make it more special for your partner.

Q: What should I do if my partner doesn't like if I choose an engagement ring for her?
A: If your partner doesn't like the ring you chose, you should openly and honestly discuss why. It could be a matter of personal taste or simply not fitting their hand well. If it's a matter of size, you can always have the ring resized or exchanged for a different size. If it's a matter of style, you can try to find a different ring that better suits their tastes. Finally, it's critical to prioritize your partner's happiness and find a ring that they'll want to wear for the rest of their lives. 

Q: What should be my budget when choosing an engagement ring that suits her hand?
A: The amount you should spend on an engagement ring is a personal decision based on your budget and priorities. There is no right or wrong amount to spend, but spending about two months' salary on an engagement ring is traditionally recommended. However, this may not be feasible or desirable for everyone. Selecting a ring that you can afford is critical and that reflects your partner's preferences and style. Alternative options, such as lab-grown diamonds or alternative gemstones, can be less expensive while maintaining high quality and beauty.

You can find a beautiful and meaningful ring by considering your partner's personal style, hand shape, and size, as well as the quality of the diamond or gemstone. The most important thing is to prioritize your partner's happiness and create a lasting symbol of your love and commitment, whether you buy in-store or online or have a custom-made ring.