Looking for some romantic quotes to express your deep love to your to-be?
Check out our amazing collection of best fiancé quotes for him and her and show them how deep and passionate your love is.
Passion is something that can keep your relationship alive for years. Often couples complain, "the spark is missing" just after spending a few years together.
So, how can you keep that passion alive in your relationship? Of course, exchanging gifts and going out for romantic outings can help. But, can you bring these acts of love in your routine? Definitely, not.
One of the best ways to keep your love blossoming is communication.
Rightly said –
Never underestimate the power of words to heal and reconcile relationships.
Words have their own way of affecting a human heart and brain. If you communicate your love and deep feeling using the right words, it can do wonders for your relationship.
So, let's tune in a romantic mood and be expressive like never before. Pick the quote that best expresses your emotions to your beloved.
Love Quotes for Fiancé
Looking for cute love quotes for fiance? Here we have got a list of some sweet fiance quotes that will melt your partner's heart instantly.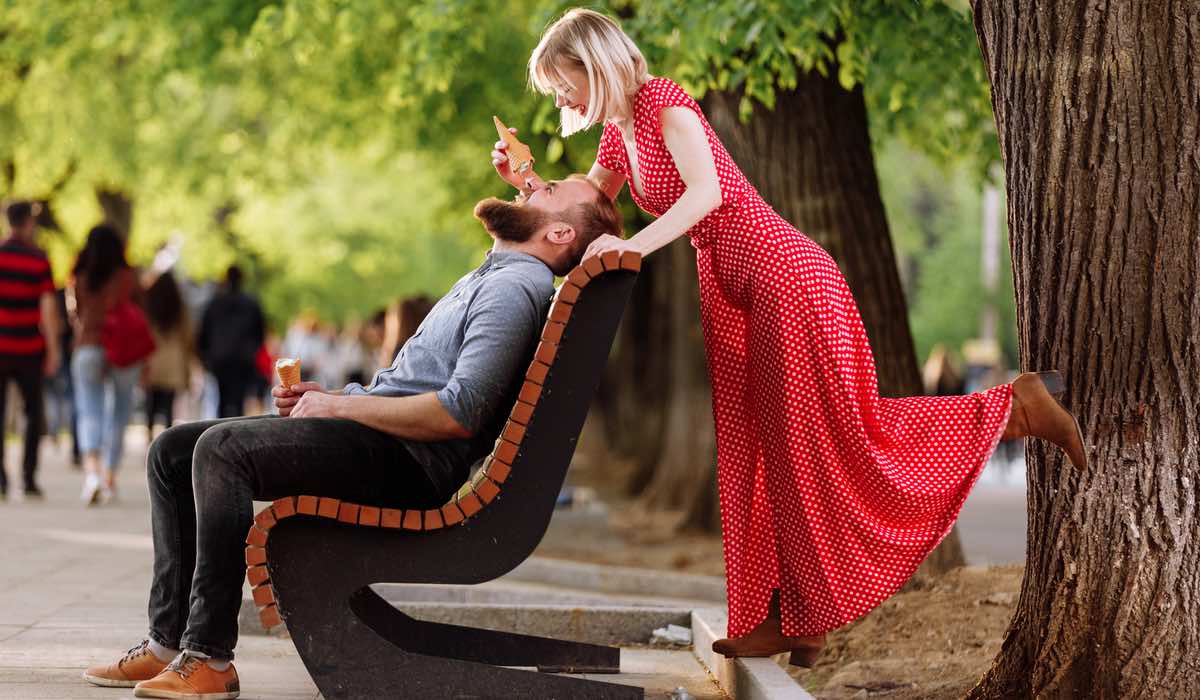 It didn't take months to decide. It was my first and only thought – To make you mine and be with you forever!
Never have I thanked the Almighty before. But this one gift he has blessed me with will be what I thank him for all the breaths I take – YOU!
I still don't believe that You're MINE!
I never really thought that I would have the pleasure of having you with me, to be able to hold you and kiss you for the rest of my life.
I've always thought that if we are meant for each other, we will cross paths once more. Baby! I was right as see, we are here, close to vowing forever.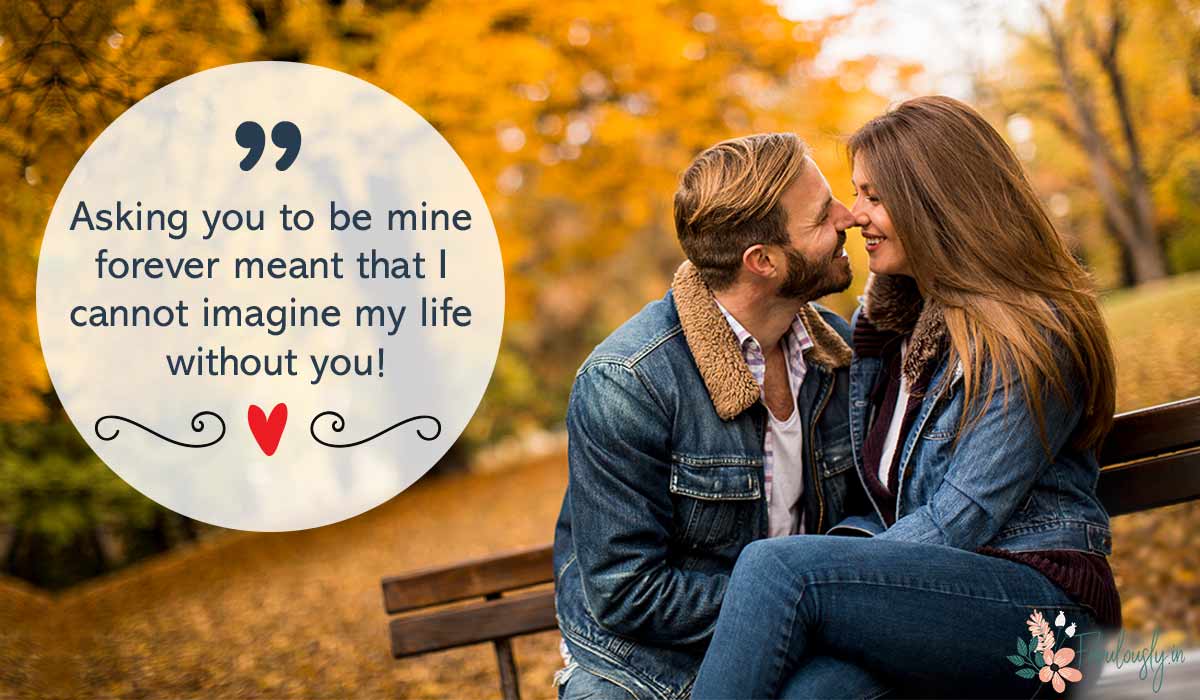 Want some more…?
On such a beautiful day, I am sure our eyes will tell a story that even words fail to tell. Our conversation will be sparkling and our vows will be stronger than the chains of Amistad.
Our love story will be eternal, just like a fairy tale.
I've always heard that dreams come true. And now I believe that they actually do. Because I dream't of having you. And see… my dream has come true!
7.5 billion smiles in the world but only yours can set my heart on fire.
Related Articles:
Engagement Quotes for Fiancé
How about raising a toast on your engagement with some romantic words and ring ceremony quotes?
Commemorate the blissful occasion with one of these love-filled engagement quotes and make them say, "Awww!! Oh, you can pass it on as a secret card also!"
I can't wait to see you as my wife as I can imagine how sweeter my life would be then. Thank you for loving me, my sweety!
Many times, I catch myself staring at your incredible beauty and admiring your kindness. How can someone like you fall in love with someone like me? You are the best gift I have ever received in my life. I want to love you for the rest of my life in all the ways, with all the means that show how a woman should be loved. I love you so much.
Never had I that zeal to live. But now I wish to live endlessly and want those years to spend with you.
I can just envision how amazing my life would be once you become my wife. I love you so much, my sweet. Thank you for loving me.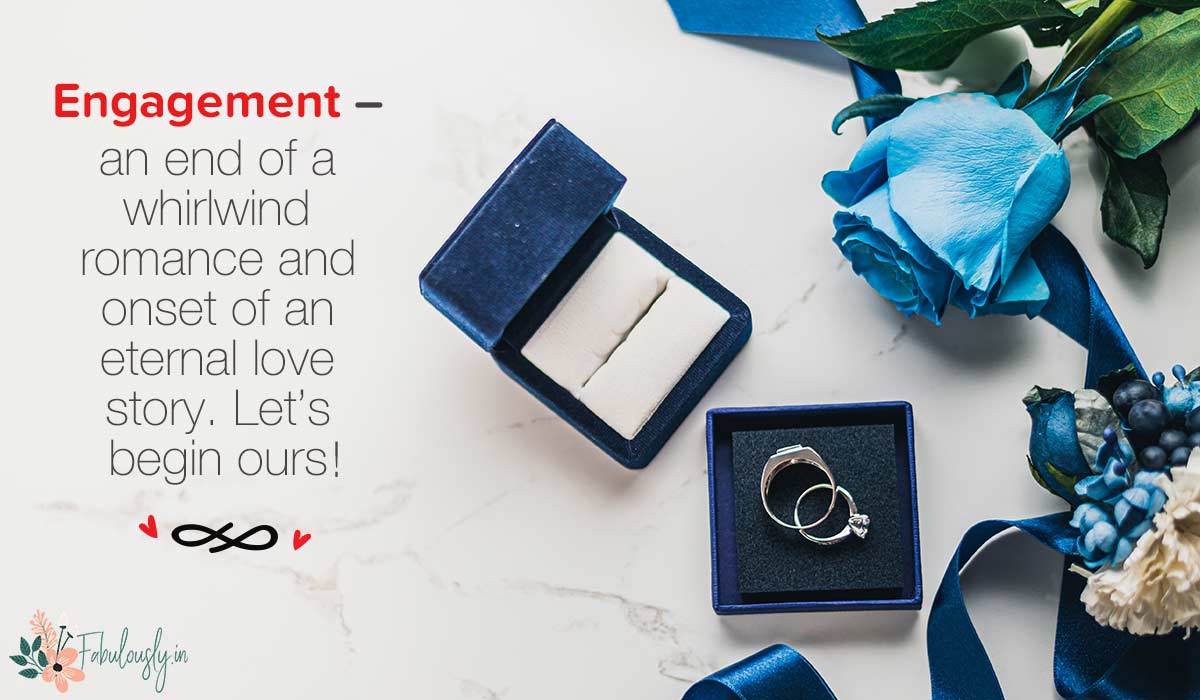 You not only make my world go round. You also have it at a complete standstill whenever you're around. It's like hitting a jackpot when you said 'yes' to me. I believe my Karma had blessed me by giving me somebody as loving as you.
You stole my heart so it's time to return the favour! I am stealing your last name, forever.
You will stay here in my heart as long as the diamond in your finger remains solid.
Fiancé quotes for him
Want some romantic quotes for fiancé? Your search ends here
When you love someone from the core of your heart, it is difficult to express it in words, unless you are a poet!
We know the struggle and thus have got you the best fiancé quotes for him and her.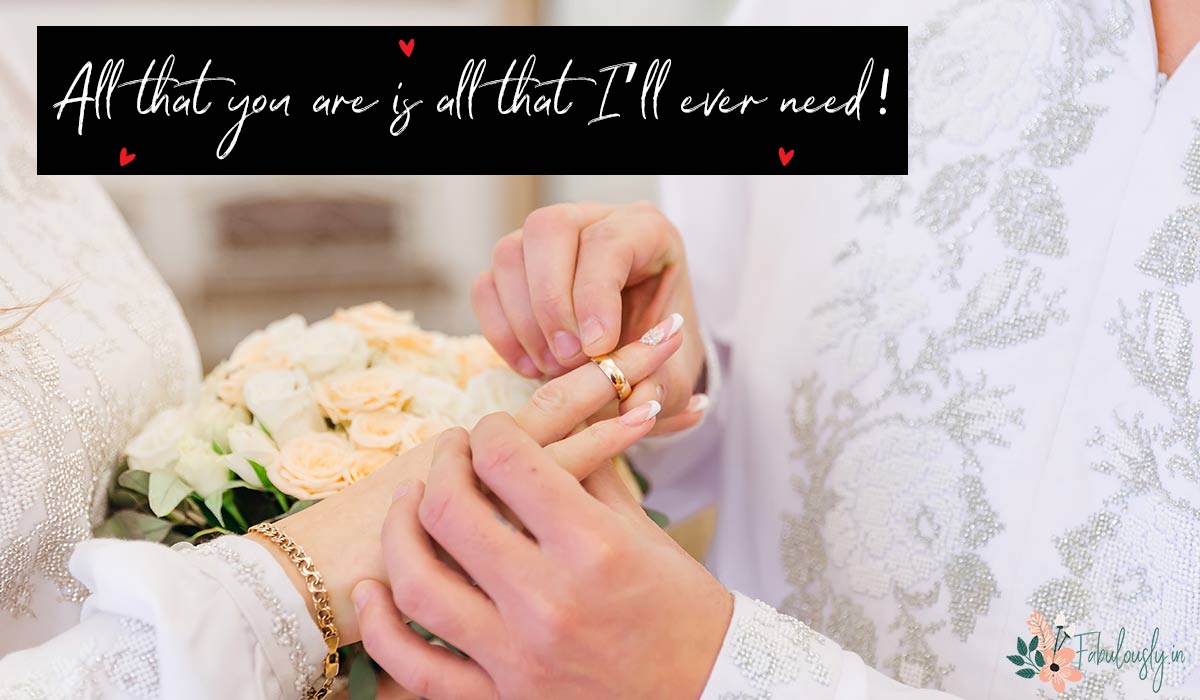 If I could ever write a novel, you will be the beginning and end of it! Thus I know how beautiful it is gonna be.
I feel like waking up at 2 a.m., rubbing my eyes, kiss you on your forehead and relax… My world is safe.
I know my heart whispers your name when I listen to it! And I like doing it all day long.
It all began when you smiled! And I knew, that cute monster took my heart away.
The best decision I ever took in my life without any doubt was to say "YES" to you.
I can't see you when I am with you
Fiancé quotes for her
Check out our collection of beautiful quotes for fiance.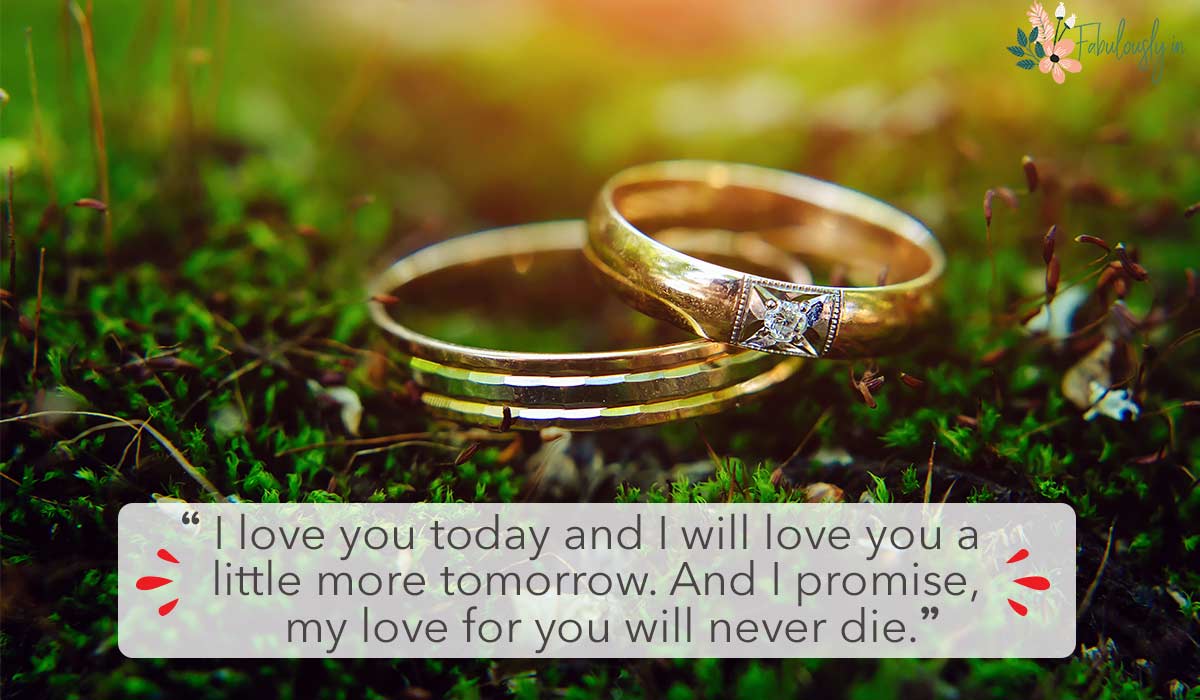 With you I realized, soulmates do exits. Baby, you complete my world!
I want to tell you that wherever I am and whatever happens to me, I will always think of the times we spent together as the most precious and happiest time. And If I had the choice, I'd do it all over again.
In your smile, I see something more beautiful than the shining stars.
Baby, you are my favourite way to pass my time. But you make time still when you're on my mind.
Birthday quotes for fiancé
So, your beloved is another year older today!
And you want to say how his presence and his life makes your life special! While you might have a hundred things on your mind as to how to make this day more special for your fiancé.
However, even the best gift or lavish dinner date is incomplete without the words that come straight from your heart.
Make your fiancé's day a memorable one by sending one of these happy birthday quotes for fiancé.
You can also send a chain of these messages all day long…after all it's their b' day and you want them to know how special they are!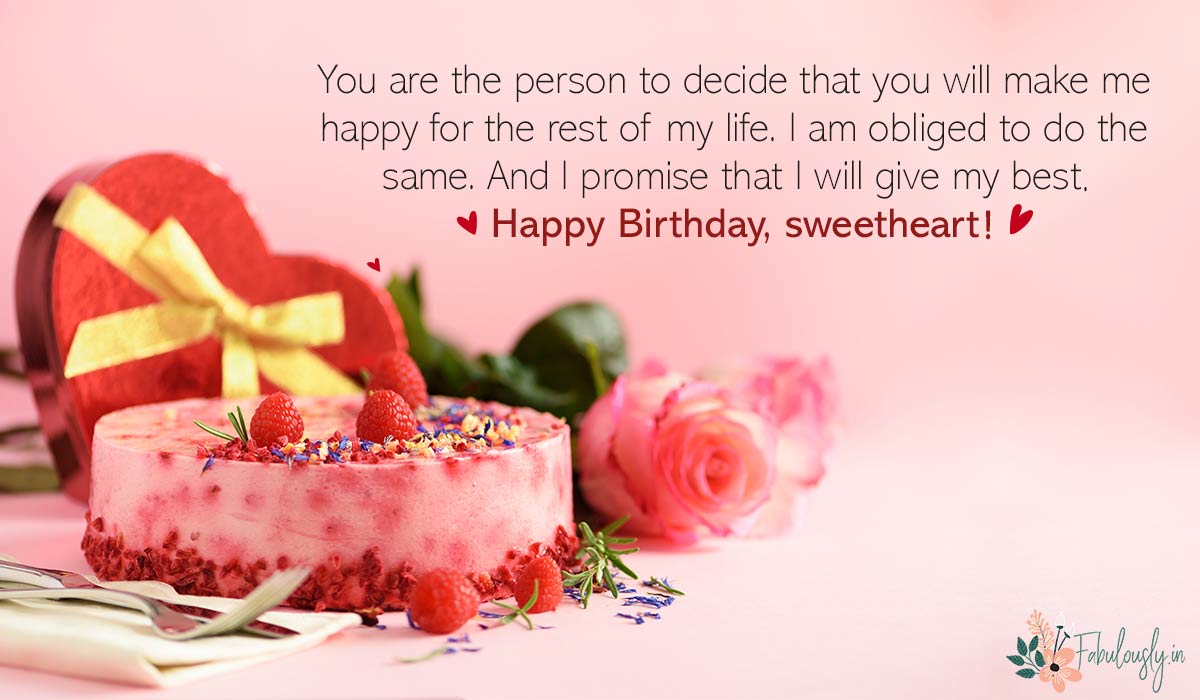 So, it's your birthday! And I would like to tell you something that I think you should know on this special day of yours. Keep the secret – Baby, I fell for you the very first time I caught you staring at me… you're angry but you stole my heart. And I keep falling over and over for your sight.
And a few more…
Your birthday is the only celebration I have on my mind all year long. It is as special as you are to me. Happy Birthday, darling.
On this special day of yours, I promise you to celebrate the next birthday together as your official husband…. A gift you'd always wished for. Happy B'day my dear fiancé.
I can still remember the day I saw you and the way you looked at me… straight in my eyes. That was the beginning of my "sweet memories" book. And as I am moving ahead in my life, I am adding more memories like these. On your birthday, I just wanted to say my life would have been pale without you. I love you and will always stay forever. Happiest birthday to you!
If you too have something on your mind, please feel free to share with our readers!
For more such quotes, keep in touch with Fabulously.