Engagement is a grand affair. So, you have to ensure every bit of it stands out. An engagement ring is one such essential engagement day accessory. Hence, you must give special attention to the engagement ring tray decoration.
Want to present your engagement ring to your beloved in a never-done-before manner?
Engagement is the initial step of a lifetime commitment. Hence, the journey to marriage becomes more formal with the ring ceremony. As such, couples want to make this special day unique in every possible way. Apart from choosing the most unique engagement ring and bride-groom outfit, several other aspects need beautification. And one such aspect is the engagement ring decoration.
Come on! Who doesn't want the most happening moment of their life to be presented most uniquely? That's why you need to think of ring ceremony plate decoration ideas.
So, let's get talking about the decoration of the ring ceremony tray.
Decorative Ring Ceremony Tray
The engagement tray is another preparation to be given due attention. While it is a matter of personal choice whether to buy an eye-catching engagement ring tray from the market or to decorate one at home, you may choose decorative styles that reflect your tastes or culture. And if you decide to decorate the engagement ring tray on your own, the ideas are still endless. You may use beautiful flowers, tulle, shiny stones, beads or other accessories for your ring ceremony tray decoration. So, want some inspiring ideas for engagement ring tray decoration? Here are some great engagement tray decoration ideas!
Engagement Ring Tray Decoration Ideas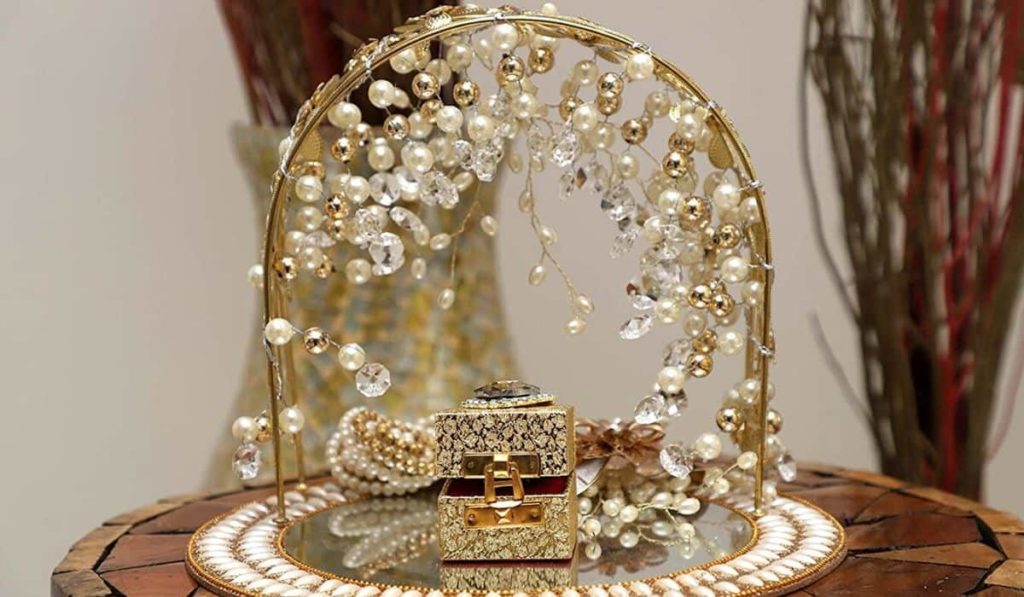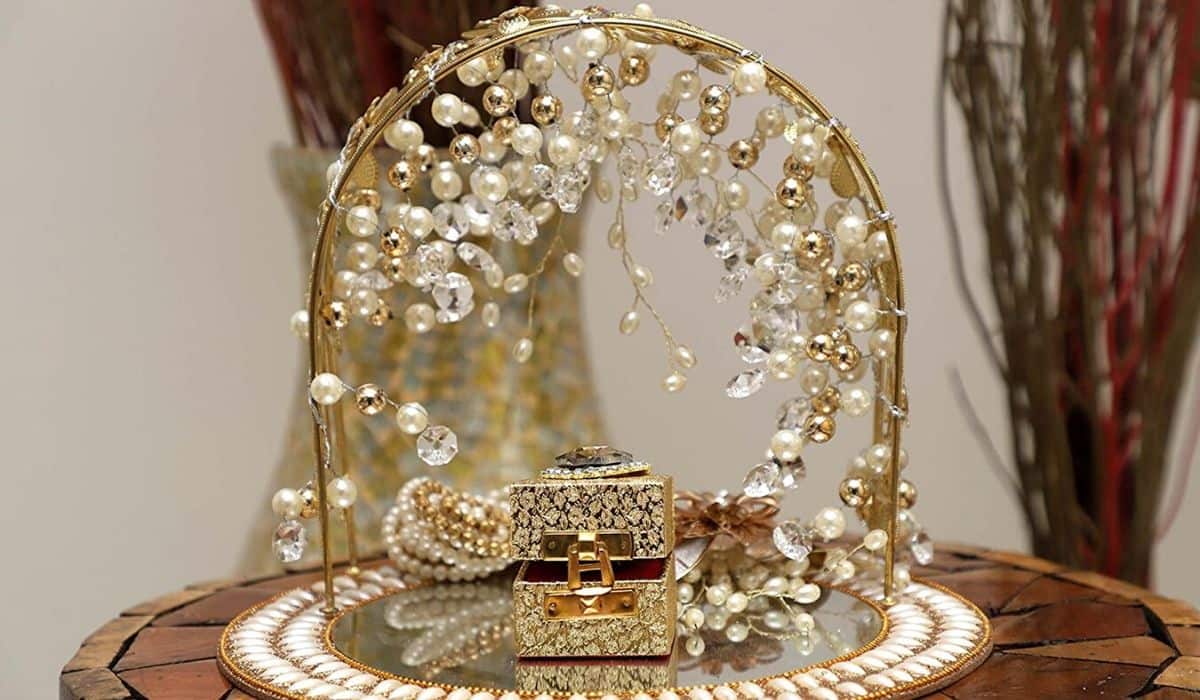 1.Traditional Engagement Ring Tray
No matter where you go, traditions do follow! Couples who are connected to their roots often prefer organizing their engagement or wedding ceremonies in a traditional style. A traditional engagement ring tray will have it all – hues of red and golden, small diyas, metal laces, a Ganesh idol may be, peacock feather, velvet coverings, some flowers, etc. You can go for the traditional tray design style if you're looking for something simple and elegant.
2. Classic Silver Ring Tray – Indian engagement ring tray decoration ideas
A classic silver engagement ring tray never goes out of style. You can find a variety of such trays decorated with colourful flowers depending on the theme of your event. Just make sure to keep your rings in silver or oxidised boxes. How about this engagement ring decoration ideas?
3. Minimalist Yet Modern – How to decorate ring ceremony tray at home
If you or your partner are romantic and playful, this ring design is for you! Hand-embroidered with love, these ring pillows are a piece of art. Use them as a tray and you may hang them as a wall decoration later. Feel that nostalgia even years after your wedding!
4. Photo Frame Ring Tray
How about this cute and unique engagement ring tray decoration idea? You can get a photo frame customized the way you want. Besides, to make it more personalized, you can also add a photo of two of you. Trust us! Your guests are going to go gaga over your engagement ring tray! And.. you can cherish the memories of your special day by keeping the photo frame in your room for life.
5. Glass Box Ring Tray – Ring ceremony tray decoration ideas
A tray need not be exactly a tray! It could be a box too. Think of an elegant hexagonal glass box ring bearer! Just add florals of your choice and it will look even more pretty.
6. Bird Cage Ring Tray
While the birdcage engagement ring trays are a common trend in the market, you can still find something unique in them. You can also try out some ways to personalize your birdcage engagement ring tray, say a tiny, wooden nameplate!
7. Sea Shells Ring Tray – Wedding Ring Tray Decoration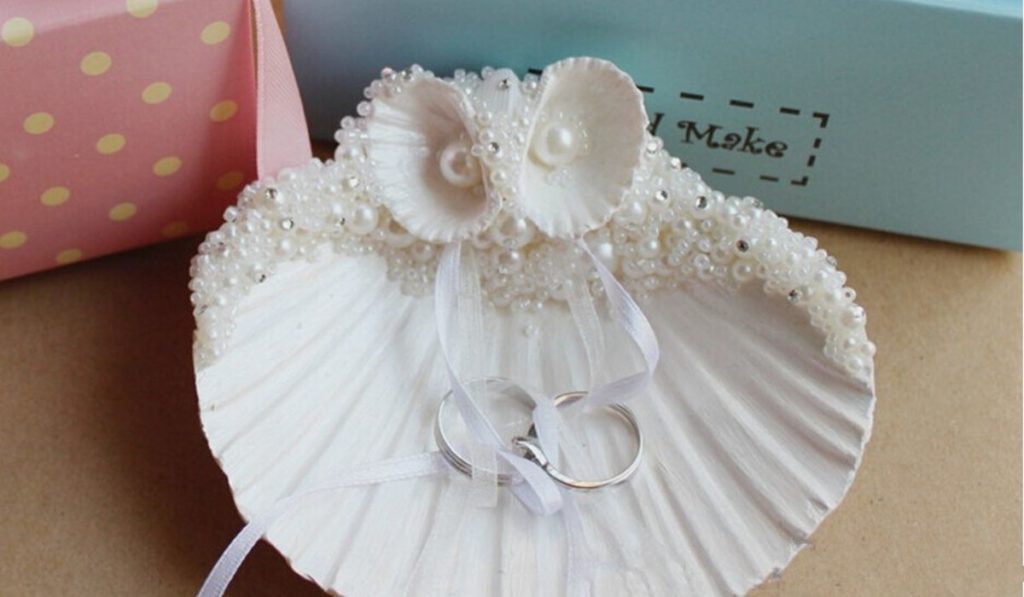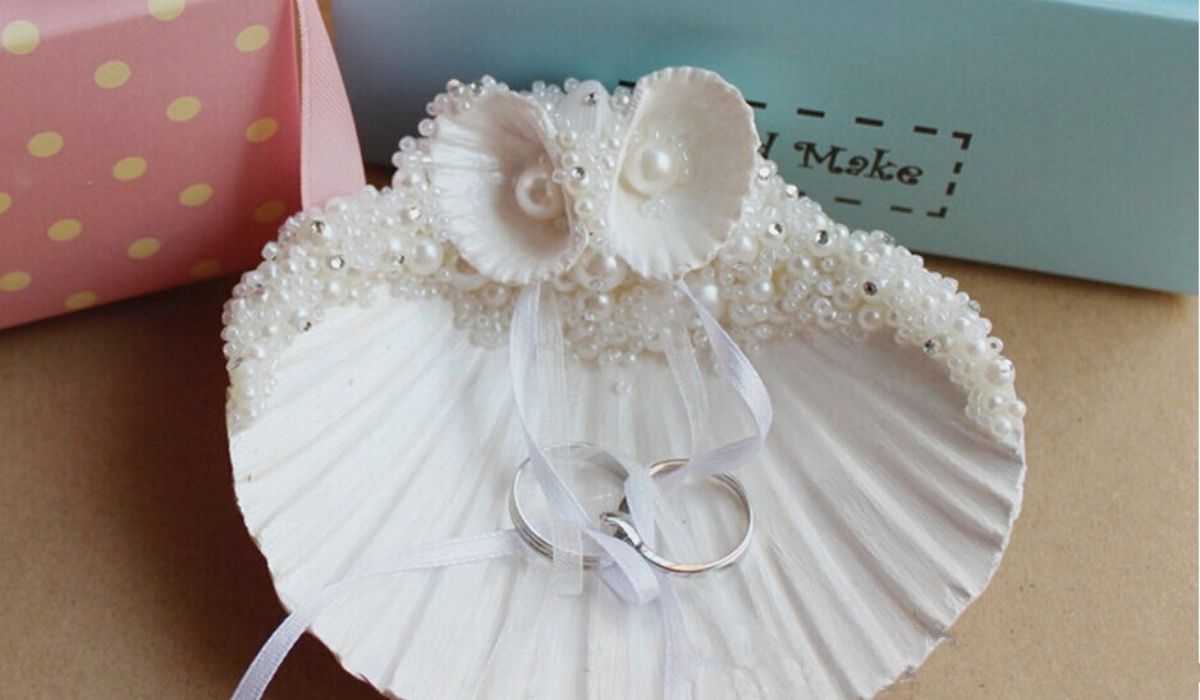 How about going Vintage! Try out using a seashell ring tray. These ring tray designs have been in trend for quite a long now. Laced bows and patterned borders make the engagement tray look heavenly.
8. Miniature Garden Ring Tray
If you or your partner are a green lover, this one's for you! A unique ring tray with a small garden setup is undoubtedly one of the cutest ring trays. Just look at the miniature chairs, small paper bunting and grass! You can also use green as your engagement ceremony theme!
9. Martini Glass & Candies
Raise a toast to the couple with candles and candies! No, we aren't stopping you from celebrating your special day with wine. But you can definitely try out this Martini Glass decorated with rose petals and candies. Isn't it a creative way of presenting the engagement ring?
10. Fairy tale Ring Tray – Wedding ring tray decoration ideas
Every love story isn't less than a fairy tale. So why not bring your fantasies to your engagement day! Try out a fairy tale-based engagement ring tray with a chariot, a bride-groom and a love monogram! Check out this utterly romantic engagement ring tray design and get inspired!
DIY engagement ring tray decoration ideas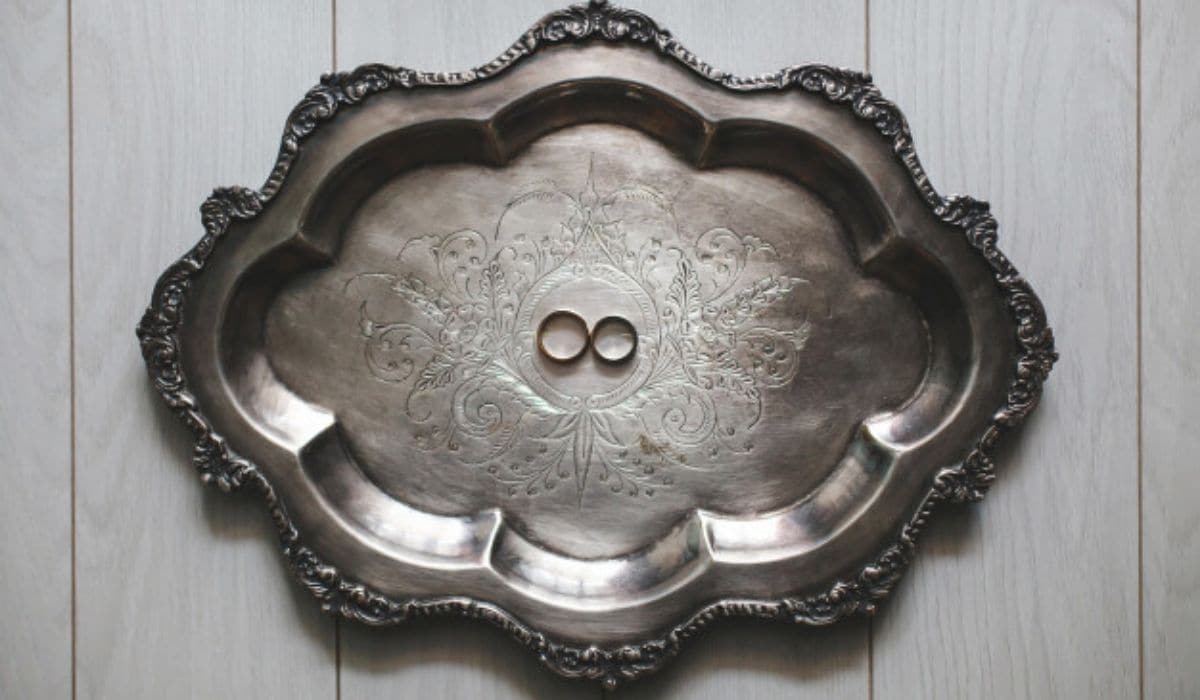 Want some more? How about designing your engagement ring tray on your own?
Decorating engagement ring tray at home is easy, affordable and interesting. All you need is some creative ideas, packaging items, and interest. Also, you need to have some time at hand. The best part of decorating engagement ring tray at home is you can design it your way. You can even add or remove any element whenever you want. However, do not indulge in DIY at the last moment, especially if you are trying it for the first time. Plan a bit ahead of your ceremony and complete the craftwork before-hand.
Let's take a look at some DIY engagement ring tray decoration ideas you can try at home.
Simple Basket Tray- The best engagement ring plate decoration at home
You might have seen this type of ring tray design at a few of the ceremonies you have attended. This simple wooden basket can be designed without a handle. A bride's trousseau like bangles, sandals, saree, jewellery can be arranged neatly on it. Also, the basket is covered in flashy paper. A colourful net is used to tie a bow, which is again decorated with pearls, and fresh flowers. This is indeed a great engagement ring plate decoration at home.
Wooden Basket Tray – Homemade engagement ring tray decoration with flowers
To create a wooden basket engagement ring tray, you will need a wooden basket with a handle, ribbons, lace ribbons in Gold, artificial flowers, a decorative bowl, pearls, thermocol sheet, marron, red, or orange velvet paper, and corsage. To design this platter, follow the steps:
Fill the basket from inside with several layers of thermocol sheets till it reaches the top.
Spread out a velvet paper evenly on it. You can choose the colour of the paper according to your event theme.
Now, place the decorative bowl at the centre. Place the rings on it.
Put some artificial flowers inside the basket.
And your wooden basket ring tray is ready!!
Quill Flowers and Beads Ring Tray – Engagement ring tray decoration with flowers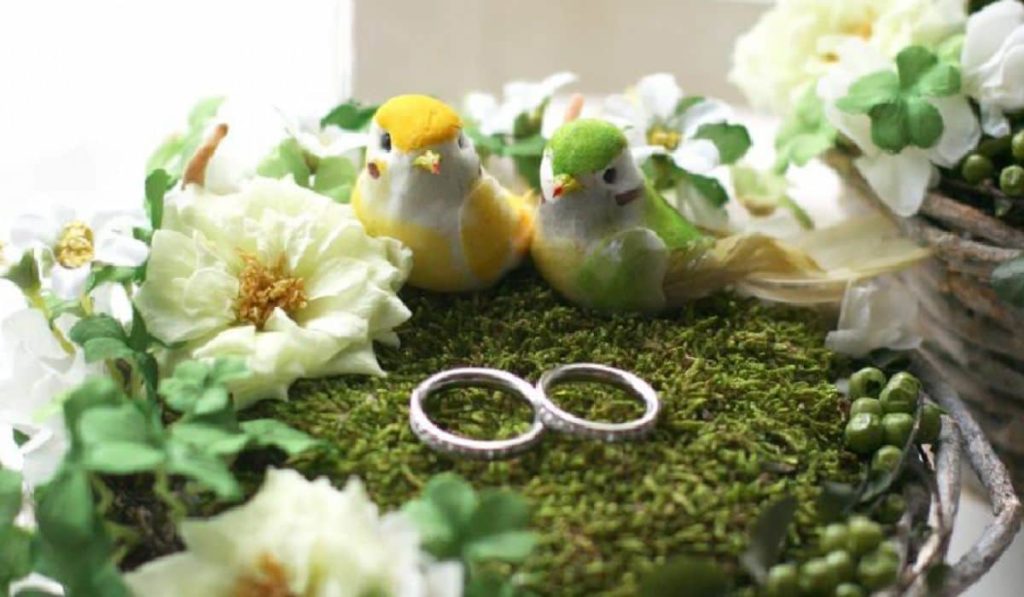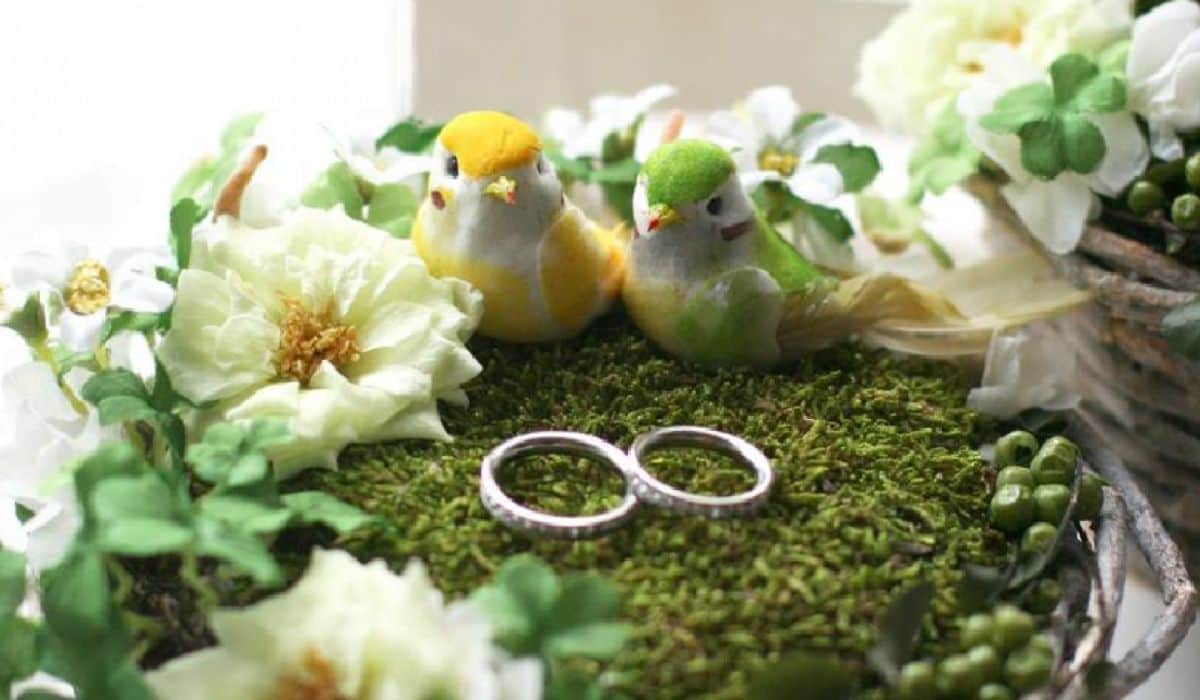 Want to try out designing an artsy looking engagement ring tray? You will need a round tray or basket, colourful beads, golden paper, a pair of ceramic wedded couple miniatures, and maroon and blue quill flowers. Let's start:
Spread the golden paper evenly over the tray and paste it using some glue. Leave it to dry for a few seconds.
Now, paste the maroon quill flowers on the rim of the tray.
Take the maroon quill flowers and paste two along the sides on the tray. Border them with small quill blue flowers.
You can place your rings inside these two maroon flowers, later.
Now, add strings of beads in a curvy form. Stick white quill flowers alongside.
And… you're done!
Pink Cagey Ring Platter
Simple is classy and not always boring. Sometimes, simple does it perfectly! To create a cagey ring platter, you will need two holders, twin peacock feather, and a floral element.
Add a scarlet sheet on top of a circular plate.
Decorate the rim with a border strip.
Add two holders and a pearl flower.
Top it up with the peacock feathers.
So, the ring tray is ready for your big day!
Ceramics and Pot Engagement Ring Tray – Decoration of Ring Ceremony Tray
To design this ring tray, you will need an ornate thali, an elephant ring holder, a wedding pair in ceramic, a Ganesh idol, flowers, bright cloth, and small colourful pots. You can get these things at any local craft or gift shop.
Simply arrange all the items on the plate one at a time. You can choose the order as per your wish.
Now, place two small 'laddoos' in the pot along with engagement rings in the holder.
Now, that was very quick yet beautiful!
The Jewellery Tray
How about a jewellery tray for a jewellery lover?
Take a round or rectangular tray and cover it up with fabric. Stick it well so that it doesn't move from its place.
Place one or two black mannequin's necklace holder over it.
Decorate with flashy artificial flowers and leaves.
Moreover, you can also use this tray to pack your jewellery, later.
Conclusion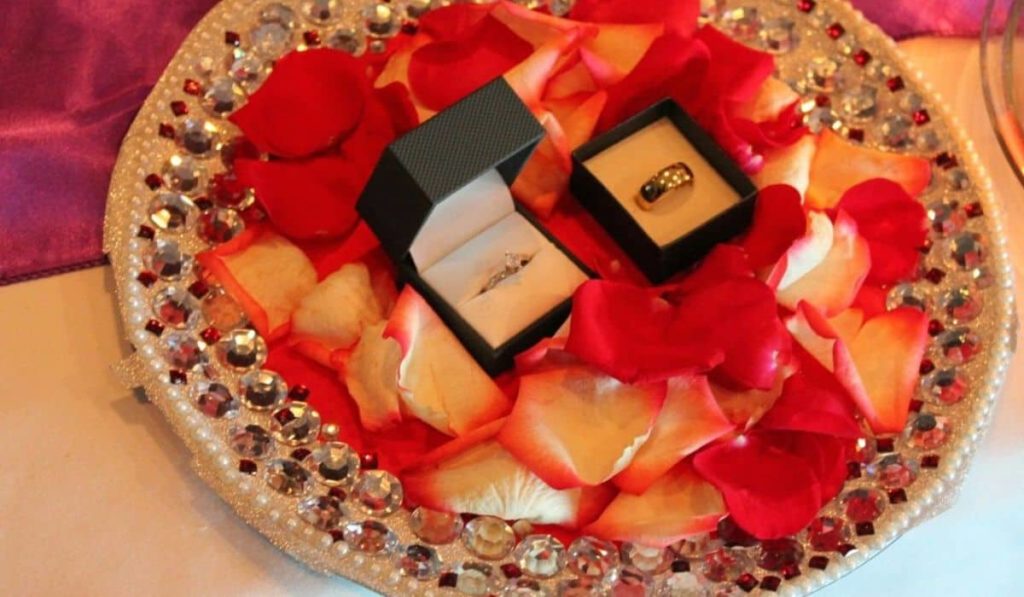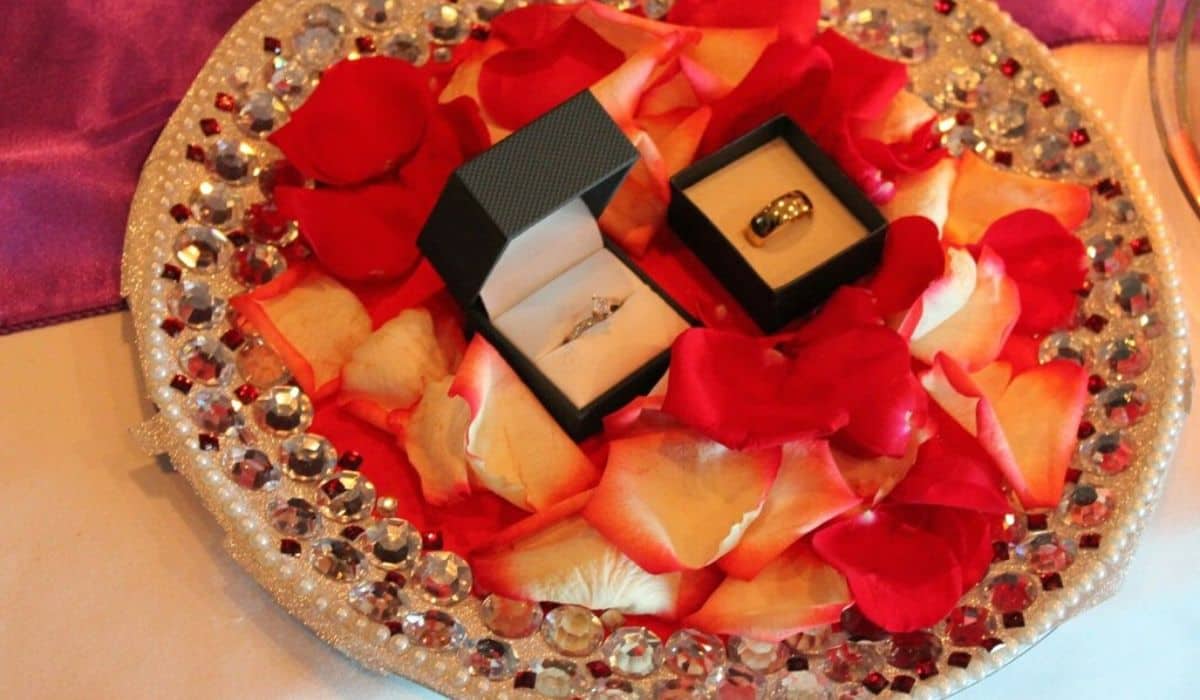 We hope you'd try out some of these engagement ring tray decoration ideas for any upcoming wedding or engagement ceremony. We'd love for you to share your experience on trying these ring ceremony plate decoration ideas.For more such creative blogs, visit Fabulously.in