Asking someone to be your forever partner is once in a lifetime moment. This is why it is often made special with diamond engagement rings. And when it comes to an engagement ring or wedding ring, how could one miss to talk about Halo engagement rings?
Halo engagement rings have gained immense popularity. It's because of their radiant beauty and gorgeous sparkle. The ring setting is also one of the popular engagement ring options. This is because of its romantic-vintage inspired look.
What is Halo Engagement Ring?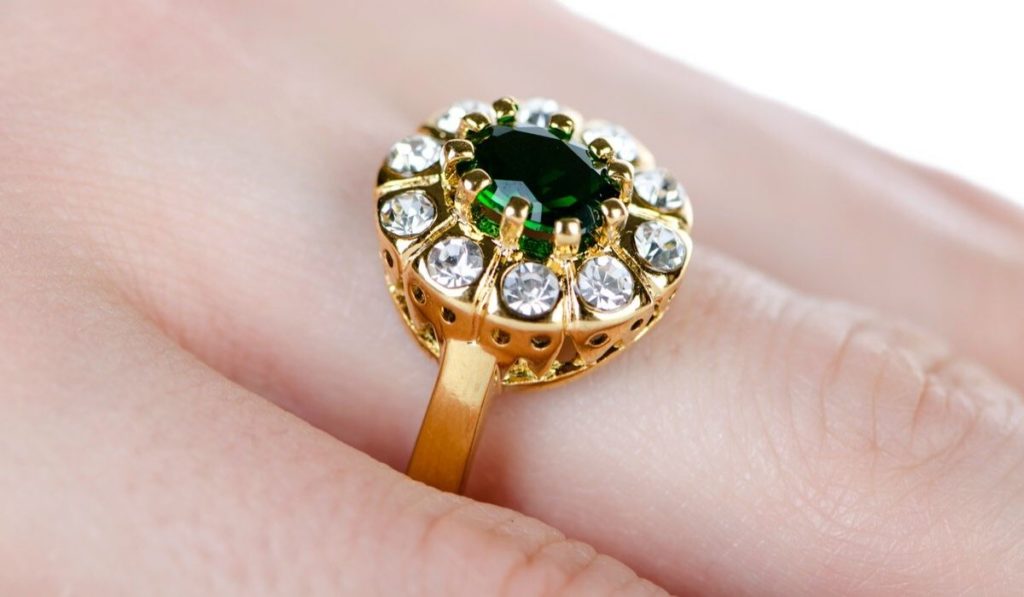 A halo engagement ring showcases a big diamond encircled with smaller accent diamonds. Couples love Halo rings for their timeless radiance and glamour. Besides, these are full of sparkle and give the wearer a dazzling look. Thanks to their subtle detailing and exquisite shape.
Traditional halo rings showcase a modern take on classic solitaire rings, while the vintage-inspired halo rings are enriched with paves and milgrain detailing. Be it their eternal elegance that surpasses the sophistication or their unique design that sets these stunners apart from their counterparts, halo engagement rings have been charming generations.
Halo Rings come in a vast range of diamond shapes. You can also choose halo engagement rings in an array of precious metals such as Rose Gold, White Gold, and Gold. Classic diamonds, colourful diamonds and gemstones can give you the best look.
But before we delve into different types of Halo Rings, take a look at why these are the perfect wedding rings.
History & Origin of Halo Rings
The past decade has seen an explosion in the popularity of halo engagement rings. The origin of the of the halo ring dates back to the early Georgian era in Europe during the years 1714-1837. This era marked the rise of round diamonds, which were smaller than the centre stone. Occasionally, pearls were also used in the setting.
Later, Halo engagement rings gained popularity during the Victorian era (1837-1901). At this time, jewellers often used coloured gemstones as centre stones to imitate flowers. However, it was in the 1920 era (The Art Deco age) that marked the origin of today's classic diamond halo setting. This era was known for its importance on symmetry and geometric patterns. The setting of a halo ring in which a diamond ring surrounds a round centre stone made it ideal for Art Deco aesthetics. (Source)
Why Choose Diamond Halo Engagement Rings?
What it is about the diamond Halo Engagement Rings that have been making generations go WOW! Well, here are the reasons:
Amplify the main diamond: A major benefit of these rings is that it makes the centre stone look huge. Not only this, if you look at these rings from a distance, but it also appears one huge sparkly diamond.
Have Intense Sparkle: Because of many small diamonds enclosing the central stone
Protection to the Central Diamond: Halo ring setting acts as a protective covering for the centre diamond. This prevents it from scratches or any damage.
Pocket-Saving deal: Buying halo engagement rings doesn't cost you much. If not the halo effect, one can even use a smaller diamond setting that comes under their budget.
Types of Halo Engagement Rings – Based on Diamond Shape
1. Oval Halo Engagement Rings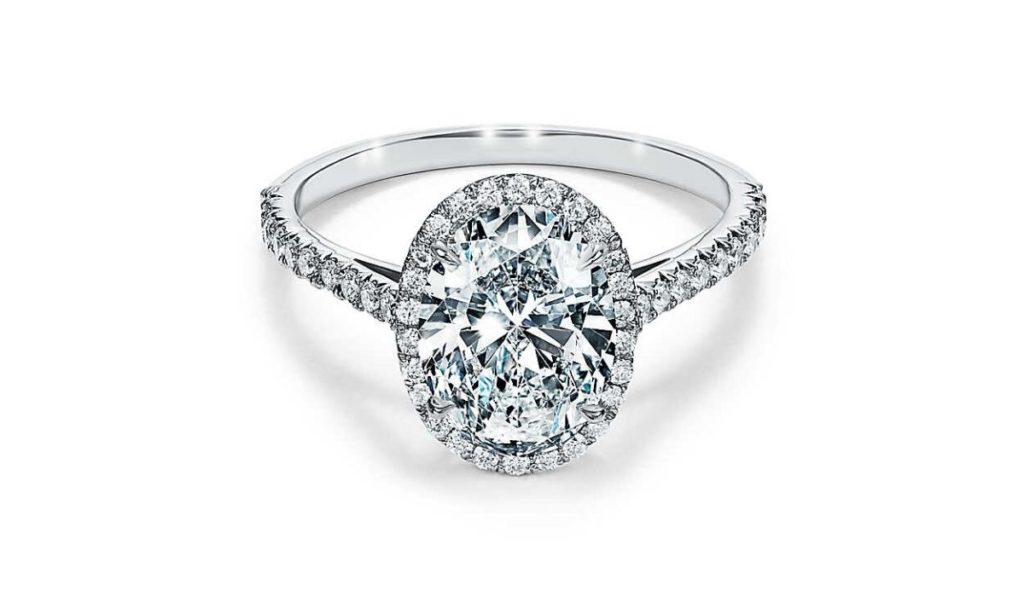 Oval halo engagement rings are timeless. Jewellers design these rings in a vintage-inspired design, blended with an oval-shaped diamond. Here, the oval-shaped diamond is the centre stone. One can wear this type of ring with any silhouette ring to experience the perfect sparkle. Here, the placement of small halos around the central oval diamond forms- a glittery outline. It is a perfect pick for those who love the brilliance of diamonds and are looking for something sparkly.
2. Square Halo Engagement Rings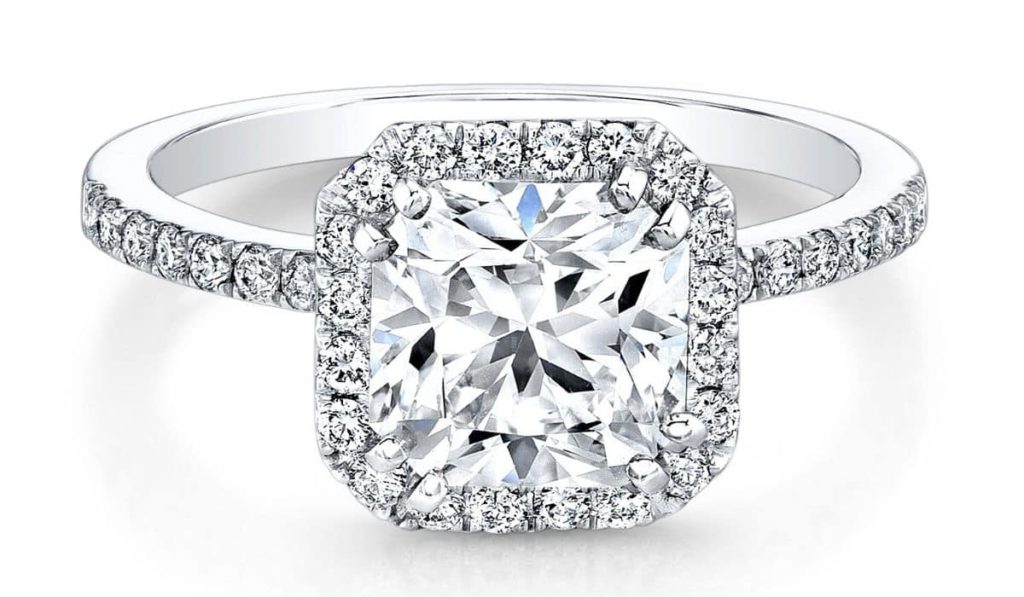 Square Halo rings are famous for their brilliant cuts and geometric centre stones. This ring style offers a variety of design combinations. This is what makes it unique from its counterparts. These ring types pose more of a bold statement for a stylish lady who demands attention.
You can get Square Halo rings in three popular diamond cuts – princess, emerald, and cushion cuts. These cuts make space for stylish variations such as sharp halo corners, rounded ones, etc.
Princess-Cut Halo Engagement Ring –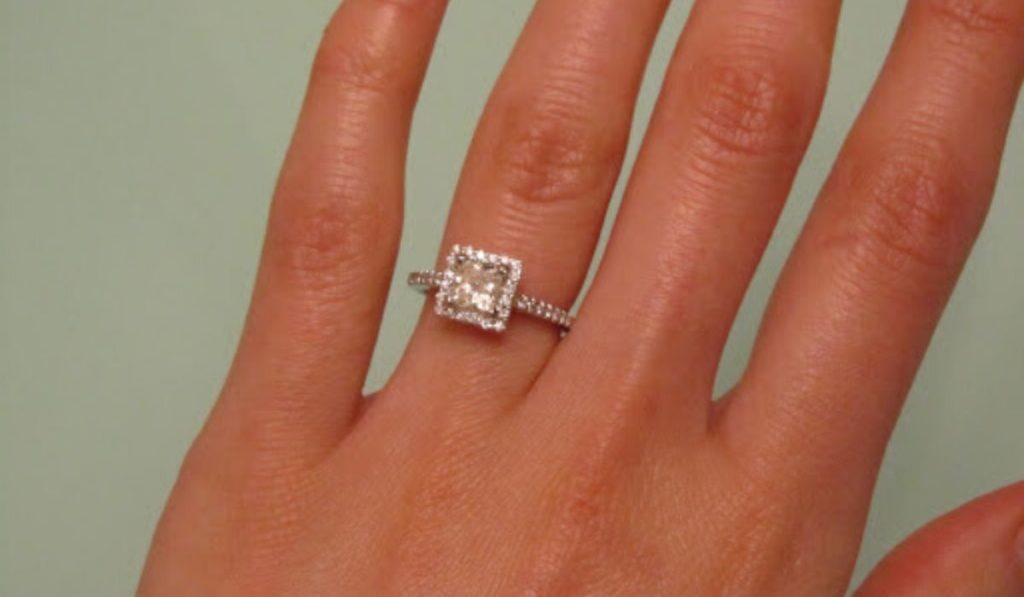 In this ring style, the jeweller cut a square stone with many facets. It features a classic halo of diamonds encircling a contemporary princess-cut gemstone. The entire setting comprises the cone-shaped bottoms of the diamonds or the pavilions. Thus, it emits a brilliant sparkle when light hits the diamond.
Cushion-Cut Halo Engagement Ring –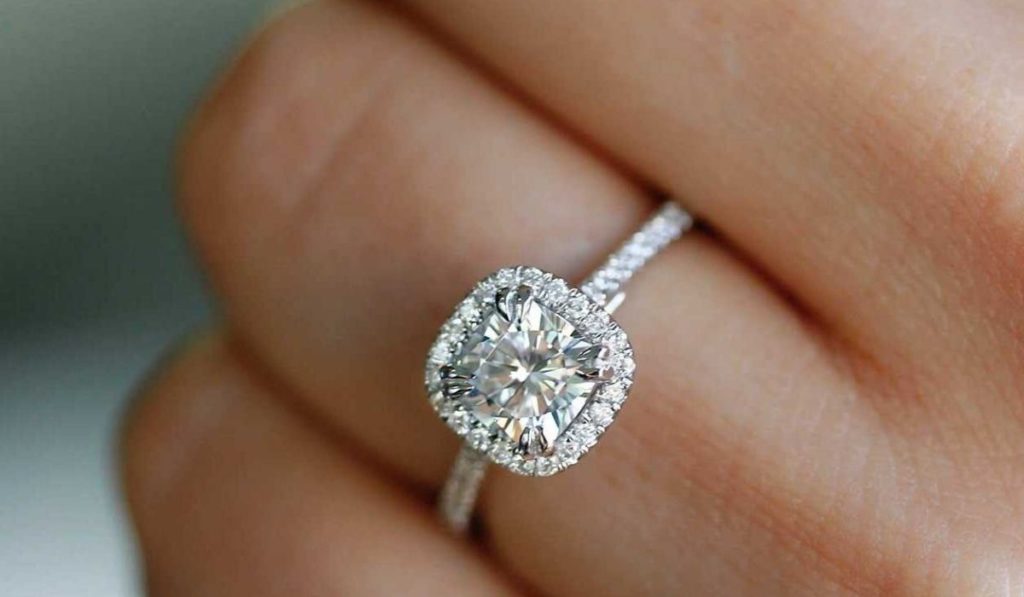 Sparkling smaller diamonds blend perfectly with the square edges of the cut diamonds. These, when fitted in a halo setting, enhance its appearance. You can get a cushion-cut halo engagement ring in platinum, Rose Gold, Yellow Gold and even
white Gold.
Emerald-Cut Halo Engagement Ring –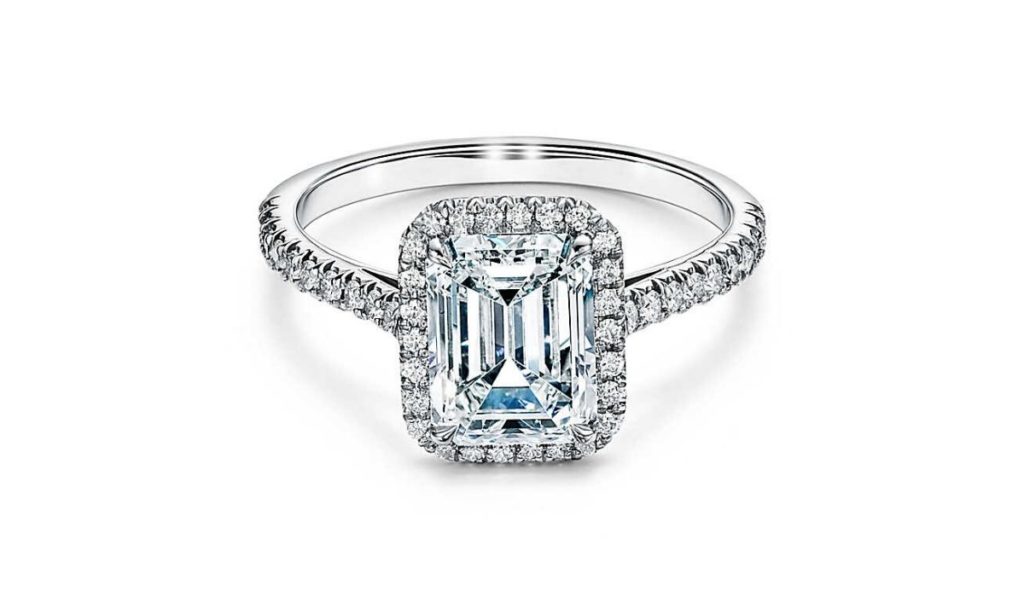 Essentially, an emerald cut diamond is a step cut. The cut has small rectangular facets resembling steps or stairs. Certainly, this produces brilliance and sparkle; but, in a subdued fashion. Because of their long, elegant body, emerald cut halo rings are popular for their high appeal.
3. Round Halo Engagement Ring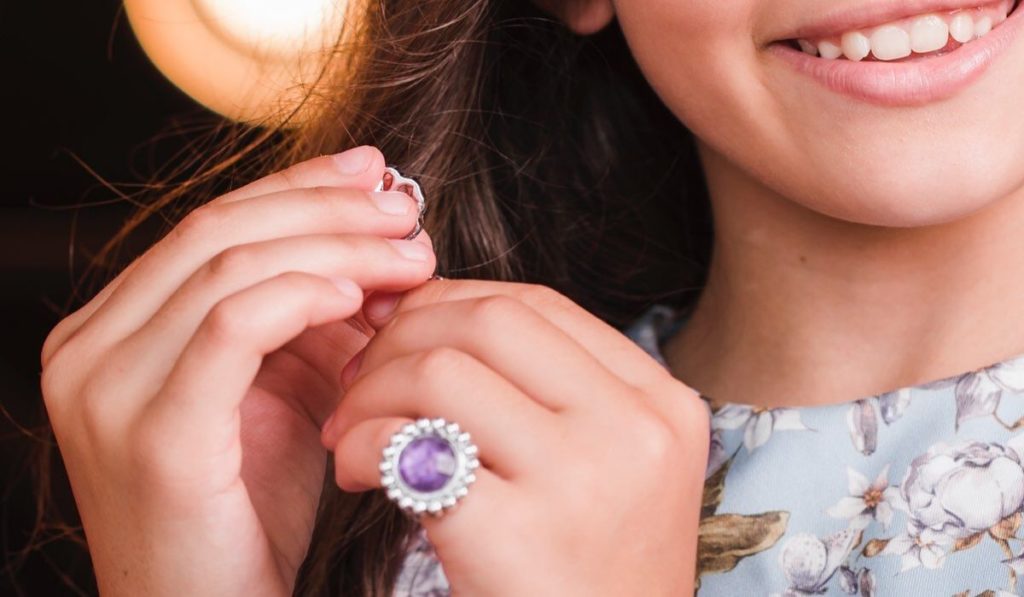 This is the most sought-after Halo engagement ring style. Here, the jeweller encloses the centre stone by smaller accent diamonds. Further, setting a classic round gemstone in the centre complements the Round halo rings. These rings are set in a variety of metals such as rose, Gold and platinum, and designs such as floral, regal, and curvy patterns to highlight a classic look. If you want added sparkle, you can consider a double halo engagement ring.
4. Pear-Shaped Halo Engagement Ring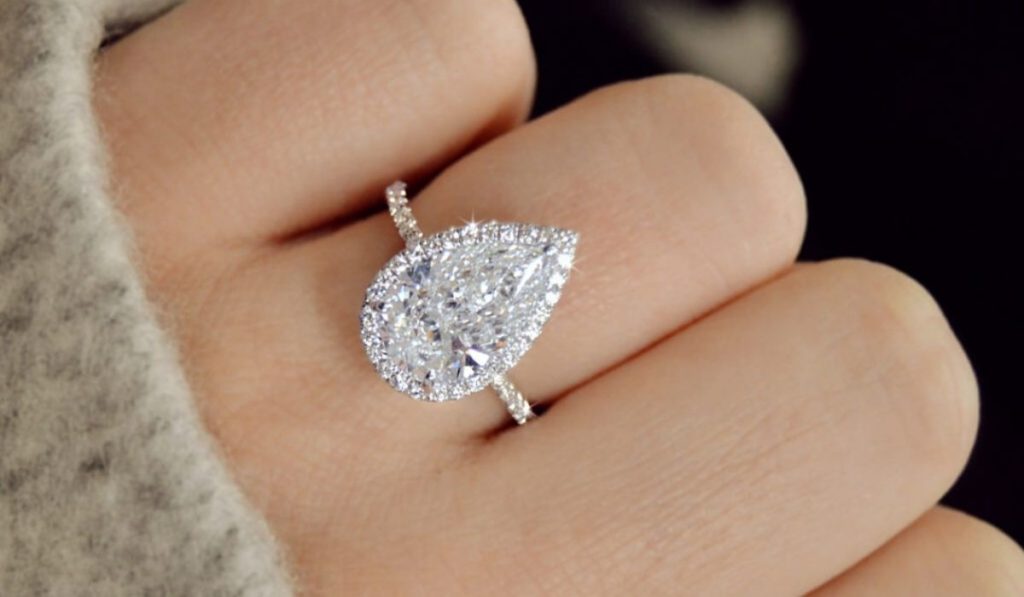 A pear-shaped halo engagement ring is a combination of elegant curves with startling angles. It's an ancient cut style. However, designers have slightly modified their shape over the years. This ring poses an unusual and extraordinary shape with great versatility.
5. Marquise Halo Engagement Ring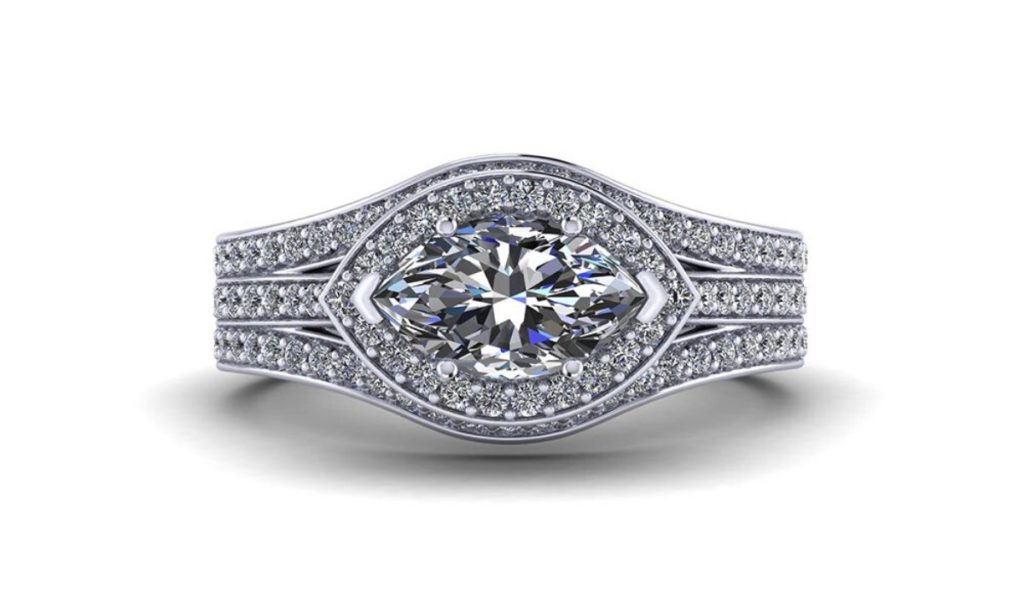 Marquise, in French, means "little boat". Hence, as the name implies, Marquise halo engagement rings pose a diamond with boat-like shape. King Louis XIC originally commissioned this ring shape. He did it for his beloved, Marquise de Pompadour. The ring then had curved lines and an extended silhouette.
6. French Set Halo Engagement Ring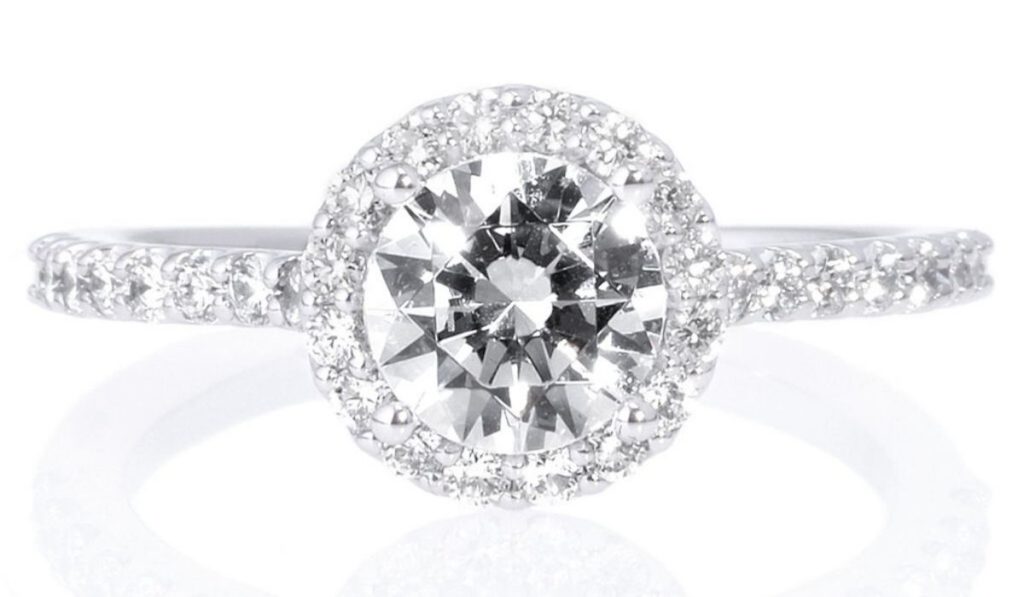 These cut-styled diamonds make the Halo ring appear like one big diamond. This is because the French set diamonds are set in a halo of small paves. This ring type typically enhances the look of all the diamonds embodied in it, which results in an extra sparkly look.
Types of Halo Engagement Rings – Based on Diamond Style
1.Gold Halo Engagement Ring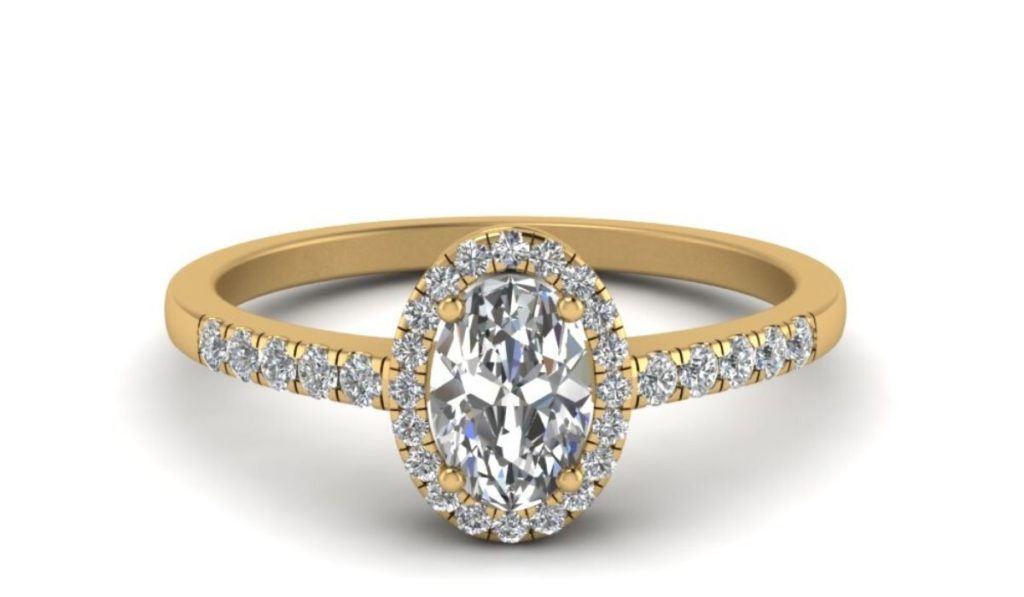 The presence of Gold in any ring adds extra glamour to it. Hence, choosing a Gold halo engagement ring could be an excellent option for those who want a striking piece on their finger. Such rings look stunning with any diamond cut as the centre stone blends well with other diamonds in Gold. Gold halo engagement rings are usually available in 14KT, 18KT and 24KT.
2.Vintage Halo Engagement Ring
This is one of the most preferred ring styles among couples. A vintage designed halo engagement ring makes for a good wedding ring option. This ring style features sparkling halos enclosing the centre stone. Further, this setting gives an appealing look to the ring. You can opt a vintage style halo ring in various metal types including Gold, Rose Gold. silver, and platinum.
3.White Gold Halo Engagement Ring
A white Gold halo engagement ring is a good choice if you are looking for a mix of metal adorned in white diamonds. White Gold accommodates various diamond shapes and colours and looks amazing in the halo style. A white gold halo engagement ring looks stunning cushion cut diamond, round diamond, pear-shaped, and marquise-shaped diamonds.
4.Sapphire Halo Engagement Ring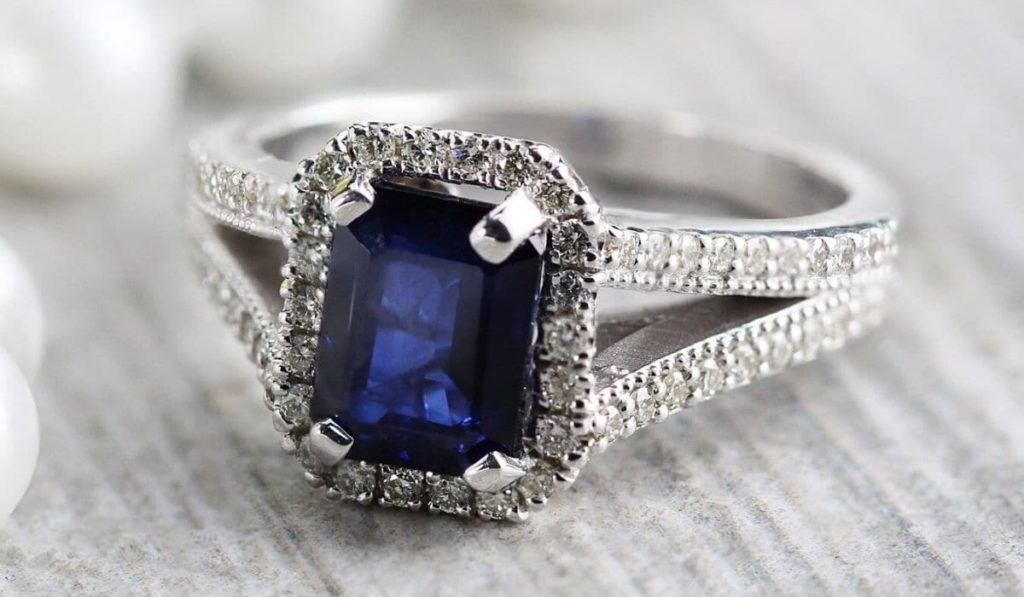 If you're looking for a ring that stands out then a sapphire halo engagement ring is the best option. The shimmering blue gemstone at the centre rests elegantly in a halo of diamonds that look classic and sparkly. Sapphires make great engagement rings because they're pretty durable, which means that you can use them on a day-to-day basis without affecting their shine or shape.
FAQs
What is a halo engagement ring?
Halo, in simple words, is a ring of diamonds that surround the centre stone of a ring. Halo setting looks great with any diamond shape.
What is the difference between a Halo and a Cluster?
A halo and a cluster setting differ in their design and intend. The intent of a cluster design is to mimic the look of the larger stone by clustering many stones together. But a halo design comprises a central diamond enclosed by diamonds. This makes it appear huge.
Can a halo detract from the centre stone?
It depends on the design you choose. Choosing a Halo ring with a centre diamond surrounded by larger diamonds can make it look smaller.
Will Halo Designs ever go out of style?
No! Halo rings have been popular since the late 1700s. The range of styles and designs this ring form comes makes it a style statement for all.
Can a Halo work with any style?
Yes, one can design Halo rings in any shape you can imagine. This is why these rings are an ideal choice for couples. Stay tuned for more such interesting information of jewellery, fashion and lifestyle. Make https://www.fabulously.in/ part of your fun and enrichment regime.