If you are thinking that your marriage is the only time of celebrating the moment in a larger than life way, then you are wrong. You can also make your anniversary a special occasion by gifting your partner an anniversary ring but what to give and how to choose one?
What is an anniversary ring?
Anniversary rings are a popular gift option for giving your partner a jewelry piece that they can easily flaunt. An anniversary ring is a ring that features a multi-diamond or gemstone band that you can give to your better half on the occasion of your anniversary.
Though there are no set of rules guiding the concept of anniversary rings, you can choose one depending on your personal preference.
An anniversary ring serves as a lovely reminder of the time you presented your partner with the wedding ring and now as a surprise of reminiscing those memories. anniversary rings come in an array of shapes, cuts, sizes, and colors and choosing it completely depends on you.
When to give an anniversary ring?
As per an old saying, it is said that couples should wait until fifty years of marriage before celebrating the moment with gold jewelry. However, today diamond jewelry is presented to the partner on the fifty or tenth year of marriage. Hence, we say that you should surprise your better half with an anniversary band as soon as possible. We have also curated the below guidelines to make your anniversary a special occasion every year.
In the 1st year go for gold
Since the first year of marriage is filled with happiness, you can lovingly thank your better half by presenting him or her with a gold jewelry piece. Opt for a gold or rose gold jewelry piece in a more vintage or contemporary style.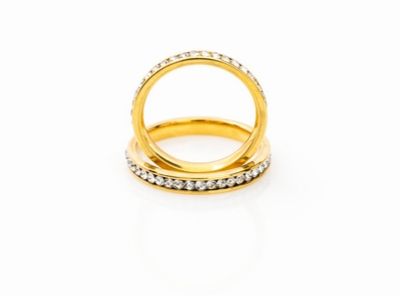 In the 5th year opt for sapphires
Sapphires are considered to be significant and traditional fifth year anniversary gifts. A Sapphire ring or a pendant or even earrings make for a lovely gift. Sapphire is also associated with truth and loyalty, hence it makes for an apt 5th-year-anniversary gift.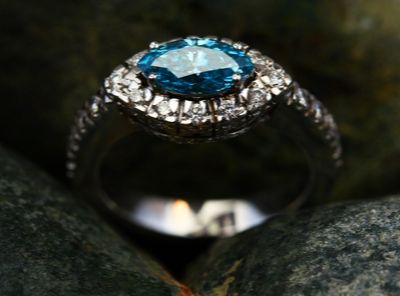 In the 10th year opt for diamonds
Since the tenth year of your anniversary is a truly special occasion, you should undoubtedly present your partner with diamonds that just add extra sparkle to the occasion. A Diamond ring is a beautiful gift of love that you can exchange with your partner or can even opt for diamond earrings or a necklace. Diamonds are both beautiful and sentimental and make for a gift that is cherished for a lifetime.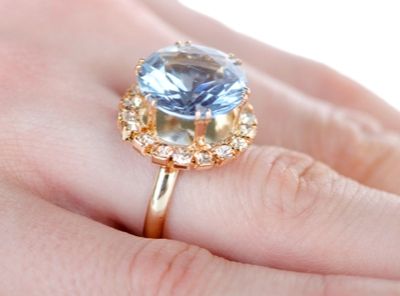 What finger do you wear an anniversary ring on?
If you have been presented with an anniversary ring and are left wondering as to on which finger you should be wearing the anniversary ring then you should know that there is no specific rule to this. There is certainly no hard and fast rule as to this.
How you wear the anniversary ring depends on the type of ring. It also depends on the engagement and the wedding ring that you are wearing.
Hence, the placement of the anniversary ring on your finger clearly depends on your personal preference. An anniversary ring can be worn alongside a wedding ring or can also be worn on the third finger of the right hand or just any finger on which the woman wants to.
Choosing the perfect anniversary ring?
1. Three stone ring
Anniversary rings generally feature three stones that represent past, present, and future of the relationship. You can opt for a three-stone ring as per the budget and taste of your partner. Three-stone rings come in a triple twist band or a simple three-tone diamond ring.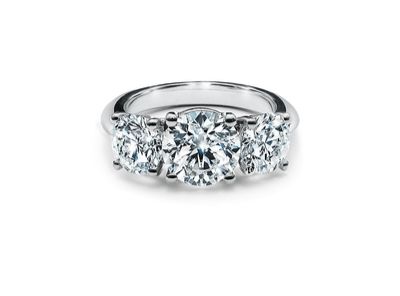 2. Eternity band
Eternity rings are another popular choice for anniversary rings. To symbolize the everlasting nature of your relationship, you can opt for an eternity ring featuring diamonds and other precious stones. An eternity band is special and meaningful and easily conveys your love and care towards your partner.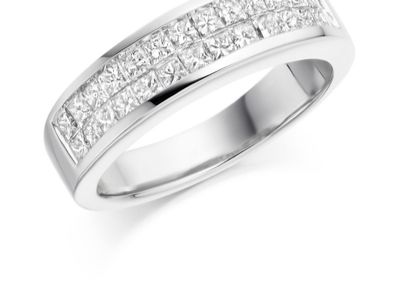 3. Gemstone anniversary ring
Gemstone rings are one of the beautiful ways to celebrate your anniversary. You can opt for gemstone rings in a variety of styles, colors and price ranges. Opt for a stone color that complements the style and color of the wedding or engagement ring. No matter what ring you choose, always remember that the ring should fit your partner and should suit his/her finger type.
Also, remember anniversary bands are just not meant for women as even they can gift such bands to their partner to reaffirm their commitment and celebrate their togetherness.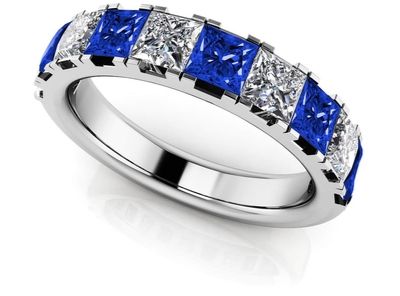 What is an anniversary ring?
Anniversaries are such a special day for couples – a time to look back and celebrate the time you've had together while at the same time looking forward to the future. If you would like to get your significant other a gift to commemorate this special day, there's no better choice than a diamond ring
Anniversary rings typically come in the form of a diamond anniversary band. These bands can be worn by your significant other on their ring finger right alongside their wedding ring, serving as a lovely reminder of where the two of you started from and where you are now.
How to choose and give one?
If you're looking for a great way to commemorate a special anniversary, a ring is an excellent choice. anniversary rings come in a wide range of styles, and there's certain to be one suited to your personal preference, activity level, and budget. There are even anniversary rings for men. Consider all your options before you select the perfect ring to celebrate your years of marriage.
A wedding anniversary is a special day that promises excitement, the return of wonderful memories, and the anticipation of many more years to come. Probably no gift can adequately express the way you feel for your wife, purchasing a ring on a significant anniversary — such as 10, 25, or 50 years — can help you tangibly show your love and admiration.
Four tips to buy anniversary ring
For most men, buying jewelry isn't something that comes naturally. The last ring you purchased for your wife was probably her engagement ring or wedding band. But you don't have to be an expert in jewelry shopping to find a dazzling one she'll love and cherish. The following tips will place you well on your way to finding the perfect piece.
1. Determine Your Budget
Money won't be the only qualifying factor in this equation, but it is helpful to start the process of hunting for the ring with a budget in mind. There's a big difference between $1,000, $5,000, and $10,000 rings. You may be flexible on your numbers, but at least you can zero in on a category.
2. Consider Her Style
You might not know the specific details about the sort of jewelry and fashion your wife prefers, but you should at least be familiar with her overall style. For example, you probably know whether your wife leans more toward classic or modern. Knowing that much will help you narrow your scope.
A woman who favors a classic style is going to want timeless, conservative pieces that serve as tasteful accents. The goal is to complement, not stand out. A woman with a more modern style is progressive and willing to take risks. She likes bold statement pieces that may make people stop and look.
3. Something Meaningful
An anniversary ring isn't just any ring. It's tied to your relationship and needs to be meaningful and memorable. Though you likely have some flexibility regarding the kind of ring you buy, a worthwhile option is to give your wife a ring that has her birthstone in it.
4. See What You're Looking For
If you're purchasing a diamond ring, it's essential for you to know what you're looking for. As you may remember from buying her diamond engagement ring those many years ago, a diamond is judged based on the four Cs: color, clarity, cut, and carat.
Color refers to the yellow tint of the stone (or lack thereof). An ideal diamond is colorless, though some have a hint of yellow when viewed under a microscope (or to the naked eye if the ring quality is poor).
Clarity relates to the presence of flaws in the diamond. The cut is determined by how well the diamond reflects light and what sorts of incisions are found inside. Carat refers to the weight of the stone. Bigger stones obviously entail a higher price tag.
Focus on the right things
Buying an anniversary ring for your wife is a powerful way to show your love and affection, but be wary of getting so caught up in the shopping and selection process that you forget to focus on the meaning behind it.
Your goal is not to buy a dazzling ring. Your goal is to make your wife feel special, cared for, desirable, and secure in your love. If you aren't confident about your ability to find a ring your wife will like, maybe it would be more meaningful to bring her along and let her pick out the ring for herself?
Styles to consider
anniversary bands come in a variety of styles, and the best type for you depends on a number of factors. Consider the following questions as you browse.
Which finger will you wear an anniversary ring on? Will it be on your right hand? Will it be on your left ring finger, along with your wedding ring? Will it be on a different finger on your left hand?
There's no wrong way to wear the ring, but the finger and hand you choose may dictate the styles that will work for you. How active are you? If you work with your hands or take part in a lot of sports or hobbies that involve chemicals or rough work, you may need an anniversary ring that's extra durable.
Budget
Depending on how much you can comfortably afford to spend, you may want to look at styles that involve diamonds and platinum or less expensive options like other gems and sterling silver or gold.
Rose Gold Diamond Eternity ring
Rose gold makes a warm, exciting change from white gold or platinum, and it really enhances this delicate design from Kay Jewelers. This ring, which features 0.50 total carats of tiny round-cut diamonds set in 14k rose gold, is perfect for women who love simple jewelry.
This ring comes in sizes 4 through 9 and retails for about $1,000.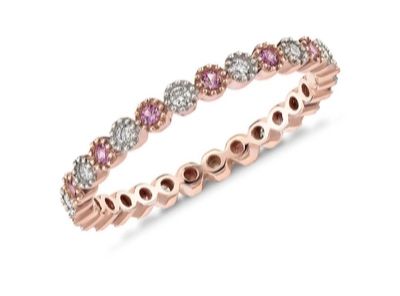 Marquise and Round Diamond anniversary ring
If you're looking for something unique, this 14k white gold ring from Amazon.com is an exceptional choice. It features a delicate-looking pattern of marquise and round-cut diamonds, which total 1.65 carats in weight.
This design is better for someone who isn't too hard on jewelry, since the white gold isn't quite durable as other materials, and the diamonds could catch on things. This ring has incredible sparkle and comes in sizes 4 through 10. It retails for just under $1,000.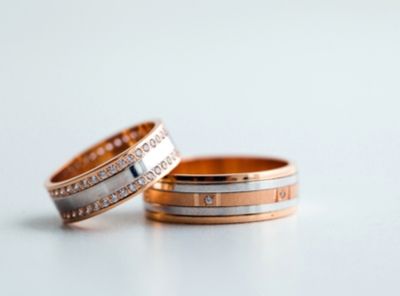 Men's anniversary rings
These days, anniversary rings aren't just for women. You can also purchase a beautiful band as an anniversary gift for a man. The traditional anniversary gift for guys is a nice watch, but there's no reason you have to follow that tradition.
If your husband loves jewelry, there are many options out there, from men's designer diamond rings to bands that are simple and affordable
14k Yellow Gold and Ruby Men's ring – A ruby is a beautiful gem for an anniversary ring since its red color calls to mind the concept of love.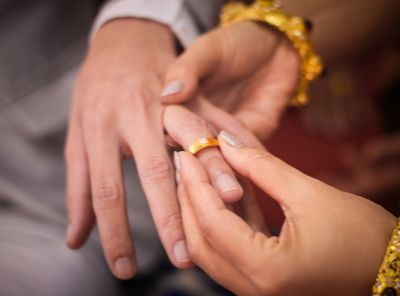 FAQs
Q 1 Which is the best 1st-anniversary gift?
The gold ring is the best 1st-anniversary gift.
Q 2 Which is the best 5th-anniversary gift?
A Sapphire ring is the best 5th-anniversary gift for your partner.
Q 3 Which the best 10th-anniversary gift?
The diamond ring is the most beautiful gift for the 10th-anniversary.
Q 4 Which is the perfect anniversary ring?
The three-stone ring, Eternity band, and Gemstone anniversary ring are one of the perfect anniversary rings.