Nothing says "love" like a diamond. So, when you want to pledge eternal love, what can be better than an eternity ring?
From Catherine, the Duchess of Cambridge, to Hollywood beauty Reese Witherspoon- all of them sport some fabulous eternity rings. Do you want one for yourself as well?
So, let us find out about this beautiful and timeless piece of jewellery.
What does an eternity ring mean?
You may have seen many Hollywood celebrities sport a ring which features a ring set with a continuous line of precious stones. It is also called an "infinity ring". The continuous line of stones symbolizes an everlasting love for one's spouse. Women usually get eternity rings as a gift from their significant other on the occasion of a special anniversary.
A ring is a circle- a band without beginning or end. It is the ultimate symbol of love. When studded with beautiful stones, it indicates eternity and your love will sparkle.
Of course, some women may find it inconvenient if the stones go all around the ring- this may be painful while folding your fingers over them. If you are one of them, you can opt for a ring that has stone covering only the back of it.
But do you know that the eternity ring is not a modern phenomenon? In fact, eternity rings are older than many civilizations.
History of the eternity ring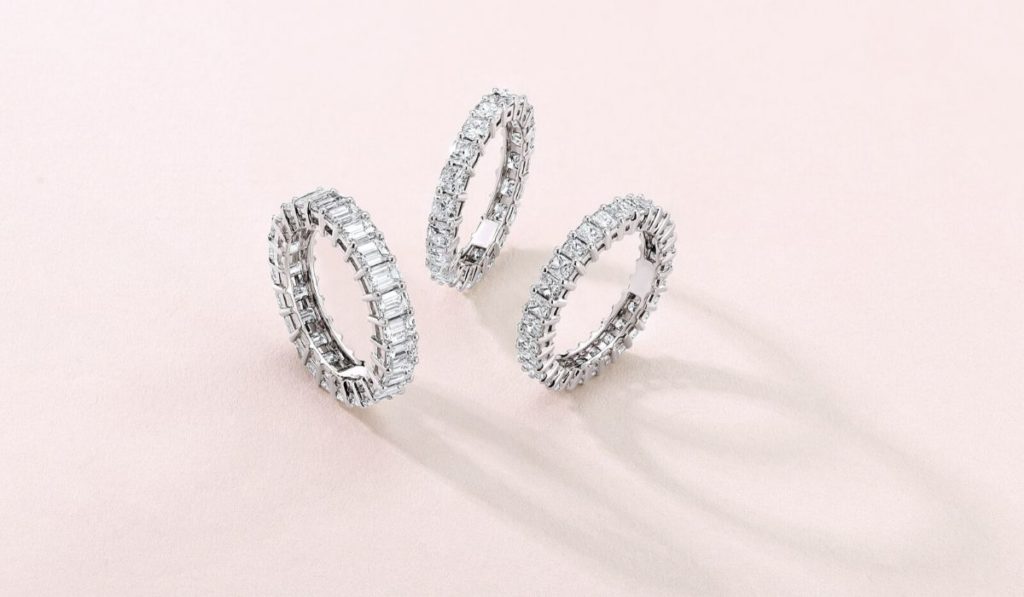 The history of eternity rings dates back hundreds of years. Some historians believe that Egyptians had eternity rings as early as 3000 BC. These "Shen" rings marked landmark occasions. These also signified the love between long-standing couples. (source)
Some early manuscripts depict rings that were studded with colourful stones. In fact, there is evidence that half-eternity rings were very popular. Some archaeological evidence also shows that some rings were designed in the vein of the "ouroboros"- the mystical serpent eating its own tail, a very popular symbol for eternity. (source)
In the West, eternity rings started becoming popular around the 18th century. Also known as the "promise rings", women wore them as a gift form their beau. These were also a symbol of the promise of marriage and togetherness. However, unlike the modern eternity ring, these were made in colourful gemstones. (source)
Evolution of Eternity Rings
However, as time progressed, eternity rings became more popular. As the popularity of diamonds rose, husbands started gifting precious stones -studded eternity rings to their wives on landmark anniversaries. Sapphires were becoming especially popular in the Victorian era.
However, the diamond-studded eternity ring as we know it came in vogue in the 1960s due to a push by De Beers, the diamond company. American investigative journalist, Edward Jay Epstein wrote that the company had a pact with the erstwhile Soviet Union to monopolize the supply of diamonds. However, most of the stones that they got via that channel were small- hardly bigger than 0.25 carats. (source)
At that time, the custom was that an engagement ring would be set with a single, centrepiece diamond. However, De Beers pushed for the diamond-studded eternity rings, which could utilize these smaller stones. They targeted older, married women, pointing out that these rings were meant to reaffirm the love between the couple. (source)
As it stands, eternity rings became pretty popular. However, since then, eternity rings have evolved. Many women prefer stones that are not diamond. Some even look for eternity rings set with birthstones to add a personal touch to it. While the basic design remains the same, many jewellers now play around with colours and arrangements to appeal to their clients.
How to wear an eternity ring?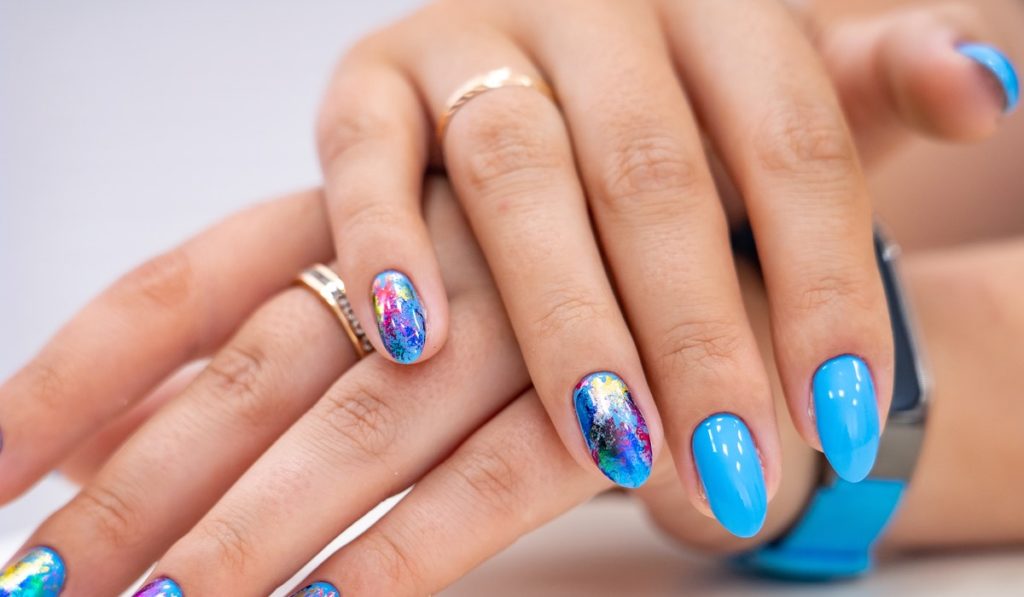 Traditionally, women wear eternity rings on their middle finger of the left hand. However, you can wear them on any finger, on any hand. Many women even stack their eternity rings on the same finger, and some wear them along with their engagement ring.
Many women also prefer to wear their eternity ring alongside their wedding rings. This is especially true if they have a matching set. If you look at many celebrities, they follow this style.
Many women prefer stones that are not diamond, Some women look for eternity rings with birthstones to add a personal touch to it. While the basic design remains the same, many jewellers now play around with colours and arrangements to appeal to their clients.
As said earlier, many women prefer to wear half eternity rings- which have stones running only on one side of the ring. There are others who prefer to wear eternity rings studded with non-precious stones for everyday wear. This makes sense, considering jewellery is expensive; and a ring carries a lot of sentimental value too. Damaging or losing one can definitely make the wearer uneasy.
Remember that in some cases, new mothers also receive eternity rings as a gift. In that case, apart from celebrating a landmark occasion in their life, the eternity ring also signifies the eternal circle of life.
What does an eternity ring look like?
Eternity rings, as explained, are a band with stones running across it. You can find many variations though. You can get half-eternity rings which are more convenient or even get a stacked design with multiple bands.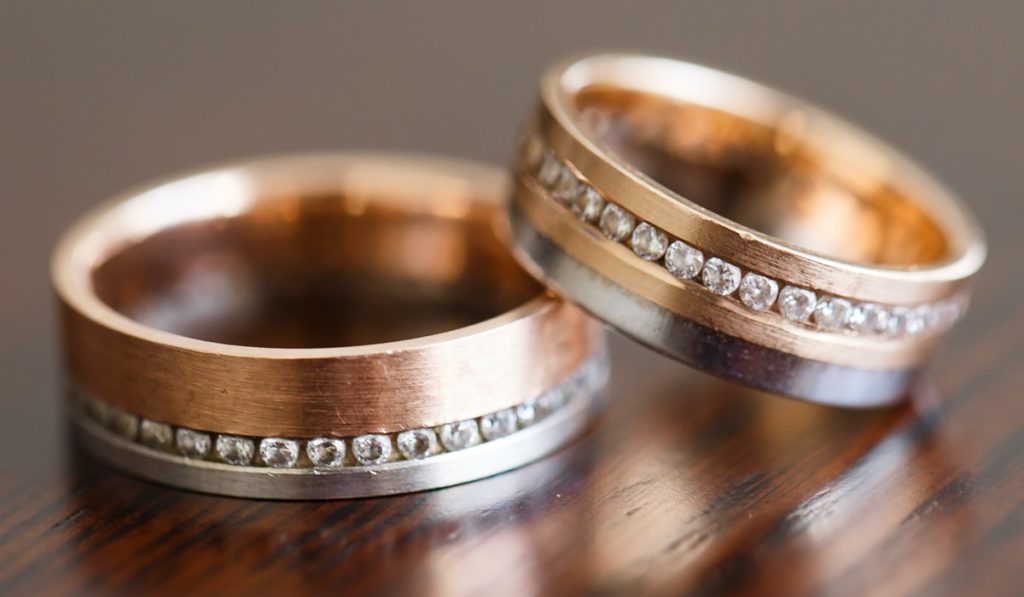 While the basic design remains the same, you can customize your eternity ring. You can add coloured stones, you can alternate stone colours, make the pattern asymmetric, god for gemstones, antique looks or even more contemporary designs like goth glam with dark stones.
You can also check out some cool designs that celebrities sport and try to opt for something similar.
Diamond eternity rings
These, of course, are the most common types. They feature a circular (or semi-circular) band of diamonds. Most celebrities sporting eternity rings embrace the classic diamond ones.
Platinum eternity ring
Of course, some women prefer to wear a platinum band instead of the traditional gold one. A platinum eternity ring may often feature emerald cut diamonds- which add a slight twist to the round-shaped diamonds.
White gold eternity ring
You can opt for white gold instead of the usual yellow colour if you want to add some variety to your jewellery collection. It will be brighter than platinum while being lighter on the pocket too. White gold also stunningly sets off coloured gemstones like sapphires, emeralds and rubies because it gives them a brighter background than platinum.
Sapphire eternity ring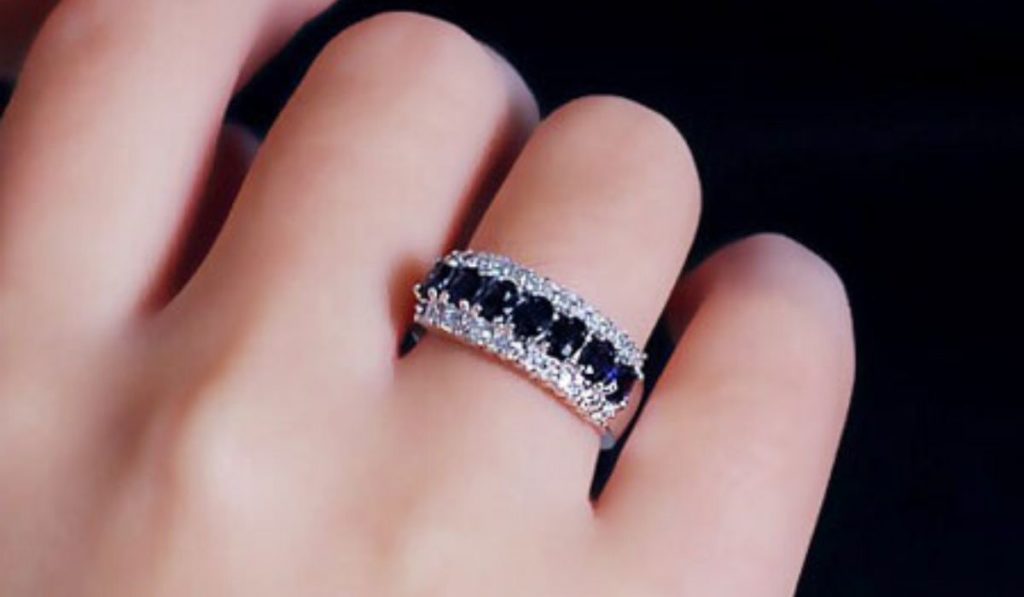 Sapphires are eye-catching and make for an unusual choice among gemstones. Many designs alternate a sapphire with a diamond to add a contrasting motif for an eternity ring. Others may come in a "stacked" design, which features a ring of sapphires bordered by two rings of diamonds or another white stone. Sapphires pair best with white metals.
Gold eternity rings
Unlike platinum, classic gold is versatile. It can carry a variety of coloured gemstones. So you can always opt for classic gold bands and choose any gemstone to go with it. Even semi-precious stones look great against gold.
Men's eternity ring
Yes, mostly women wear eternity rings – but that doesn't mean that men cannot sport them. Men's eternity rings are broader. They can also opt for a plain band, without any gems on it.
Emerald eternity ring
When it comes to precious, pretty stones, how can one forget emeralds? Emeralds are another great choice for eternity rings- but be careful, they are often more expensive than diamonds. However, those bright green stones are truly worth it. This is because they are eye-catching, sophisticated and classic with a dash of colour. Instead of the round diamond shape, the emerald cut sets off these best. Like sapphires, you can choose to alternate emeralds with diamonds to get a unique eternity ring design.
Rose gold eternity ring
Rose gold has become very popular. It is feminine and pairs well with colourless stones like diamonds.
Unusual eternity rings
As we said earlier, the eternity ring has evolved. You can customize yours with unusual stone settings. Also, you can choose birthstones instead of the usual gems to truly personalize it. You can go for unusual gems like pink sapphires, topaz, ruby, garnet or amethysts to create a truly unique eternity ring. Or, you can also check with your jeweller for some unusual designs, or even create a vintage eternity ring with some unpolished gems.
If you are a self-professed geek at heart, you can even design an eternity ring that takes elements from the fandom you are a part of, or with special elements that you hold dear. Imagine an eternity ring with stones in the colours of Gryffindor for a Harry Potter fan.
When do you get an eternity ring?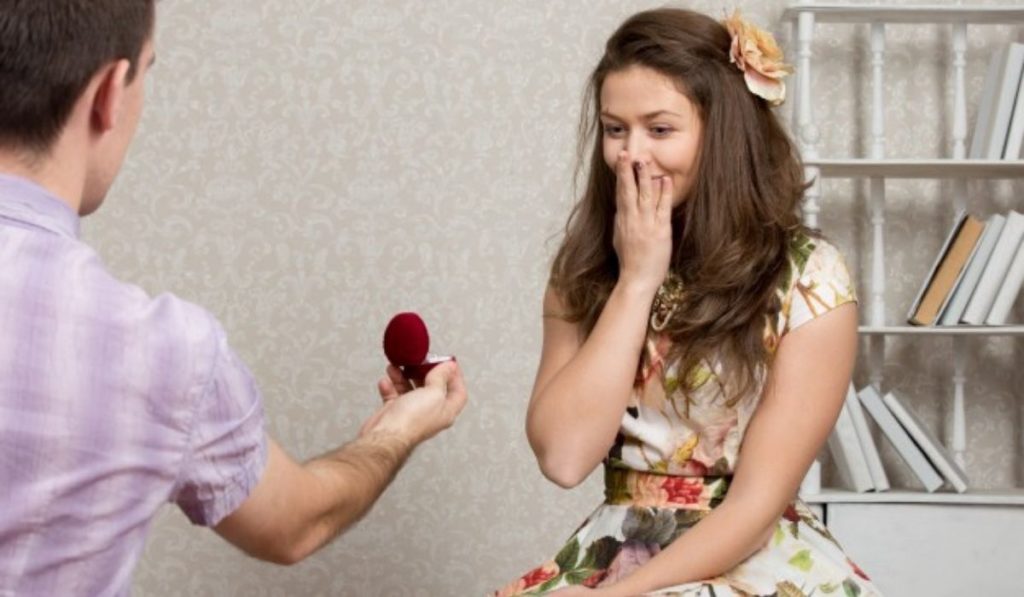 Usually, eternity rings are gifts to mark landmark anniversaries. Some couples mark each decade of them being together with an eternity, others may go for milestones like their 25th anniversary.
Another popular occasion for gifting an eternity ring is the birth of a child. However, as we said earlier, in that case, the eternity ring may also signify the eternal nature of the circle of life.
But every moment of love is special. In that sense, there is no wrong occasion for gifting your spouse an infinity ring. Even an engagement ring may be an eternity ring. Your wedding band too can be an eternity ring. Or you can just gift one to your loved one any day- because do you really need a special occasion to promise togetherness?
Who says only men have to gift their spouses. You can choose to gift the man in your life an eternity ring too. Go for masculine designs which are broader. Some of them come in just a solid metal form, while others may go with small or sparsely placed gems. You can even have your initials or some meaningful date or saying engraved on the inside to make it even more special.
And when it comes to it, you can always gift yourself an eternity ring. It is good to pamper yourself from time to time. Because you are always worth it.
How much do eternity rings cost?
This, obviously, depends on what you want. Gold or platinum jewellery is expensive, and if you want a ring studded with diamonds, sapphires or emeralds, you should prepare to shell out more than Rs 50, 000. If you opt for some exclusive designs, they might get even pricier.
However, you can always opt for semi-precious stones, which will bring down the price. If you want to go for eternity rings with coloured non-precious stones, they are available too. Overall, you can choose from a variety of options- so think about your budget when you start searching.
A good thing to do is to search for designs online. Many sites, like Fabulously, carry a variety of designs that are exclusive and are pocket-friendly.
Can eternity rings be resized?
To put it plainly- you can resize any ring, even eternity rings. However, if you resize a diamond-studded eternity ring, chances are that some diamonds can be removed. This may even lead to the design looking lopsided.
It is also a good practice to check your ring size before you order one. Go to a jewellery shop and get your measurements right.
Conclusion
Remember, eternity rings are timeless. They are versatile and look good on everyone. They are subtle, but eye-catching at the same time. Being sleek, they are classic and always on-trend, and are very suitable for everyday wear. They pair well with both Indian and Western looks and can be worn on all occasions.
You can dress up or dress down a look by adding a stack of rings or just opting for a solitary band. The good thing about eternity rings is that they go well with corporate wear as well, and lend you an air of professional sophistication.
All in all, an eternity ring is truly the symbol of timeless love and elegance. You can never really go wrong with one.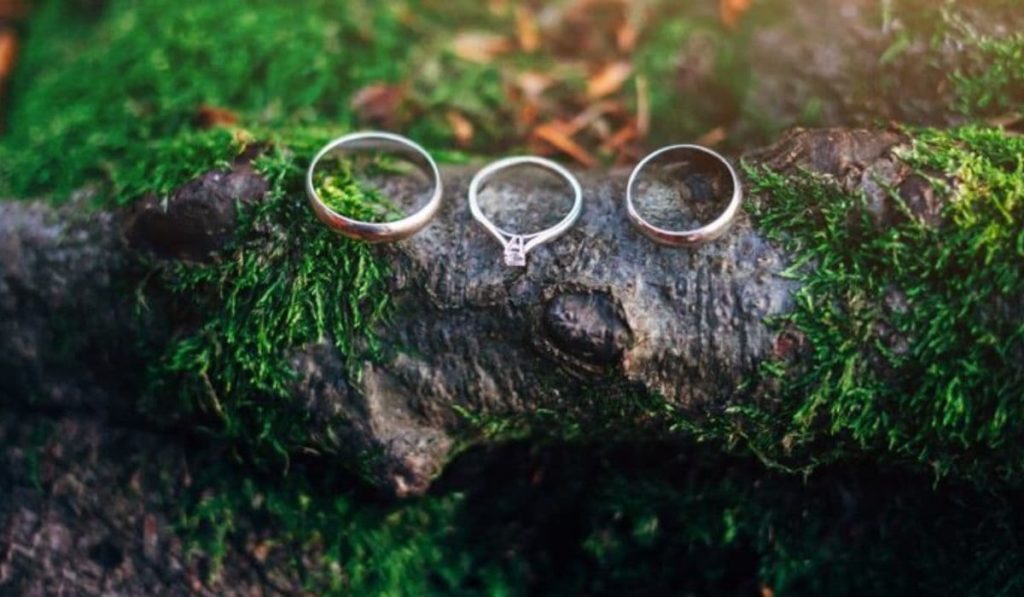 Frequently Asked Questions
1. What is an Eternity Ring?
Traditionally, an eternity ring is a woman's ring, which has a band of the precious metal set. The metal band has a continuous line of identically cut gemstones, say diamond. Women usually get eternity rings as the first-anniversary gift and symbolise never-ending love and dedication towards the partner.
2. What does an eternity ring symbolises?
Eternity rings are an ideal way to celebrate a special occasion and symbolise everlasting love. These are a perfect symbol of love and commitment. This is why they are designed in a continuous band. They are also a popular anniversary gift. The ring band represents eternity and the diamond or gemstones symbolises love. These are often given as anniversary gifts, first child gift and even as the wedding ring.
3. Which order do you wear engagement wedding and eternity rings?
The wedding ring is usually worn first, followed by the engagement ring. And last comes the eternity ring. Traditionally, eternity rings are worn on the finger adjacent to the pinkie (little) finger on the wearer's left hand.
4. What finger does an eternity ring go on?
Many people choose to wear the eternity ring alongside their wedding and engagement ring. If your eternity ring is your wedding ring, you can wear it in the ring finger of your left hand.
5. What is a half eternity ring?
A half eternity ring comprises a band with stones set across the top half of the ring. The stones may cover half or 3/4 of the ring band. Folks believe the half eternity rings to be more comfortable and practical than full eternity rings. This is because half eternity rings allow for larger stones as the gems sit only on the top of the band.
6. What is the difference between half and full eternity ring?
A full eternity ring is one in which the gemstones (usually, diamonds) surround the full circumference of the band. However, a half eternity ring has gemstones that surround about a half of the circumference. Cost-wise, full eternity rings are more expensive than half eternity rings. Also, some people consider full eternity rings less comfortable than the half eternity rings as the diamond presses against your fingers.