Indian marriages are a reflection of Indian traditions and culture. From ceremonies to decoration and attires, everything in an Indian marriage has a traditional significance. Of all the many things that constitute an Indian marriage, Mangal Sutra is worth a distinctive mention. It is quite the ubiquitous Hindu marriage symbol in India. While married women wear it to denote their marital status, its significance isn't just limited to this. So, let us know what is Mangalsutra, its significance and how to make it.
What is Mangalsutra?
Mangalsutra is a holy thread that the groom ties around the bride's neck at the time of marriage. This special ceremony is called Mangalya Dharanam (a Sanskrit word meaning 'wearing the auspicious'). In Sanskrit, 'Mangal' means holy and 'Sutra' means thread, which completely defines what is a mangalsutra. It is a necklace made of black beads arranged along a string. Though it looks like a piece of jewellery, it is more than that.
What is Mangalsutra – Origin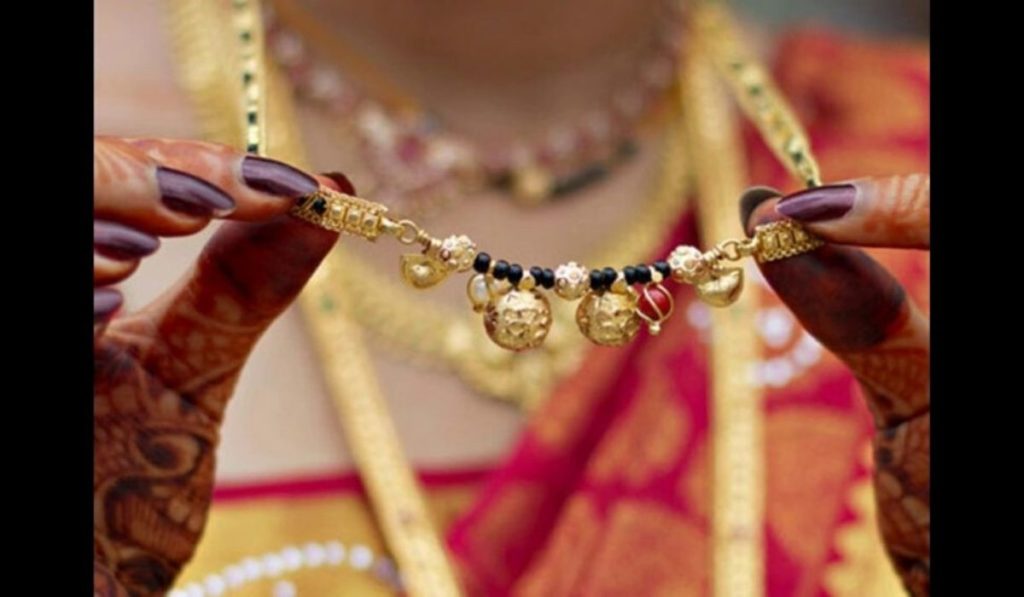 The origin of Mangalasutra dates back to the 6th Century AD. Then, the brides wore it as a single yellow thread to protect herself from other men and bad luck or evil spirits. However, its significance was re-iterated by Adi Shankara in his popular book Soundarya Lahari. (Source)
Further, according to the folks, the concept of wearing Mangal sutra begun in South India. It is popular as thaaley, tali or mangalyam. Historically, it was first mentioned in the 11th Century. The then religious poet, Kathiyappa Sivachariar explained the use and significance of Thaaley in his book Kanthapuranam. Later, several poets during the 12th century, including Kamban and Seikizhar have also mentioned about the tali.
In ancient times, people used mangalsutra made of a yellow thread dyed with turmeric paste. The husband tied this sacred thread in three knots around the bride's neck. With changing times, however, this sacred thread evolved into a thread of black and golden beads.
What is MangalSutra – Design Considerations
Traditionally, the length of a mangalsutra should be around 24-30 inch long. It should be long enough to reach the Anahat Chakra – the place in the centre of the spine, near the heart.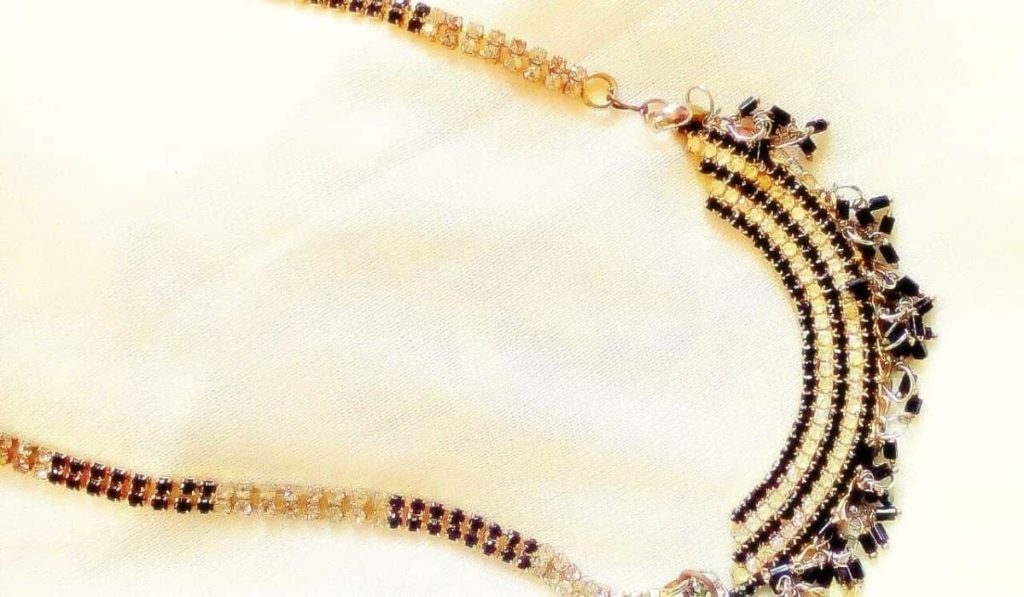 A mangalsutra is ideally a combination of two strings of black beads and a gold pendant. We will learn about the black beads in a different section, later. This sacred ornament comprises small, dome-shaped pendants made in gold, known as vatis. A mangalsutra can either have a single vati or two vatis. These tend to neutralize a woman's negative emotions, such as ego. In many cultures, people also prefer to add 2 spherical beads or a flower pattern between and at the top of the beads, respectively. These tend to attract positive energies that work towards the wellbeing of the couple and their bond.
Significance of Mangalsutra
As said, mangalsutra is a marital symbol of Indian women. Besides, it is also a symbol of a wife's devotion towards her husband. People believe that mangalsutra has the power to attract auspicious and favourable people. Also, the holy thread reminds a woman of her marital responsibilities and duties. Women also wear it as an amulet to keep away the evils.
Traditionally, the husband ties this holy thread in three knots. Each knot has special significance from the perspective of marriage. The first knot denotes a woman's lasting loyalty for her husband. The second knot stands for her lifelong commitment to the husband's family and the third denotes her devotion to the Almighty.
Why do we use black beads in Mangalsutra?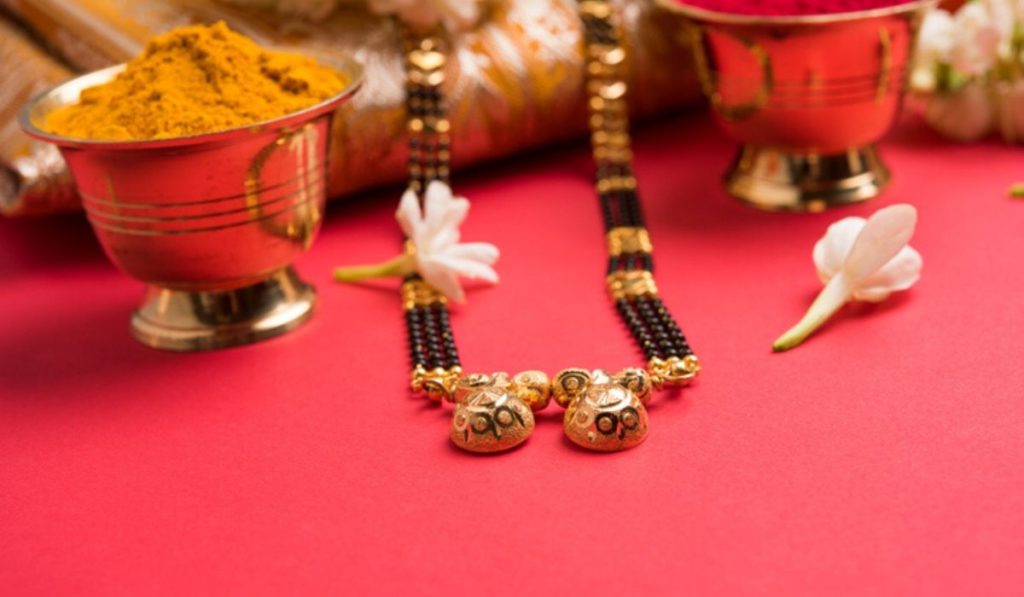 You might have noticed that almost every Mangal sutra comprise two strings of small black beads. The strings are tied at one end and have a pendant, usually in gold, at the other end.
Indians have a lot of faith in the black beads of the mangalsutra. People believe that black beads tend to protect the couple from evil powers. The black beads also protect the life of the husband. Each bead stands for one year of the husband's life. However, there's no evidence to prove the authenticity of this belief.
Further, Hindus believe that the two strings of black beads denote Shiva and Shakti. While Shiva symbolizes the doer (husband), Shakti gives him the strength to perform his duties. Thus, it implies that Shakti is karma-oriented. This holy thread signifies the union of Shiva and Shakti to lead a successful life.
Mangalsutra – Then and Now
In modern times, the concept of wearing a mangalsutra has completely changed. While it is still a symbol of marriage, it has also become a fashion statement. From simple turmeric -thread and the black and gold necklace to today's diamond-studded jewellery piece, the style and designs of this sacred ornament have transformed over the years.
Earlier, women would wear Mangalsutras designed simply with small pendants. The trend was to wear long necklaces that touched the Anahat Chakra or the heart chakra. However, women these days prefer to wear short-length chains. Instead of wearing mangal sutra with gold pendants, brides today choose diamond pendants. Also, this holy thread in earlier times were heavy. But the trend today is to wear short, sleek and light-weight mangalsutra. Wearing a mangalsutra made in exclusive designs with different metals, alloys and platinum is also much in trend. Further, some brides prefer to design this auspicious ornament's pendant in various geometric patterns, flowers and alphabets.
Making Mangalsutra at home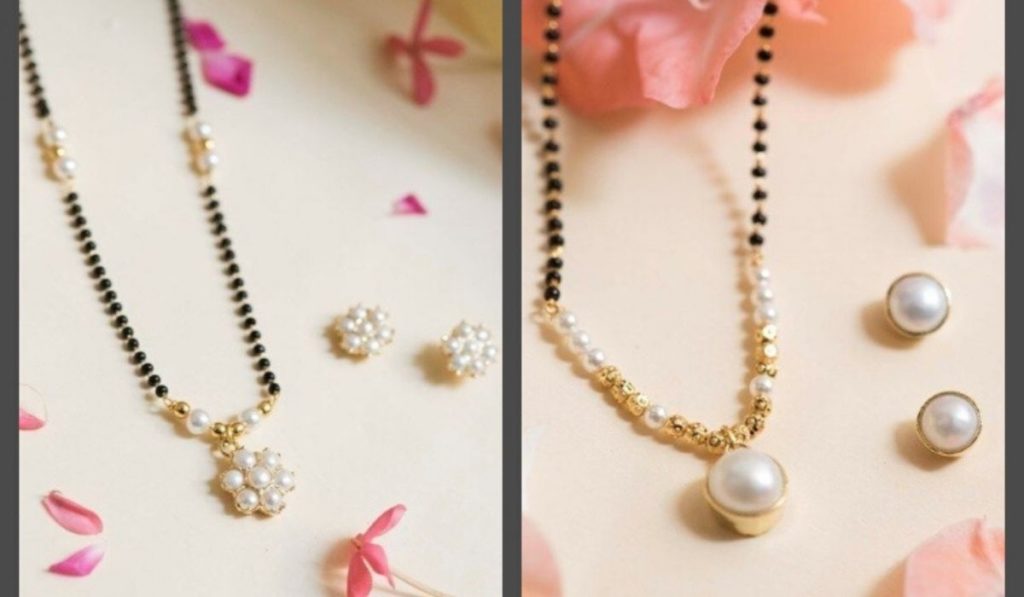 Time needed: 5 minutes.
HOW TO MAKE MANGALSUTRA AT HOME?
SO, WITHOUT ADO, LET'S LEARN HOW TO MAKE MANGALSUTRA AT HOME USING THESE SIMPLE STEPS.
MATERIALS REQUIRED: BLACK BEADS (3MM), GOLD BEADS (3MM), NYLON THREAD (5 MM), SMALL RINGS, HOOKS, NEEDLE, SMALL GOLDEN PENDANT (OF YOUR CHOICE).
Take the needle and thread it.
Now take a hook and string it into the thread with the help of a needle.
Fix the hook by tying the thread at its mouth three times.
Cut the extra thread and burn its mouth using a candle.
Now, thread a golden bead and place it close to the hook.
Next, thread the beads in a combination of 3 black and 3 golden beads with the help of a needle in both threads.
Now join the threads to make a single strand and insert 3 big golden beads in it one by one.
Separate the threads again and repeat step 6.
Continue repeating step 8 till half of the thread length.
Now, again join the threads to make a single strand. Take the pendant and thread it close to the last golden bead.
Again thread a golden bead close to the pendant.
Separate the threads and repeat step 6.
Fix the entire setting by tying 2 knots in the thread after the last golden bead.
Take a golden ring and thread it at the last end of the thread. This will be used to clasp the hook on the other end.
Cut the extra thread with scissors.
Your DIY Mangalsutra is now ready.
Don't forget to let us know in the comments how it looks.
Conclusion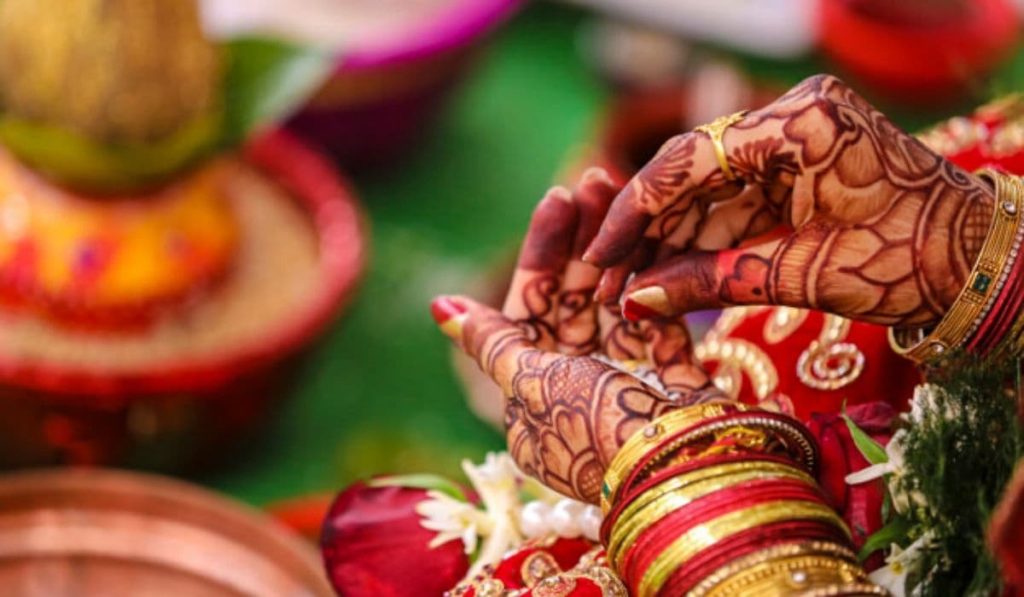 Whatever may be their choice, Indian women still believe in the traditional significance of wearing a Mangalsutra. As such, it still has a special place in every Indian woman's trousseau. For more interesting blogs, keep visiting Fabulously.
Frequently Asked Questions
What are the black beads in Mangalsutra made of?
The black beads in a Mangalsutra are usually made of glass, usually referred to as kala pota. 
Why Indian Women wear Mangalsutra?
Indian women wear Mangal Sutra to denote their marital status. Also, it denotes a wife's devotion towards her husband and his family. Wearing a mangalsutra also tends to increase the longevity of her husband. 
What happens if Mangalsutra breaks?
Breaking of a mangalsutra is an ominous sign in Indian tradition. People believe that the broken beads of mangalsutra get charged with negative energy, which in turn leads to marital disharmony.