With our social lives returning to normal, our fashion is ready to be on the top end again, starting with our jewellery. Today, women are often aware of the latest gold jewellery designs that fit well with their style. There are many options in fashionable jewellery in the market, from the ideal piece for everyday wear to a fashion statement that works with obligations at work, social events, and parties, to delicate and understated diamond studs or traditional jewellery for Indian weddings and festive occasions!
Your jewellery is much more than just a piece of accessory. It can make or break an outfit's charm and symbolizes your status, class, and character. Only a few people discuss the most recent jewellery designs, whereas the entire world talks about the newest colors and styles. Here, we will shed light on some of the latest jewellery designs.
Latest and Trendy jewellery Designs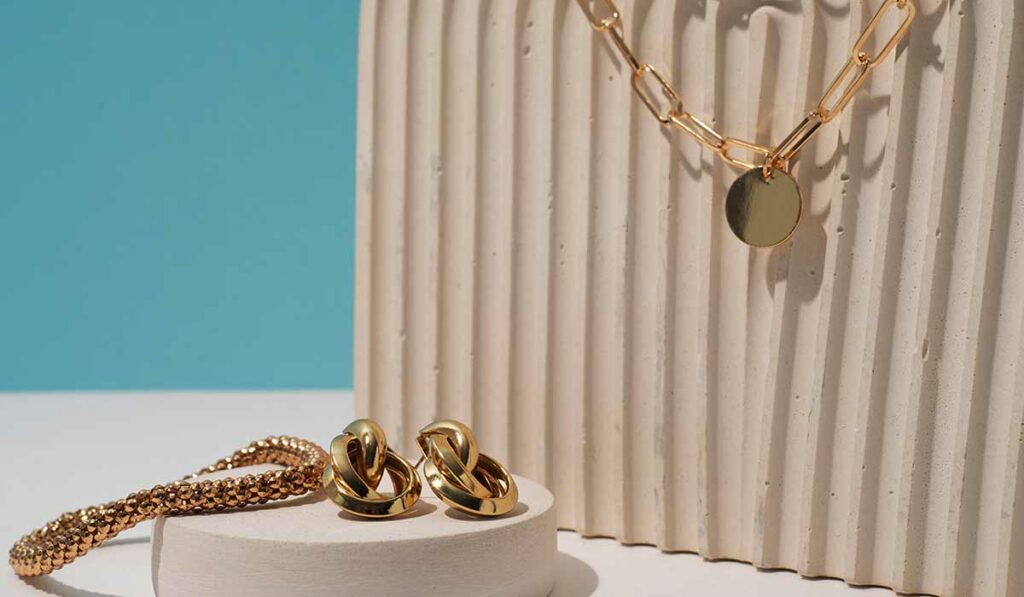 Check out some of the latest and iconic jewellery designs below:
Gold jewellery Design
Gold jewellery represents splendor and beauty. It is now a standard accessory for clothing, whereas it was once used to be worn sparingly and was seen as a royal ornament. Let's talk about gold chains, the most straightforward and convenient jewellery. Nothing compares to the benefits of wearing a gold chain. The latest gold jewellery designs include lightweight chains with beaded patterns, multiple gold chains connected by a single clasp, and simple pendants suspended in the middle.
A mainly classic piece of gold jewellery is the mangalsutra. These auspicious jewels that dedicate marriage are now available in various modern gold jewellery design. Women no longer want to confine their gold mangalsutra design to a couple of types. They want to choose from the new gold jewellery design the market offers.
Latest Gold Jewellery Designs for Daily Wear
Most women want Mangalsutra designs that are sleek and uncomplicated for everyday wear, like a diamond solitaire pendant or a diamond and gold chain with black beads. This makes it possible to spice up an outfit for a special occasion while also wearing it regularly, which is especially useful for newlyweds.
Gold jewellery designs, gold Kadas, bangles, and bracelets are some items that must be noticed. Yes, there are many other things to discover here. The wrist jewellery is a prominent feature of the entire ensemble. Some current bracelet designs include sleek clasped bracelets and adjustable chained bracelets that resemble something between a Kada and a bangle and can be worn with a watch in the same hand. These are some trending jewellery designs that are popular among modern women.
Gold Hand Jewellery
Wearing a pair of gold Kadas in each hand is quite trendy. While some prefer to wear the pair on one wrist to give it a richer appearance, wearing them on both wrists creates a more balanced and finished look. Besides, young women are again adopting the trend of plain gold bangles for bracelets. However, the number of bangles on each hand that is trending has increased from 2 or 3 to 4 or 5.
Latest Bridal Jewellery Design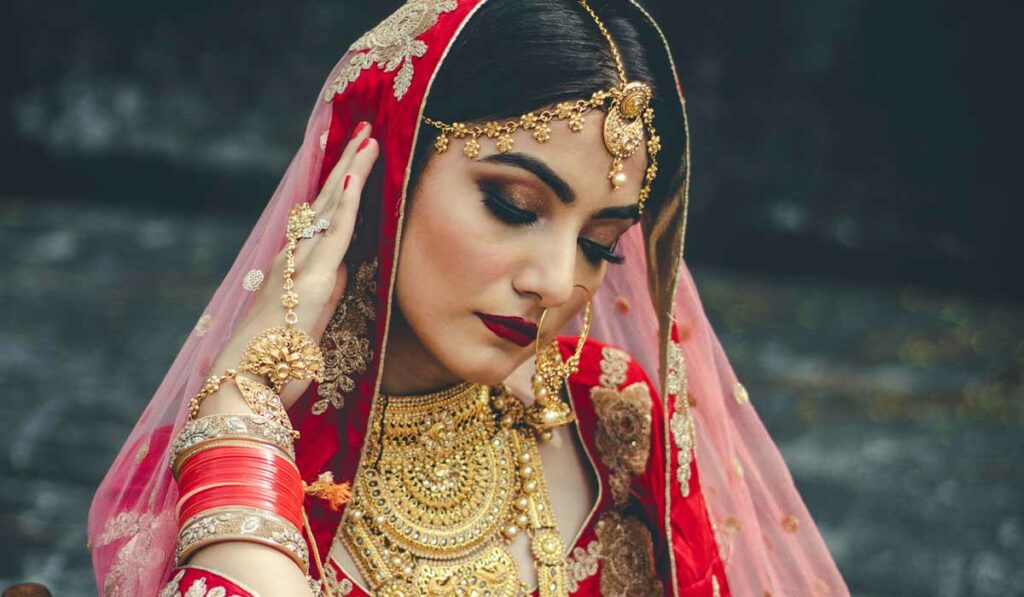 Over the past decade or so, there has been a significant change in the Indian wedding industry. The small, seemingly insignificant details that were once considered non-important now make up the entire event. Therefore, you must consider the trending gold jewellery designs when planning your Big Day!
Whether you want to wear your bridal jewellery in natural or synthetic metals is crucial because it dramatically affects the range of options. Brides opt for fake jewellery as it gives them more options for pairing it with their lehengas. Speaking of lehengas, which are equally heavy in appearance as jewellery, it's essential to consider whether you want to keep the jewellery simple or elaborate.
A common trend at upscale weddings is to keep jewellery simple and in a color that matches the wedding outfits. Raani Haar is an excellent necklace jewellery design. Wearing Raani Haar, paired with a choker and long earrings combined, looks way less elegant than wearing long danglers with a small necklace and a straightforward headband. Another trend seen in South Indian weddings is pairing designer gold belts with the sari as the main piece of jewellery. 
Diamond Jewellery Design
The diamond is a girl's closest companion, and rightly so. Nothing compares to the look of a sparkling solitaire worn in the ears, neck, or wrists. Modern Indian women overwhelmingly prefer single-line diamond bangles. But these are incredibly pricey and reveal much about the wearer's status.
Diamond jewellery is among the most sought-after and treasured possessions in the world of fashion. The brilliance, beauty, and durability of diamonds make them the ideal choice for jewellery design. Here are some popular diamond jewellery designs:
Types of Diamond jewellery Design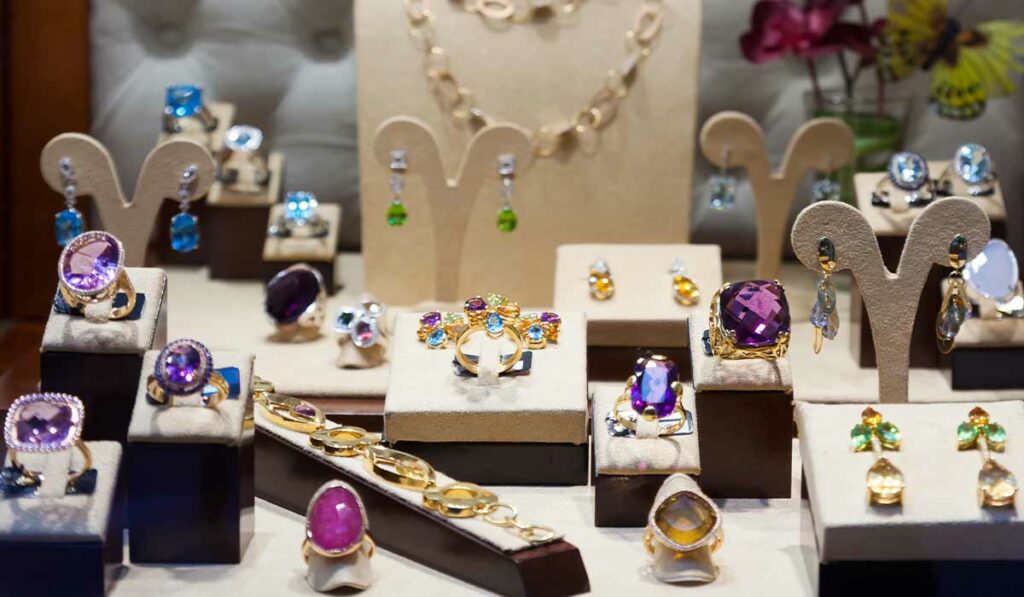 Diamond Rings – Diamond rings are the most popular type of diamond jewellery, and they come in various styles, including engagement rings, wedding bands, and fashion rings. Solitaire diamond rings with a single diamond in the center are the most popular style for engagement rings. In contrast, eternity rings with diamonds set all around the band are famous as wedding bands.
Diamond Necklaces – These necklaces come in various styles, including chokers, pendants, and long necklaces. Diamond chokers are short necklaces that fit snugly around the neck and are perfect for formal occasions. The pendants are versatile and can be worn with casual or formal attire. Long diamond necklaces can be worn alone or layered with other necklaces for a trendy look.
Diamond Earrings – Diamond earrings come in various styles, including studs, hoops, drop earrings, and chandelier earrings. Diamond stud earrings are a classic and timeless style worn daily. Hoop earrings with diamonds around the hoop are famous for their simplicity and versatility. Drop earrings and chandelier earrings are perfect for special occasions and add glamour to any outfit.
Diamond Bracelets and Bangles – Diamond bracelets and bangles are a great way to add sparkle to your wrist. Tennis bracelets, made up of a row of diamonds set in a straight line, are classic. The bangles come in various types, including cuff, hinged, and open bangles.
Diamond Sets – These include matching pieces of diamond jewellery, such as necklaces, earrings, and bracelets. The sets are perfect for special occasions such as weddings or formal events.
Artificial Jewellery Design
Artificial jewellery is the best choice for your way of life if you're one of those who frequently change their daily-wear jewellery. However, the quality and material of fake jewellery are two very significant factors to consider. It would be best if you didn't look at anything cheap, even though it isn't real gold or diamonds. Remember that details do make a difference.
Kundan Jewellery Designs
Precious stones such as Kundan are pretty trendy these days. People usually wear these at parties and marriage events. There are numerous varieties of sapphire, including blue, red, and green. With these stones, rings and pendants look stunning. While anyone can wear artificial jewellery without thought, authentic jewellery is expensive and has astrological significance. However, Kundan is such a stone that it is difficult to distinguish between natural and synthetic versions. Kundan jewellery has been popular for more than five years and is still popular today. It is, infact, still amongst the latest neck jewellery designs. Jewellery made of Kundan, such as neckpieces, earrings, sets, headbands, and latest bridal jewellery designs, is glamorous.
Latest Jewellery Designs for Office Wear
The elaborate jewellery designs and Indian bridal jewellery have received enough attention. Now let's discuss the elegance of essential jewellery. Office-going men and women never look out of place with a gold or platinum band on their fingers. At Fabulously, you can check out a range of jewellery designs and trendy jewellery materials.
A band would appear minimalistic yet expensive and professional because the hands are always the most noticeable feature. For both men and women, a thin gold chain without a pendant is the newest fashion in jewellery. Simple gold loops or single diamond studs are fashionable even for young children.
Temple Jewellery Design
In affluent Indian families, spirituality plays a significant role. At celebrations, events, and weddings, it has become fashionable for the head of the household to wear temple jewellery. Many people also wear designer temple jewellery made of synthetic metals.
Temple jewellery comes in large pendants, rings, belts worn by South Indian brides, and jewellery designs of Lord Krishna, Ram durbar, Lord Hanuman, and Lord Shiva. However, this fad may disappear in the upcoming years, so it is wise to buy Kundan and fake gold.
Latest Jewellery Designs for Events and Parties
1.Pearl Necklaces in Fashion
Pearl jewellery will continue to be well-liked in 2022 with a modern twist. We're looking at more cutting-edge pearl necklaces, such as pearl-studded black chokers, pearl-detailed metallic earrings, and even pearl-studded hairpins—the traditional item of elegant and modern jewellery design.
2.Single Earring
The time when people would only wear earrings in pairs is long gone. In this year's jewellery trends, wearing just one earring is again fashionable. On social media, several celebrities flaunt statement earrings while leaving one ear bare to highlight their trend-spotting skills. Everywhere, including the catwalks, single-earring jewellery has become popular. If drop earrings aren't your thing, you might prefer a stylish, understated ear cuff.
3.Bigger Hoops Jewellery Designs
Since hoops never go out of style, they will always be at the top of the list of trends. If you look at the most recent trend variation for 2022, however, you'll see more giant, bolder gold hoops in addition to the classic circular shape. Fashion models have worn numerous asymmetrical hoops, as well as larger tortoiseshell hoops. Additionally, brown or black hoops with gold accents are very fashionable!
4.Edgy Cocktail Rings
Another trend that didn't quite go out of style but came back in an edgier form is cocktail rings with stones. Large cocktail rings with diamond accents or stones of various colors are always in fashion. In a simple, traditional interpretation of this jewellery trend, a single large gemstone with an asymmetrical shape is set atop a thin gold band.
5.Link Bracelets
Gold link bracelets have become popular this year, following the chunky chain necklace trend. An elegant chain wristband or link bangle looks stunning when worn with a vintage watch. Besides, according to the recent jewellery fashion, link bracelets are very understated.
FAQ'S
From where can we get the latest jewellery designs?
There are several options available when you want to buy jewellery. You can buy jewellery from offline stores as well as online websites. Before purchasing designer jewellery, one may need to invest time in research. There are several showrooms in malls as well as local shops from which you can make a purchase. However, online shopping is always a better option today.
You can make purchases online from different shopping portals as well. If you are planning to buy artificial jewellery, it is better to get it from online stores. Most of these portals have a wide range of jewellery for sale. You will find many more jewellery design options online compared to offline shops.
What is flower jewellery?
A flower or other floral jewellery is created using real-looking artificial or natural flowers. Real flower jewellery uses flowers like roses, jasmine, and tuberose. The fashion trend started when the goddess Sita wore stunning jewellery made from flowers. Flower jewellery can be related to mangtikas, necklaces, or even earrings.
Is flower jewellery amongst the latest jewellery designs?
Flower jewellery is gaining popularity again. Such latest gold jewellery designs for wedding is quite popular. This jewellery plays a vital role in making the bride look beautiful and adding natural elegance to her appearance at a pre-wedding function such as Haldi or Mehandi. Most of this floral jewellery is made of fresh wildflowers. 
Flower jewellery has been in style for a long time, not just now. Floral jewellery is also commonly used in baby shower ceremonies; the pregnant lady is adorned with fresh flowers: garland, and jewellery. Floral jewellery has been very trendy in 2022 too. This season, you will see floral jewellery combining pearls, gems, and other pieces to make it even more beautiful. 
What is Pahari jewellery?
You may have seen Pahari women wearing traditional jewellery in the hills, such as bulaq (gold or silver nose rings), Kundan (gold or silver earrings), paunje (silver anklets), etc. The Hansuli, Chandan Haar, and Galobandh are just a few pricey gold necklaces that are proudly worn. Traditional Pahari bangles are known as "ponchis." One can consider these as a kind of new jewellery design.
The bracelets are made of red cloth, and gold beads are sewn together. It's a simple, traditional bridal jewellery design that never goes out of style. Most mountain women prefer wearing these conventional pieces of jewellery. However, this jewellery is exquisite. Therefore, anyone can wear them at parties and other events. 
What sort of bridal jewellery are considered latest jewellery designs this year?
Brides, wedding guests, and of course, bridesmaids all follow the latest fashion. One of the most famous bridal jewellery trends this year will be nose rings, encouraging over accessorizing, and the entire bridal look is something to keep in mind when making your plans. The winter season will gradually increase the popularity of pearl core, and mixed-pearl pieces will be mainly in demand. 
For a few years, rose gold has been one of the most preferred metals for jewellery. However, there are more popular colors nowadays. It has a distinctive look that can dress up any outfit. Silver, gold, and other colors are also becoming more popular. Modern minimalist designs and geometric shapes are popular right now. Both highly polished and brushed jewels are more popular this fall or winter.