Are you even engaged, if you don't put it up on Whatsapp and Facebook?
Well, don't we all look forward to the day when he gets on one knee, looks in the eye and asks the big question? Getting engaged is one of the major milestones of life.
It is the first conclusive step towards commitment and perhaps marriage to each other for a lifetime! It's all butterflies in the tummy, watery eyes and a squeaky "Yes" holding back tears!
Magical!
Here are our top picks for engagement status that you can use to declare that ring on your finger!
Why do you need an engagement status update?
So now that your guy has put a ring on that finger, it's time to celebrate. How do you plan to let the world know about your union of a lifetime?
In today's digital age, the best and the easiest way to do it is by putting up an engagement status. You know he/she is taken when you see the "in a relationship" or "engaged" status blinking wildly on your Facebook screen.
Yes, putting up the engagement status has become quite a popular trend now.
This is immediately followed by Facebook or WhatsApp stories, full of lovey-dovey quotes from other people who have recently got engaged.
So, what is YOUR big plan?
If you don't want to share real-time videos of your engagement and want to keep people guessing, then here are a few engagement statuses that will do the talking for you.
Engagement status for WhatsApp
Let's start with the inevitable platform – WhatsApp. Putting a status here means your friends are going to see it, your family, your ex, your crush, the whole neighbourhood and even the milkman bhaiya of course!
So it's almost like inviting everyone to your party.
To express your happiness of spending your whole life with your partner, you can put up a status that best describes your relationship with him or her.
Here are our top picks for an excited, happy, and official WhatsApp status upgrade for the newly engaged.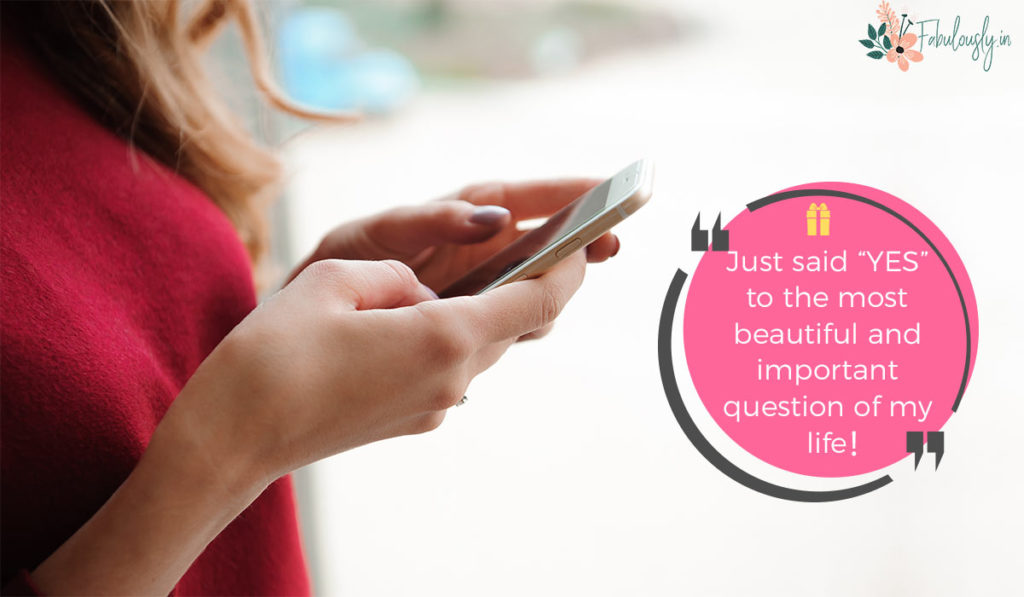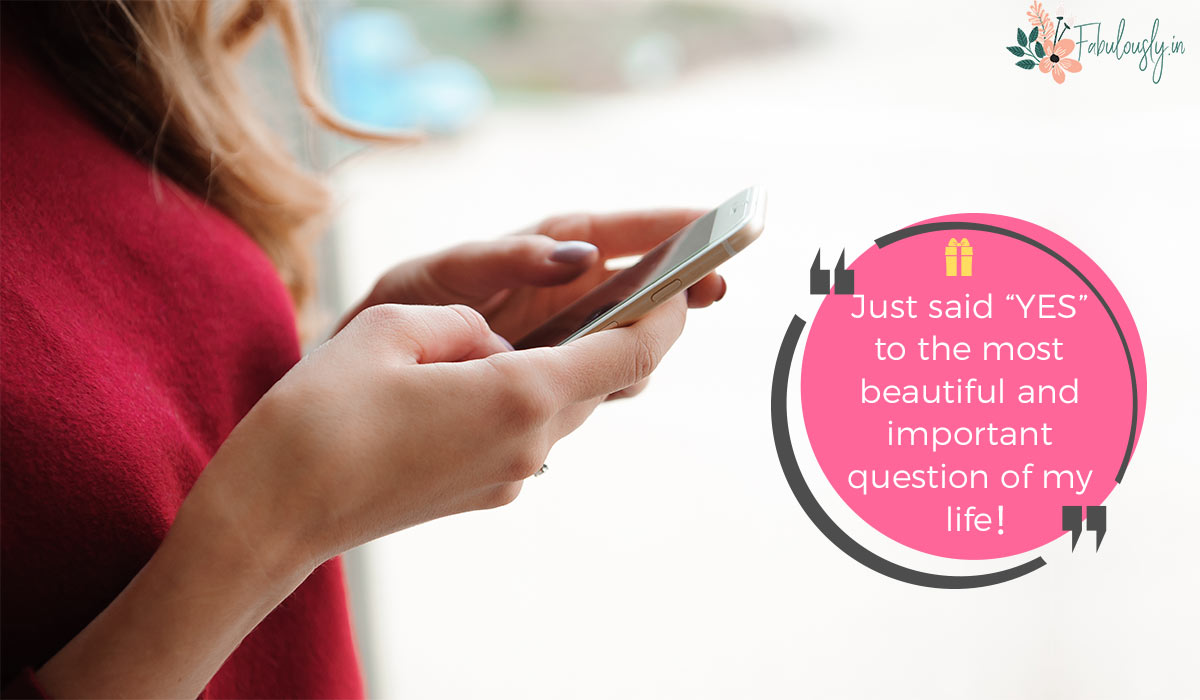 My ring finger isn't naked anymore!
Chains don't hold a marriage together. It is the threads, hundreds of tiny threads, woven, that sew people together through the years to come.
Happily Engaged!
My engagement ring is my favourite accessory.
Engaged! – The beginning of my eternal love story.
To love and to be loved is to feel the sun from both sides.
Anyone can catch your eye, but it takes someone special to catch your heart.
Soul meets soul.
Hitched! For life!
How to pen your own engagement status
If you don't want to go public with your engagement status on Facebook and Instagram and make a whole thing of it, you can just update your friends in your contact list, with these Whatsapp engagement statuses.
These work best if your WhatsApp contact list is exclusively for friends.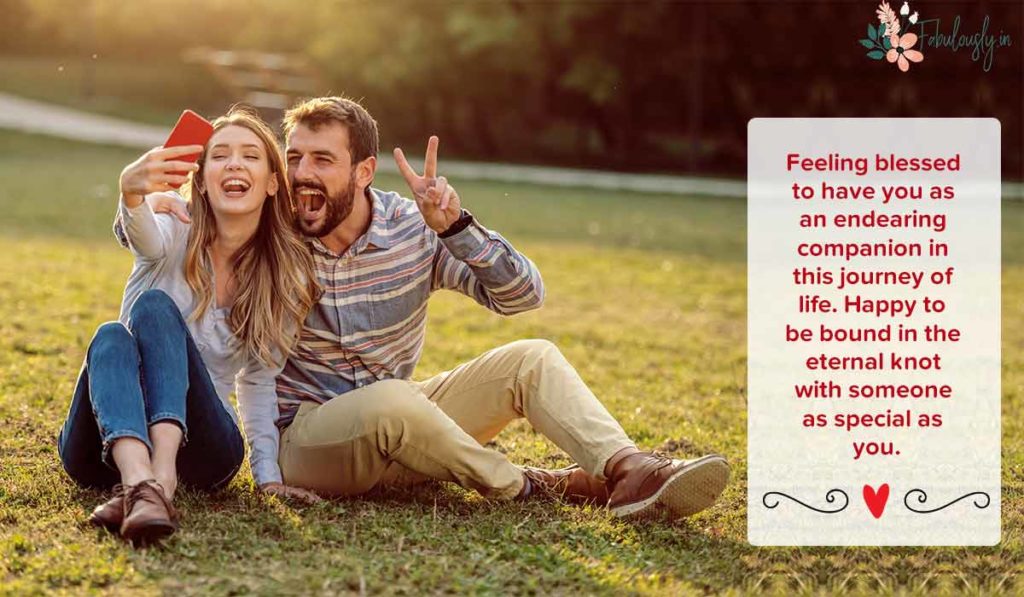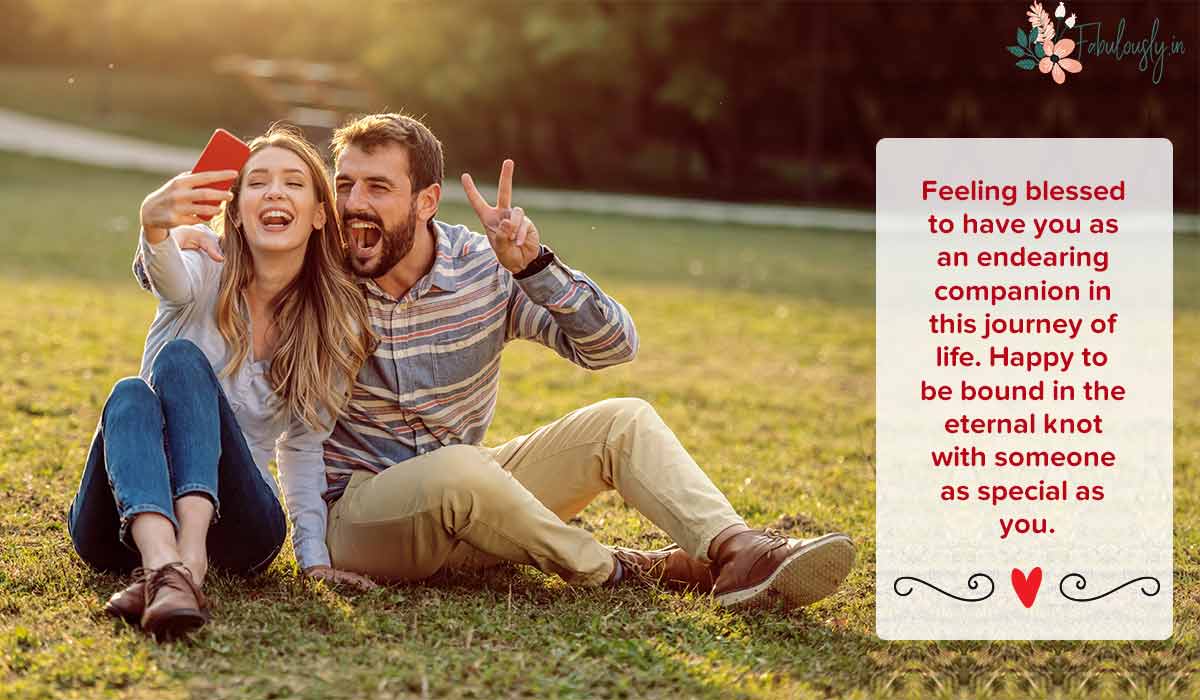 I got engaged to a true friend and great human being!
Successfully completed the first step towards stealing his name.
I got engaged to a true friend and great human being.
No matter how many chances life gives me, I will choose you over and over again.
Here begins a new chapter in my life. Cheers!
Everything I ever wanted is to have 'You'. To be with you is like all my wishes have come true. Our engagement has given me the hope of everlasting and magical life in each other's arms.
This ring will be a reminder to stay together and fulfil the promises each time we meet situations that seem hard to handle.
This engagement is not the celebration of the exquisite ring on my finger, it's the beginning of a new era. I am smitten that we both have entered this union fully with giving hearts and open arms.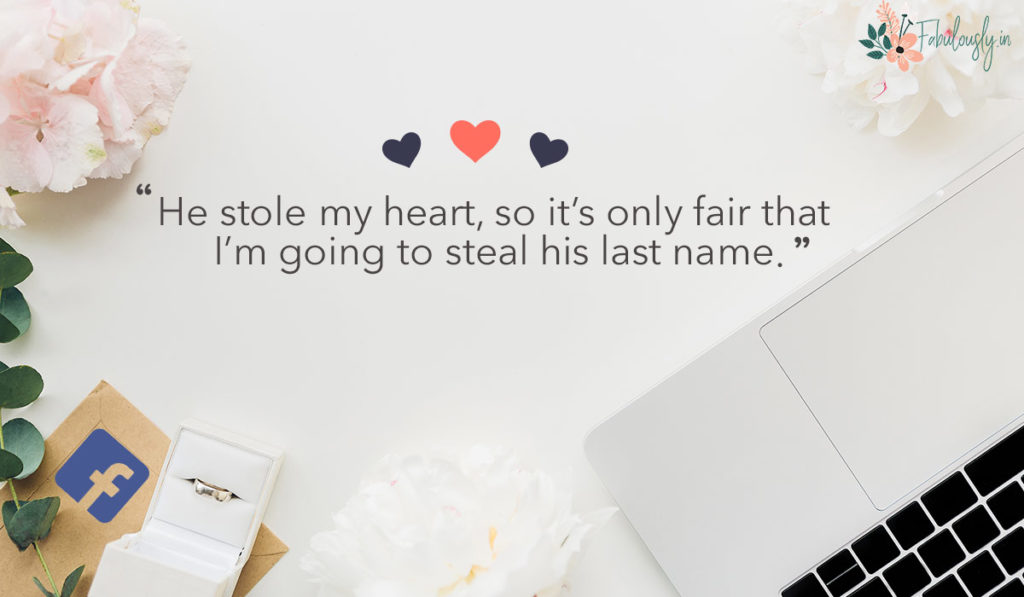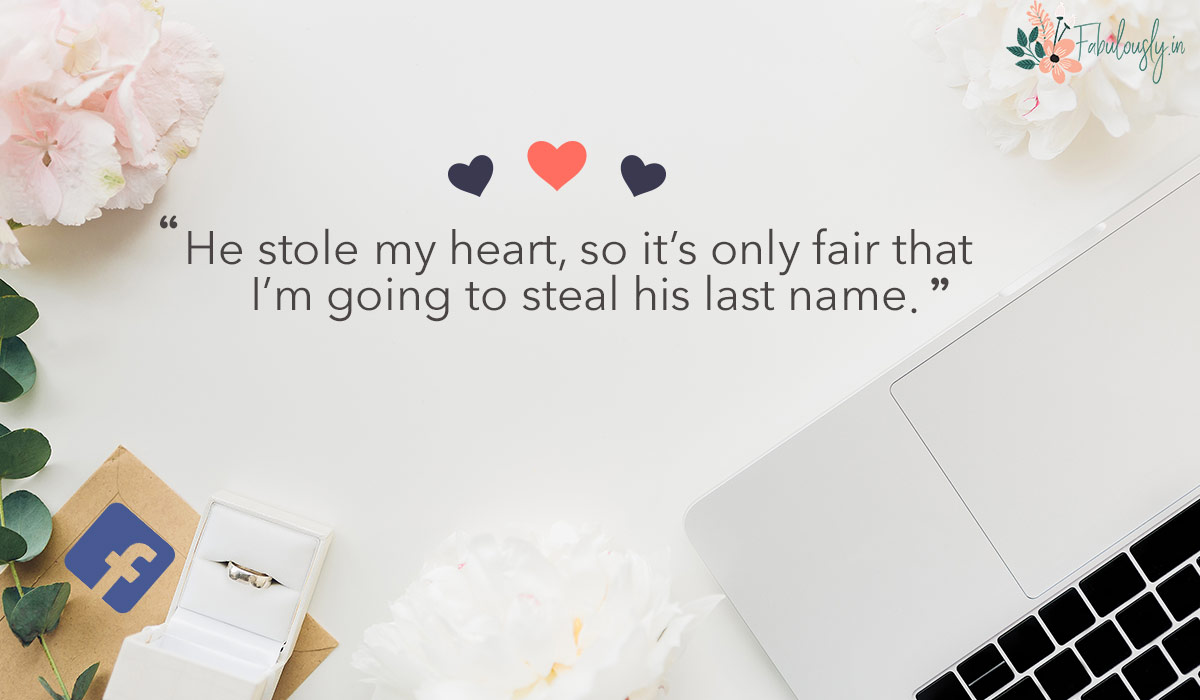 We know that the last ones maybe a bit too long, but you see when you get engagement fever, you can go to any length (pun intended) to express it!
Best friend's engagement status ideas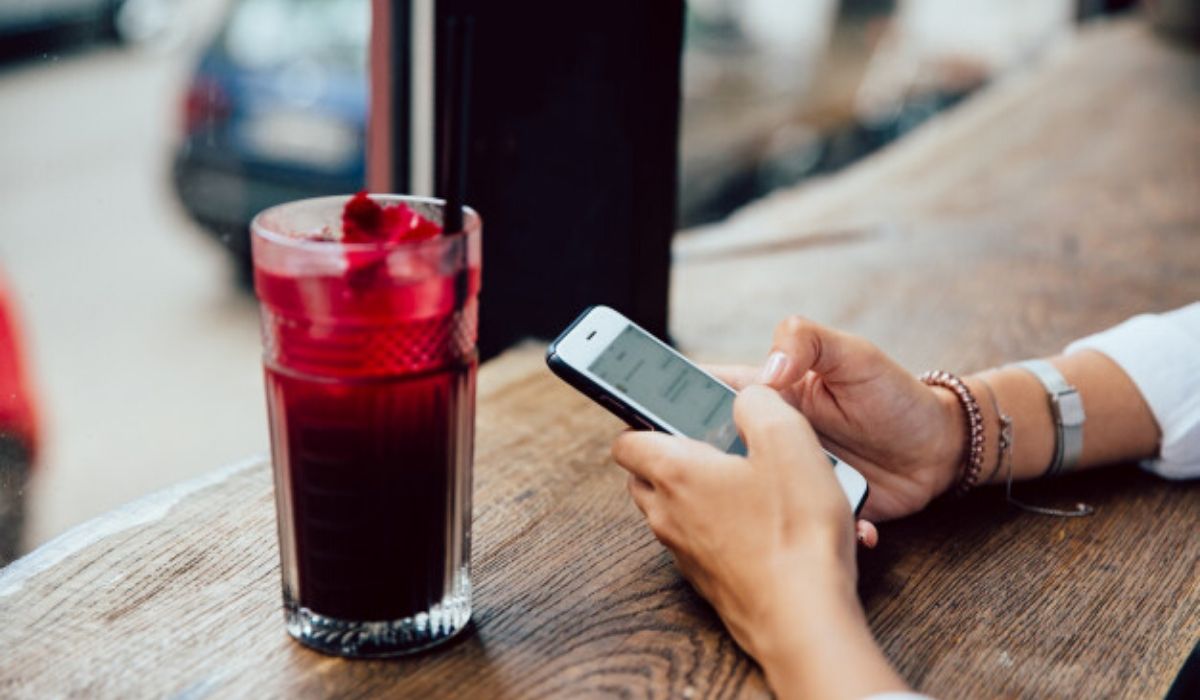 Your best friend is engaged and you are so happy for her.
While she does her own publicity on social media, express how happy you are for her on your own!
To wish your best friend a happily engaged life, you can always take to social media with cute messages to wish her or him the best.
Keep it simple and full of love!
Love reminds you that nothing else matters. Congratulations best friend!
Congratulations on your engagement! You two make a beaming couple. Wishing that this is just the start of a long and wonderful journey.
I wish you that quarrels, misunderstanding, and misfortune may never touch you. Have a long and happy life together!
From the engagement day until the end of your days, may your life be full of true and eternal love.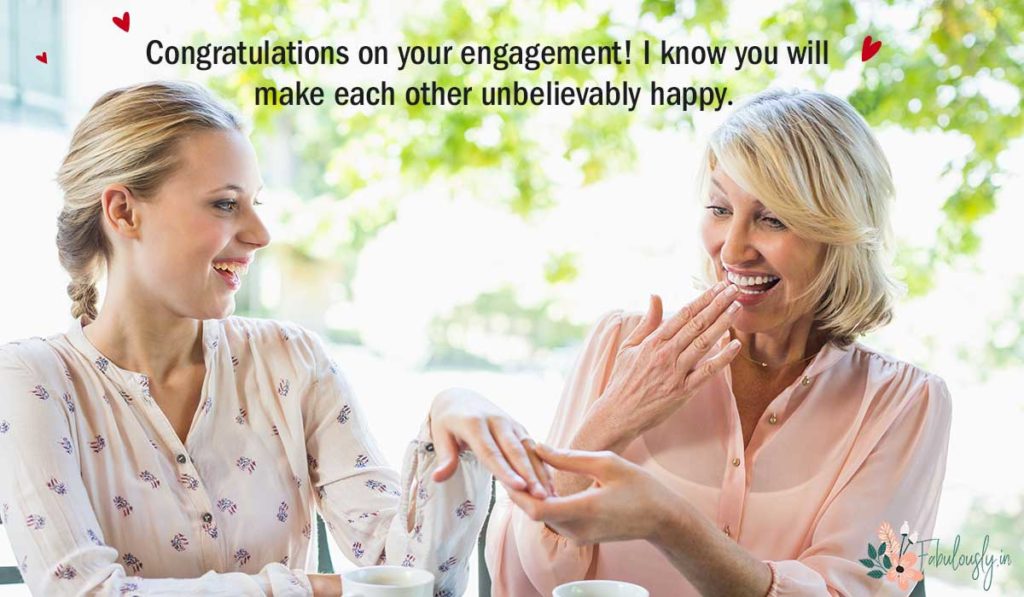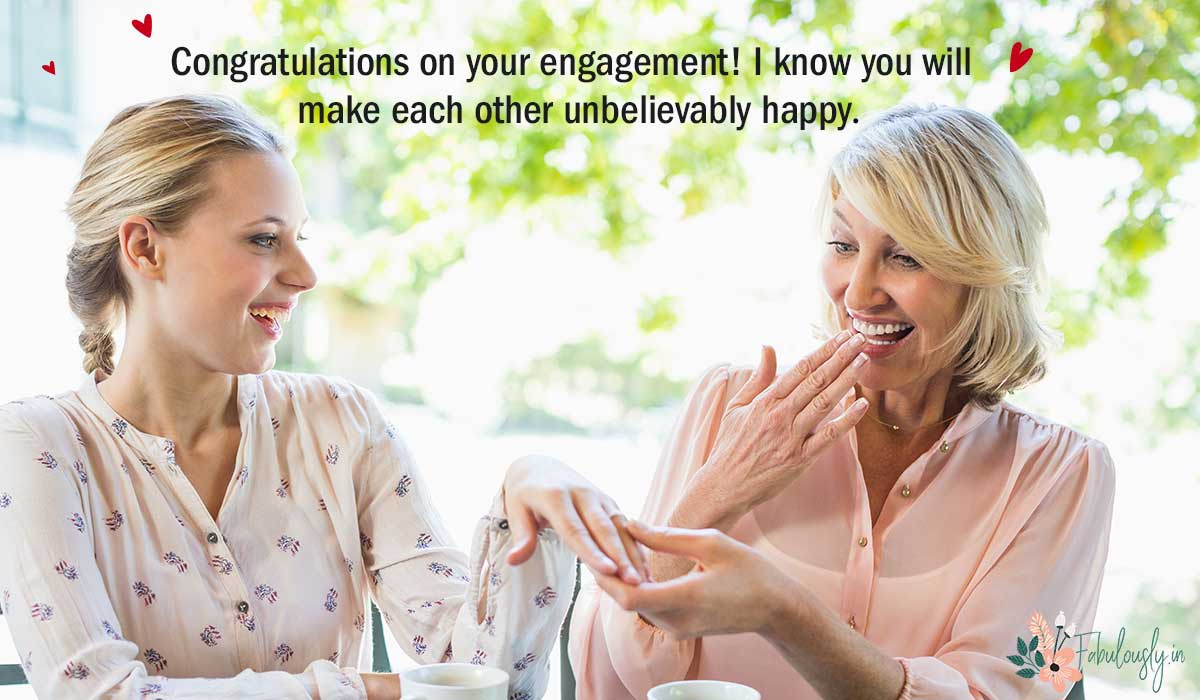 If you plan on sharing their photos along with the status or as stories, do ask for permission beforehand.
But one doesn't need permission though, to write a few good words congratulating a dear friend.
Sister's engagement status for Whatsapp
Isn't it an exciting time when you find out that your sister is engaged?
Even better, if you are the next in line and can't wait to get ring-ed yourself! But today is her day, and you are going to make her shine!
To express your love towards your sister, you can put the below status on Whatsapp, Facebook or any other social medium.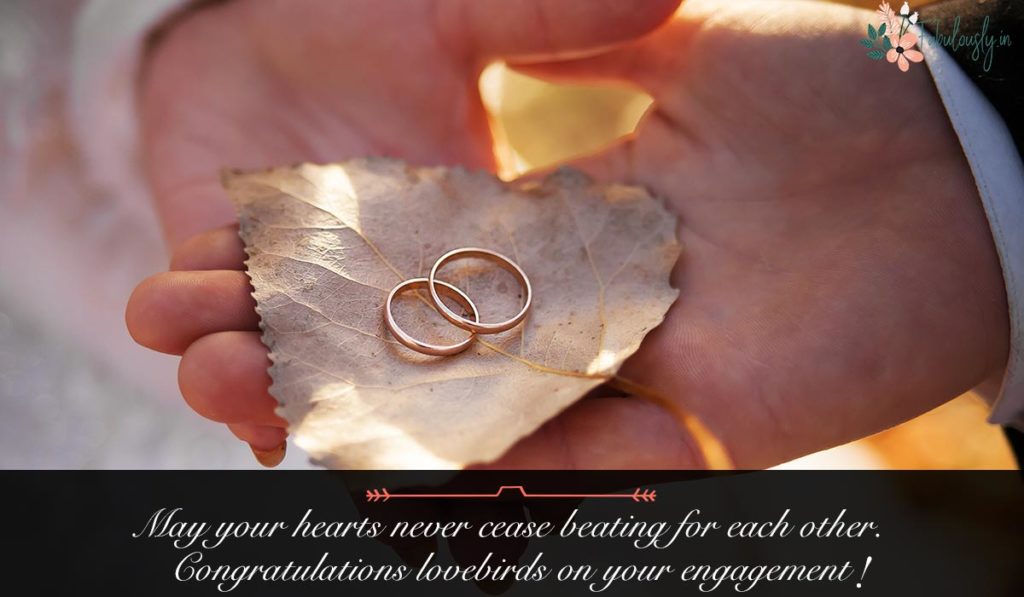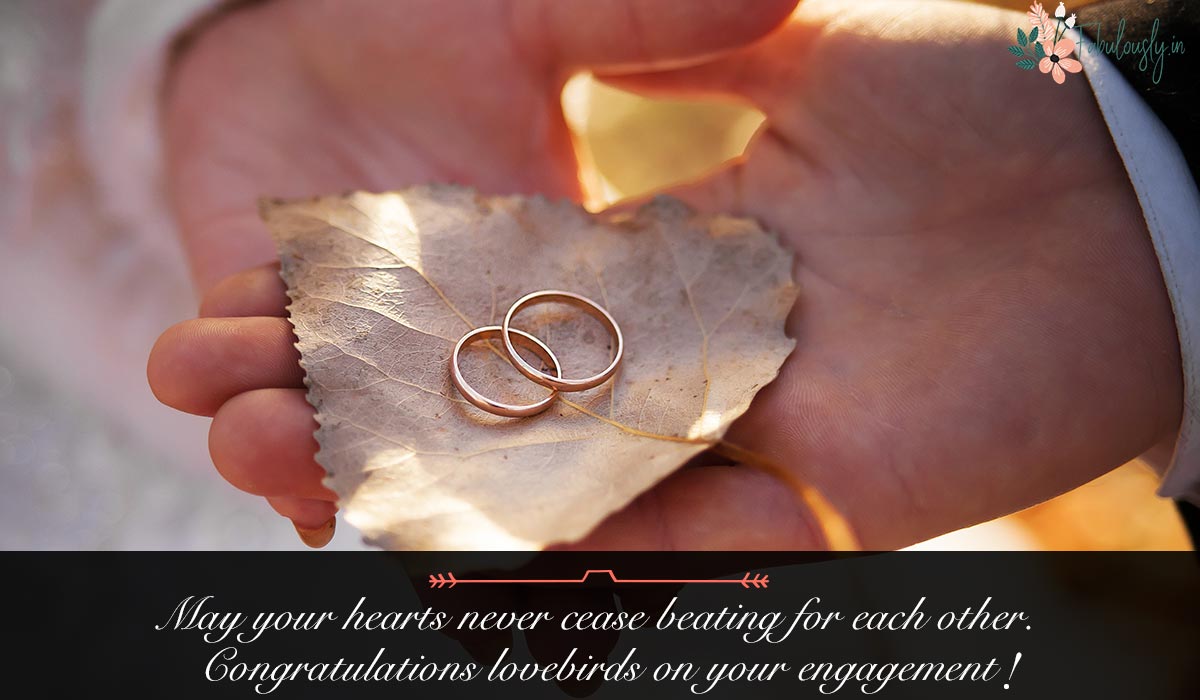 Happy engagement to my dear sister, whom I adore so much! May you have a wonderful future filled with hope and love & may all your dreams come true.
Lots of love to the best sister in the world & her even better fiance. May you have a marriage overflowing with love & happiness!
I've loved watching you grow up and be this beautiful person, & I can't be more excited for you as you start a new chapter of your life with your better half, (fiance's name). Congratulations!
You can also do your variation of these quotes because nothing says love like a quote from the heart!
How to put engagement status on Facebook?
After WhatsApp, the next place for the declaration of life events, birthdays, engagements, weddings, and even funerals these days, is Facebook.
Get ready to be wished by friends and family, long-time -no-see acquaintances and even strangers who somehow always manage to creep in!
If you are announcing your engagement status on Facebook, you can go a bit cheesy by opting for the below Facebook engagement statues.
He stole my heart, so it's only fair that I'm going to steal his last name.
I can conquer the world singlehandedly as long as you are by my side. Lots of love to you!
I'm the luckiest woman on the planet with the choicest ring on my finger.
You are more than I ever expected, dreamt of or imagined, together till the end of time.
We can't start over, but still, we can begin now, anew and make a new ending.
I chose you, & I will choose you. Now & ever again, Over & over & over without pause, without a doubt, in a heartbeat, I'll keep choosing you.
My name sounds just right with your name added to it.
If you are tagging your partner, remember to check that your profile picture is appropriate.
Avoid the awkwardness, make it special with syncing pictures on your profiles!
How to write a brother's engagement status?
Little sisters are the most excited when their bothers get married or engaged.
Make your love known and treat the new sister-in-law to- be to a surprise with your status. It's your brother so you can be as loving and silly as you want to be!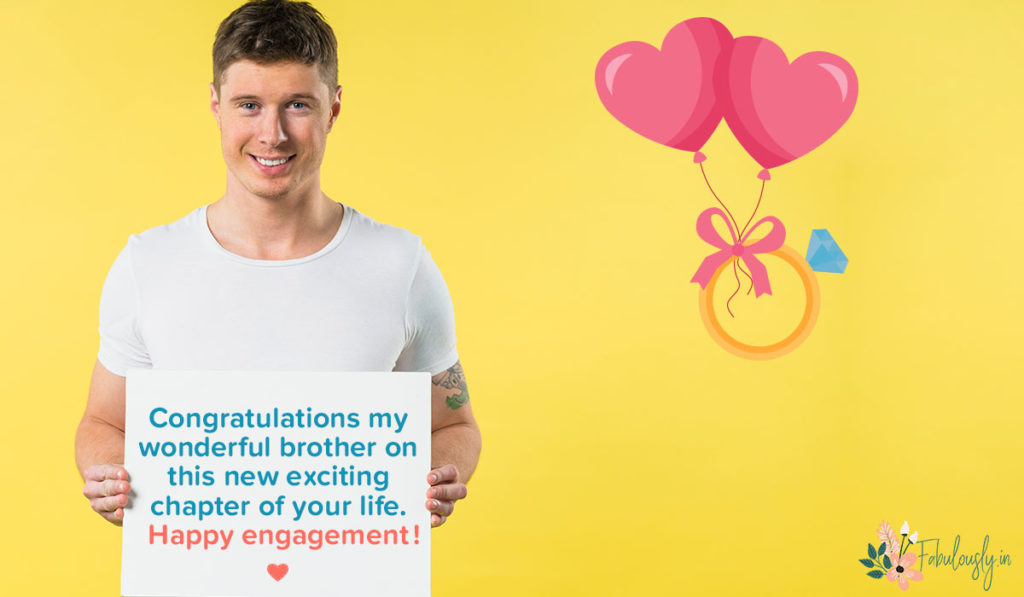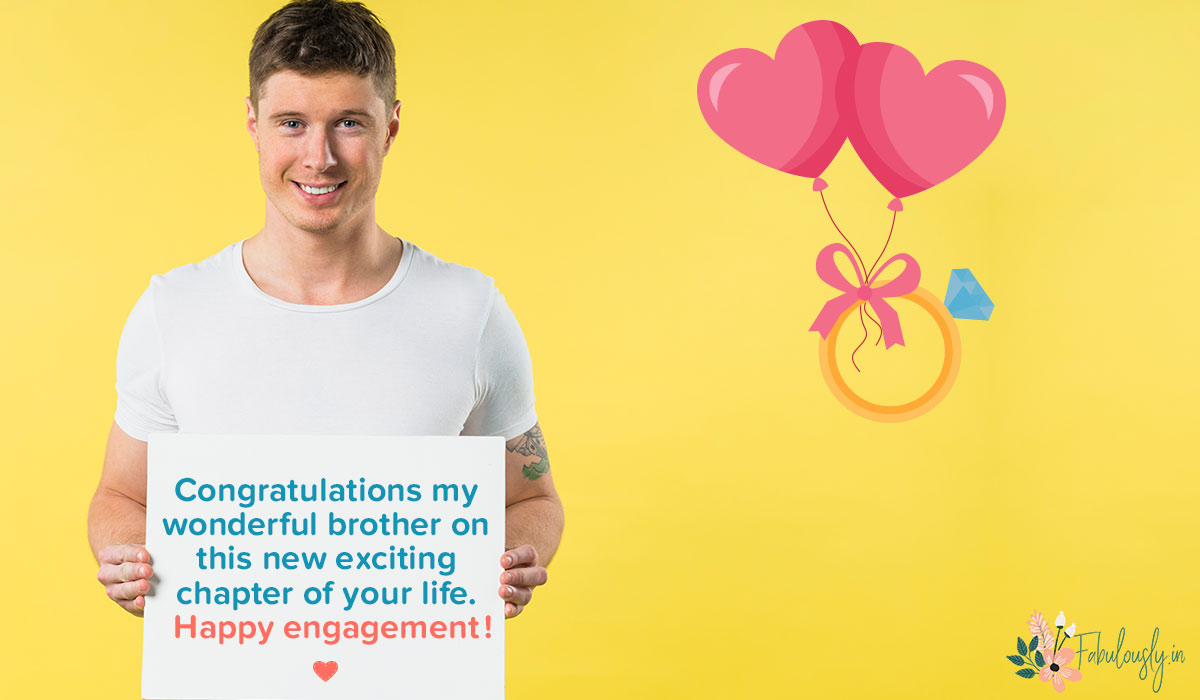 Congratulations on the engagement! I can't wait to watch your love blossom, and you bloom into a great family like ours.
Wishing you tons of wonderful times and togetherness today and for the years to come. Happy engagement, my sweet brother!
You've always been an amazing brother, so today, on your engagement day, I wish you nothing but the best in life with your lovely fiancé by your side. Happy engagement to you!
May you always have each other no matter what happens. Congratulations on your engagement Lil one.(source)
How to post engagement status on Facebook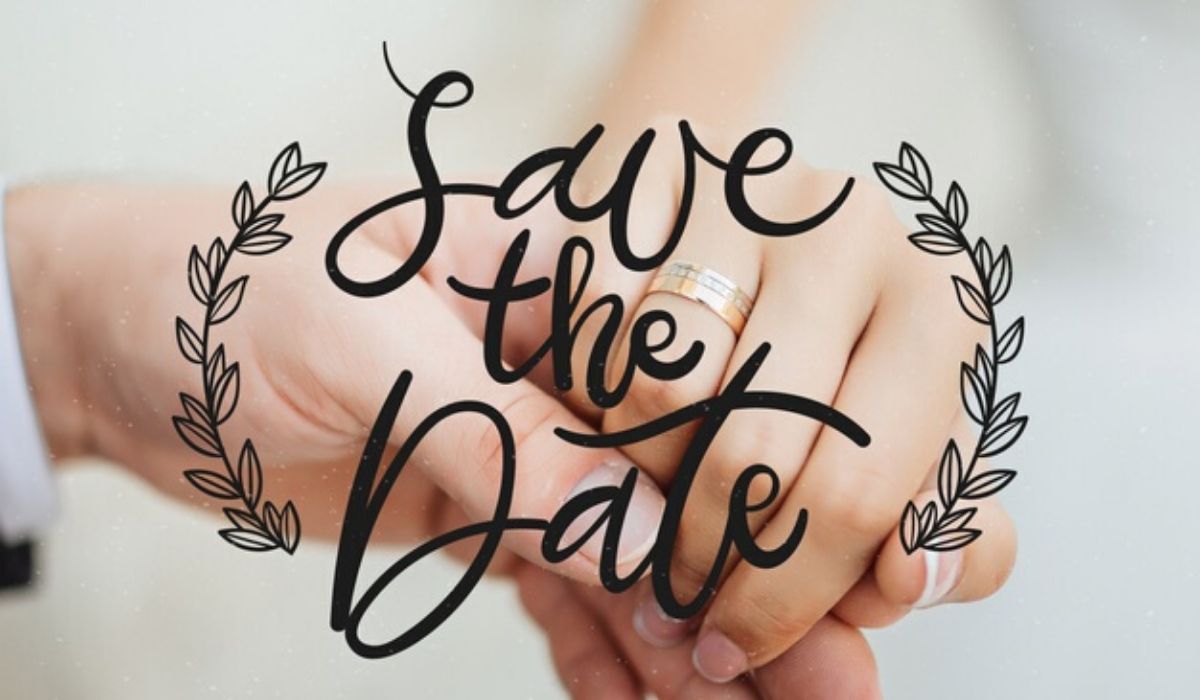 You just got engaged but you are unsure of how to declare your joy on social media.
Also, you may be worried if it would sound too awkward or too under-excited.
Here's how you post a Facebook status that sounds flattering, happy and strikes the right balance!
Time needed: 4 minutes
How to post engagement status on Facebook – For the avid Facebook user
Open Facebook

Open Facebook and on the top bar, click your name displayed on the top right.

Go to About

Go to About, and find the Family and Relationships button(usually found  in the left column)

Add your relationship status

Here, click Add your relationship status. You can also hover over your relationship and then click Edit.

Add the name of the person you are in a relationship with if you want to

Now Choose your relationship status from the preset menu. Depending on your status and if you are interested, you can add the name of the person you're in a relationship with. You can also set your anniversary here.

Set privacy settings as per your comfort

If you are selective about who should see it, Facebook lets you use the audience selector to choose who all you want to share this status with. Isn't that convenient!

Save and hola! you are done!

At last, hit Save Changes and you are done.
Only then is the life event displayed for your audience!
Conclusion
Updating statuses on social media is akin to a formal declaration of your engagement. So don't be shy to put words to your love.
The thing to remember is the kind of audience on each platform because you don't want to sound super cheesy on Whatsapp, where your traditional aunts and uncles are! You can choose our fine quotes to make your engagement day and your love for each other known.
Also, arm yourself for the deluge of phone calls and messages of congratulations and queries about your fiance almost immediately.
But no worries, who doesn't love a little attention once in a while!