Jewellery shopping for your wedding is indeed a hectic task and requires full attention. Trends are changing every year whether it's for gold, diamond, platinum, ruby or pearls. The fashion industry occupies the most dominant position while talking about the latest women's fashion inclination.
Bridal Jewellery is one of the most awaited ornaments for the wedding day. Your wedding day is the most special day of your life. It involves so many emotions and feelings. You want everything to be perfect for that day. It demands for a lot of preparations and the most daunting one is opting for the best jewellery. Every bride needs a unique collection for her.
You only get one chance to choose the best wedding jewellery which you will adore all your life. After all, no bridal look is complete without the right jewellery. To choose the best modern wedding jewellery designs, we are here to help you.
How is jewellery shopping different for the modern bride?
The modern bride doesn't choose her jewellery the way generations before her chose. It isn't something you wear once or twice in your life and then keep in the locker for safety. Today's bride looks at jewellery in terms of suitability and design. Modern wedding jewellery designs can add a contemporary touch to your bridal wear and help you turn heads for the right reasons. Most brides now purchase two to three smaller sets, which they wear together on the wedding day, but separately for other occasions.
Forever pieces!
In addition, they ensure that the accessories they team up with, be it bangles, earrings, necklaces, etc. are designed in such a way that they stand out individually as well.
What are this season's biggest MODERN wedding jewellery DESIGN trends?
This season's biggest bridal looks are definitely diamond chokers and cuffs. Investing in a sparkling statement (or two) piece for the aisle is totally worth it.
Pearls :
Pearls can never go out of style. They have always been a constant favourite jewellery for all the brides. They balance your entire look with royalty and go well with all skin tones and wedding gown colours.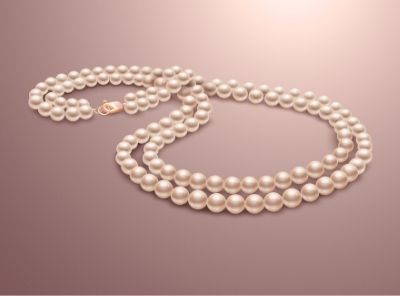 Necklaces:
Necklaces always grab attention. Shiny necklaces help to enhance your entire bridal look and are easy and comfy to carry in any season. They can give you a variety of looks from simple and understated to perky and also add bling to your shining personality.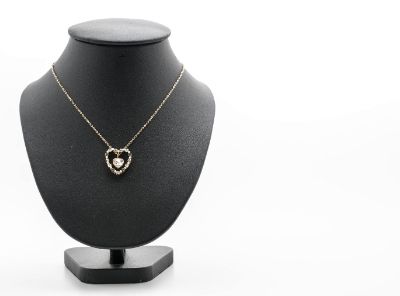 Earrings:
They should be equally sparkly, but somewhat lighter in design to avoid looking too gaudy. With typical diamond or pearl wedding jewellery, a pair of elegant drop bangs will highlight the rest of your accessories.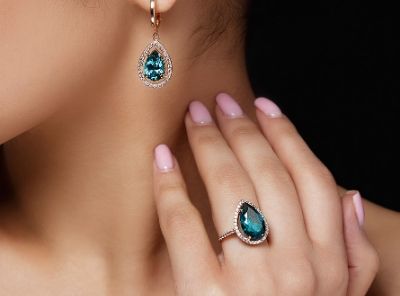 Multicolored stones:
Opt for colours that celebrate the season and add a dimension to your outfit. Coloured stones and gemstones in various settings will uplift the outfit and add a splash of colour.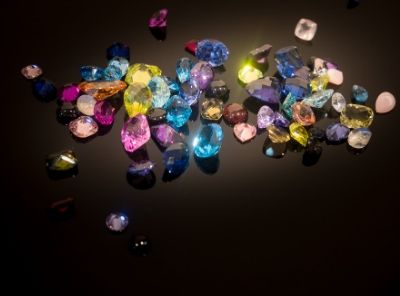 Cocktail ring:
Cocktail rings have been in fashion for so long. They can be spotted on girls at parties and are eye-catching, especially if the rest of the jewellery worn remains light. One of the reasons why many brides love to flaunt cocktail rings is because they add glamour subtly, and when worn on a delicately manicured hand, the result is more than eye-catching. The more intricate the design, the more designed the ring.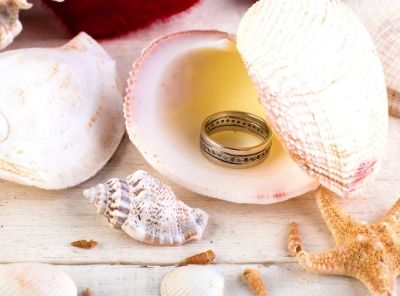 Chokers:
From contemporary to classic, traditional to fashionable, all kinds of chokers are trending highly these days. They are considered being the most desired jewellery of the year.
Bridal jewellery not only enhances a bride's attire but also her beauty. Modern wedding jewellery designs are a perfect match for all brides. The royal look and trendy design would surprise everyone and leave people in awe. Sharp column gowns and minimal silhouettes look best when paired with edgy accessories like bold gold cuffs or dainty links that feel modern yet timeless.
Wedding jewellery is a huge investment and it is going to be with you for lifetime. Look around, research, listen to the experts and then do the shopping.
FAQs:
1. How do I get inspiration for jewellery design?
a) Look around and see what's trending. It's important to keep changing according to the trends.
b) Try to sketch the jewellery you think will go with your outfit and your neckline. Buy accordingly.
c) Look back in time. Old is gold, whether its dress or jewellery. You can alter the old jewellery to match with the trend and you are ready.
2. Does bridal jewellery have to match the outfit?
No, you need not to match it with your wedding outfit. Wedding jewelleries can be worn on different occasions too, if you pick the right one. Go for detachable jewellery sets. Mostly modern jewellery is designed in a way that you can wear them on different occasions. They have layers that can be used for different functions and parties. You need not to buy the same colour of jewellery as your wedding outfit. You can choose other colours that can go with your wedding outfit as well as can complement other outfits too.
3. How do I pick a wedding jewellery?
a) To pick up the best wedding jewellery, consider the following points:
Choose the necklace that matches with your neckline. If you have a long neck, you can go for chokers, but if you have a small neck, you can go for long neck pieces.
b) Earrings should match the hairstyle. If you are thinking of making a bun, go for heavy earrings, but if you want your hair down and on the sides, go for small and light earrings.
c) Take your mom's jewellery, alter it a bit according to the trend and wear it at your wedding. It will give a classy and aesthetic look.
d) Go for detachable jewellery sets. Modern jewellery comes with layers. You can use those layers for different occasions.
e) Avoid multiple colours in the jewellery. Go for single- coloured ornaments. They provide a decent look.
f) Keep the jewellery highlighted. Jewellery garnishes the look and adds spark to your dress. Choose the jewellery accordingly.
4. What are the mistakes you should avoid while choosing the bridal jewellery?
a) Don't overdo it. Just because it's your wedding jewellery, doesn't mean you need to overdo it. Make it simple and decent.
b) Avoid last-minute shopping. Make sure you have enough time for shopping. Bridal jewellery is not just another accessory. Like with the shoes, the jewellery ties the whole look together, so make sure you go well in advance so you can look for what you really want, and can compare prices. If you want anything you should expect it to take a while, up to 3 months.
c) Buy nothing cheap. Quality lasts a lifetime.
d) Consider your neckline before buying anything. Just because you like it doesn't mean it will suit you.
5. How to tell if the diamonds are real without testing it?
To know if the diamonds are real, place the diamond in front of your mouth and fog it up with your breath, the way you do in mirrors. If the diamond stays fogged for a few seconds, then it is fake. A genuine diamond won't fog up easily since the condensation doesn't stick to the surface.