Often when people begin their hunt for a diamond engagement ring, they come across a common term, SOLITAIRE. And this makes them wonder, "What is a solitaire diamond"? So, without further ado, let's know more about what a solitaire ring is.
Diamond Solitaire Rings
A diamond solitaire is any jewellery that has only one diamond. Hence, a solitaire ring has a single diamond (or any gemstone) without any diamonds or pave diamonds on the ring band or the sides of the shank of the ring.
Diamond Solitaire rings have symbolized engagements for many years. No matter what's trending, their style stands strong. And why not? These are an epitome of classic beauty, simplicity and elegance that you won't find in any other ring setting.
What is the difference between solitaire and diamond?
There has always been a confusion when Jewellers use the terms, solitaire and diamond interchangeably. However, the two have distinct meanings. While the term 'Solitaire' refers to the gemstone setting, 'diamond' is a type of gemstone. Putting them together, diamond solitaire is a single diamond gemstone set into a ring (or earring, necklace). An interesting thing to note here is that a solitaire setting can have a diamond. But, not every diamond is a solitaire.
History of Solitaire Rings – What's a solitaire ring
Solitaire diamond rings have been popular for as long as rings have existed. Diamonds studded in plain gold bands were popular in Ancient Rome. The trend remained high until a boom in the 1940s made solitaire sales skyrocket.
After the Great Depression and World War II, troubled diamond professionals decided to boost diamond sales in America. Since diamonds had been popular among the rich before, diamond producers began to produce smaller diamonds that they could sell to more people.
In 1948, De Beers, who was the industry leader then, decided to boost diamond sales amongst the American middle classes. During this time, De Beers launched their marketing campaign with a 4 words slogan "A Diamond is Forever". Soon, it started catching the eyes of people. Sales boomed and solitaire rings were an instant hit. And.. the rest is history!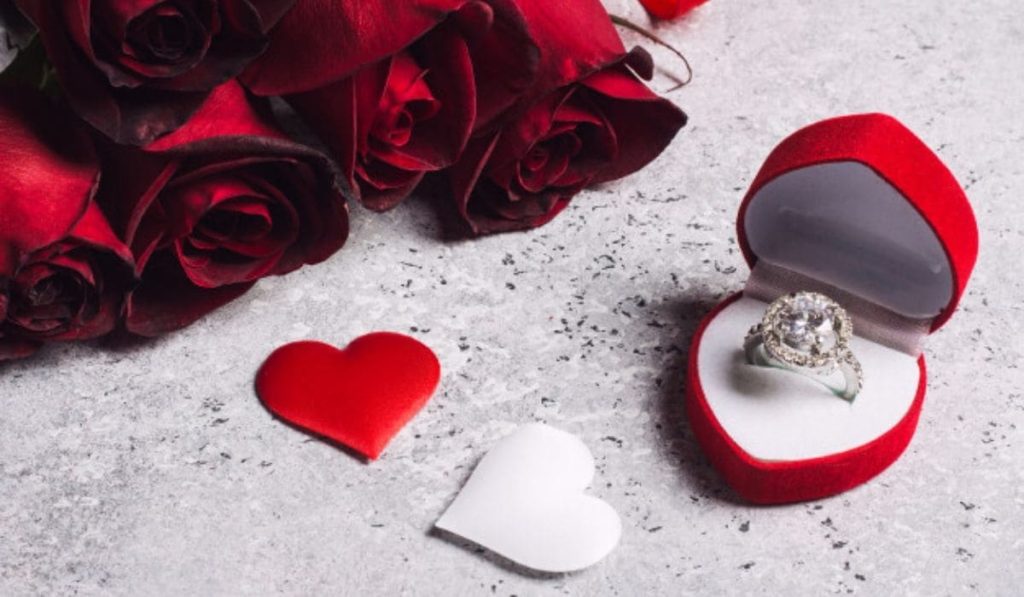 Diamond Solitaire Rings Features
Let us take a look at what are the features that make diamond solitaires a desire of every fashionista and brides-to-be.
Diamond Size
It is a misconception that diamond in a solitaire engagement ring must be big to enhance its overall look. However, this is not the case. There are certain other considerations that make your centre stone look big adding to the overall look of your solitaire ring. This brings us to our next characteristic -brand size.
Band Size
A smaller diamond paired with a thinner band makes the diamond appear big. Further, to add intricacy and depth, one can use a two-toned or etched band. This solitaire ring design will draw attention to the ring as a whole rather than just the gemstone or diamond.
Shape
Solitaire rings aren't just made in round shape. Although, it is the most preferred shape among the ring buyers. There are many other diamond shapes that can create a beautiful solitaire ring with just a single stone. For instance,
Emerald, oval-shaped, pear, and marquise-shaped stones elongate the central diamond making it appear larger than it actually is.

A trillium-shaped or heart-shaped stone is eye-catching because of its uniqueness. It highlights the shape by minimizing the stone's size.
Metals
To add elegance and beauty to the diamond solitaire ring, you can create a two-tone ring. Besides, you can also use a higher-quality metal than the standard 14-karat gold. It will emphasize the band as a part of the ring just like the stone. Thus, you can choose:
Higher grades of gold, such as 18K.

White gold and platinum – for a monochromatic look.

Copper or brass for two-toned rings

Rose gold
Popular Diamond Shapes in Solitaire Engagement Rings
There are many different styles of solitaire engagement rings based on the diamond shape. Here's a list of the most popular solitaire diamond shapes.
Round Solitaire Engagement Ring
A brilliant round cut diamond is the most popular shape for a solitaire engagement ring. It has captivating brilliance which makes it a timeless choice that will never go out of style.
Princess-Cut Solitaire Engagement Ring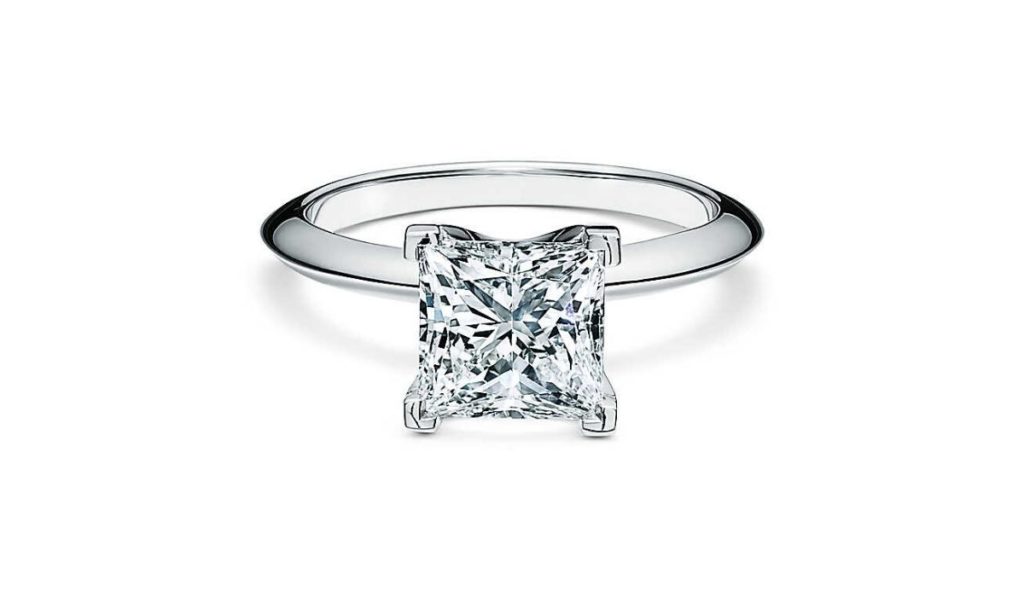 A square princess-cut diamond is popular for its sophisticated design. So, when you are shopping, look for sharp edges to avoid any confusion between cushion-cut and princess-cut.
Emerald Cut Solitaire Engagement Ring

– Diamond solitaire rings

These diamonds are cut in rectangular steps with parallel facets. This gives the diamond a shiny, elegant look.
Oval Solitaire Engagement Ring
These are quite similar to the round cut solitaires but are elongated to form an oval shape. Oval shaped diamonds are popular for their vintage look. Moreover, choosing a longer stone can make your fingers appear slim and longer.
Marquise Solitaire Engagement Ring – Diamond Engagement Ring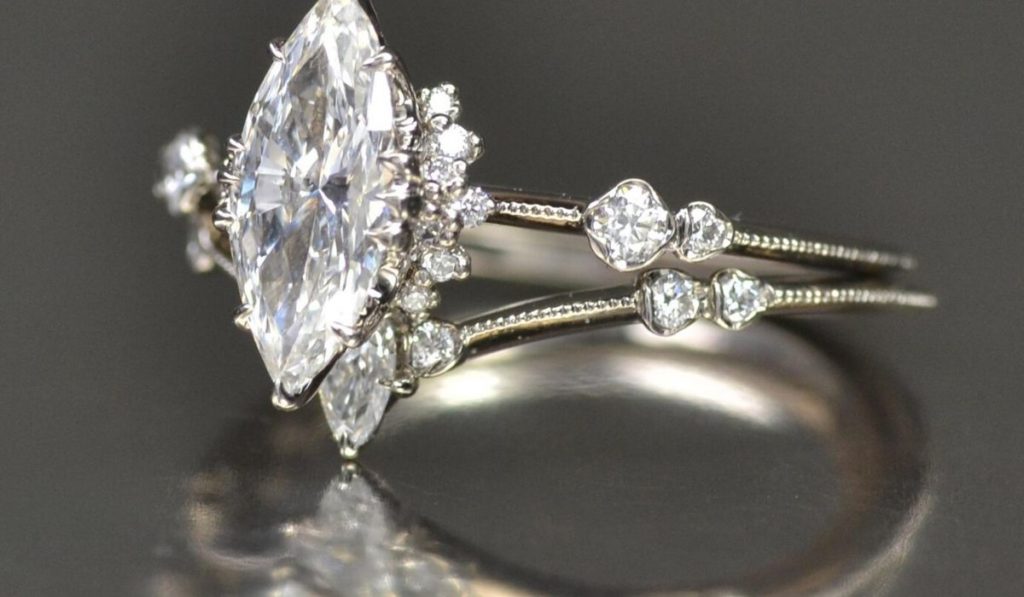 A diamond is cut in a way to give a curvy, elongated shape. The stone has pointed edges and is round at the centre.
Asscher-Cut Solitaire Engagement Ring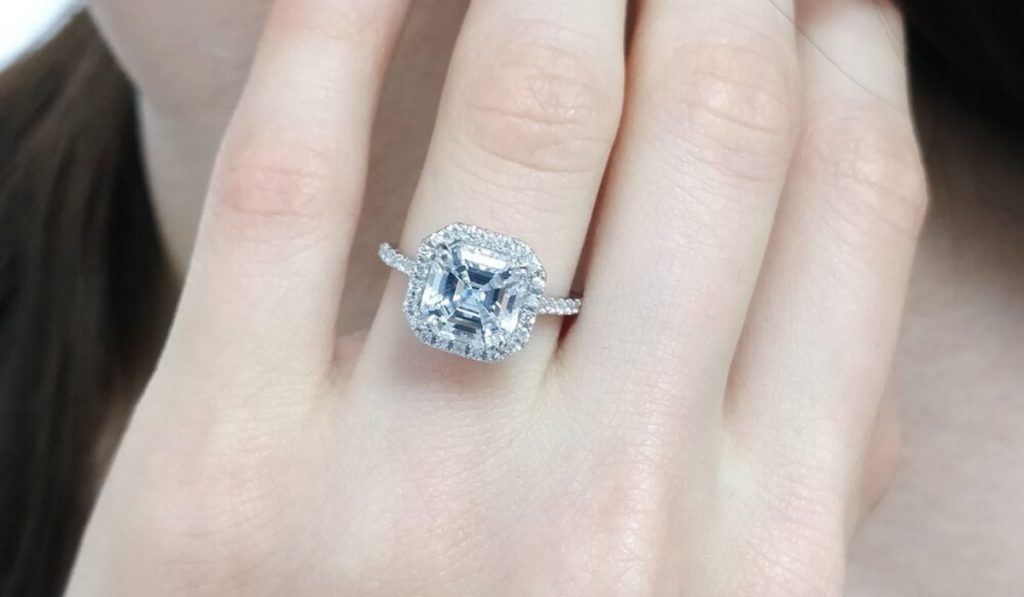 Buyers often recognise Asscher-cut diamonds as a variation of cushion-cut. However, it is actually closely related to the emerald-cut with truncated sides that gives it a square shape.
Cushion-Cut Solitaire Engagement Ring – Solitaire Diamond
It is a square, pillow-shaped diamond that has gained widespread popularity in recent years. It's sparkle and sophisticated shape has made it a top choice for many celebrities for their solitaire engagement rings.
Popular Solitaire Settings for Every Shape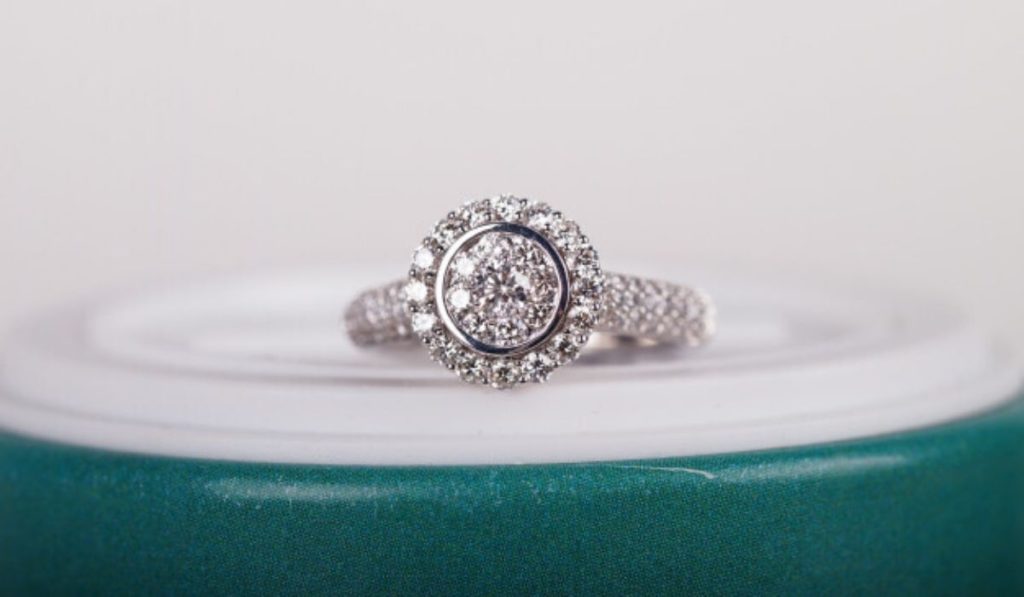 Solitaire settings are a perfect fit for any diamond shape. It is because of their classic design and secure support. Irrespective of the shape and size of a diamond, the prongs of a solitaire ring keep the diamond secure at its place.
Check out the different designs and prong layouts commonly used for solitaire rings.
Split Shank Solitaire Setting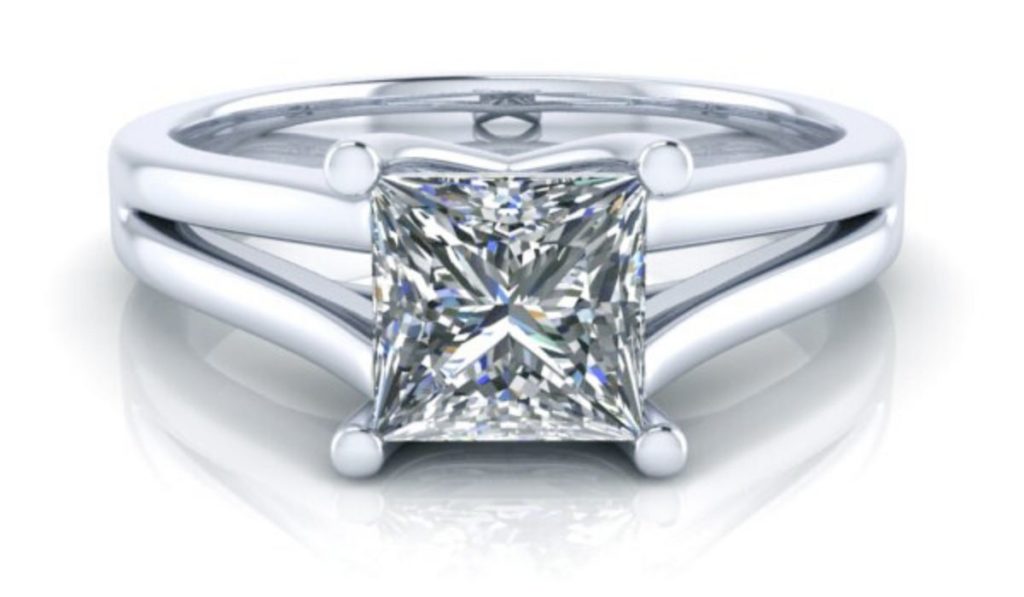 This type of diamond setting has a shank that splits in two as it reaches the centre stone. This setting can make the ring stand out by emphasizing the diamond.
Cathedral Solitaire Setting
Also known as a "high-profile" diamond setting, it has an arched design, which is similar to the cathedral roofline. This holds the centre stone high above the ring. Cathedral setting makes the diamond look as if it's floating above the ring band.
Knife Edge Setting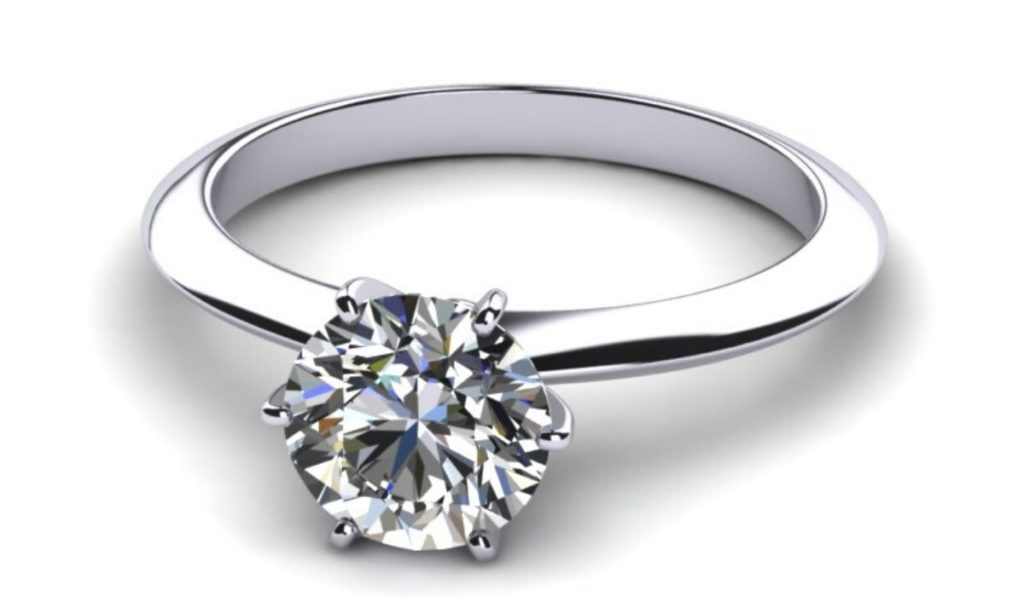 This setting has edges forming a point in the band centre. It gives a more angular appearance that draws all the attention to the centre stone.
Tiffany Setting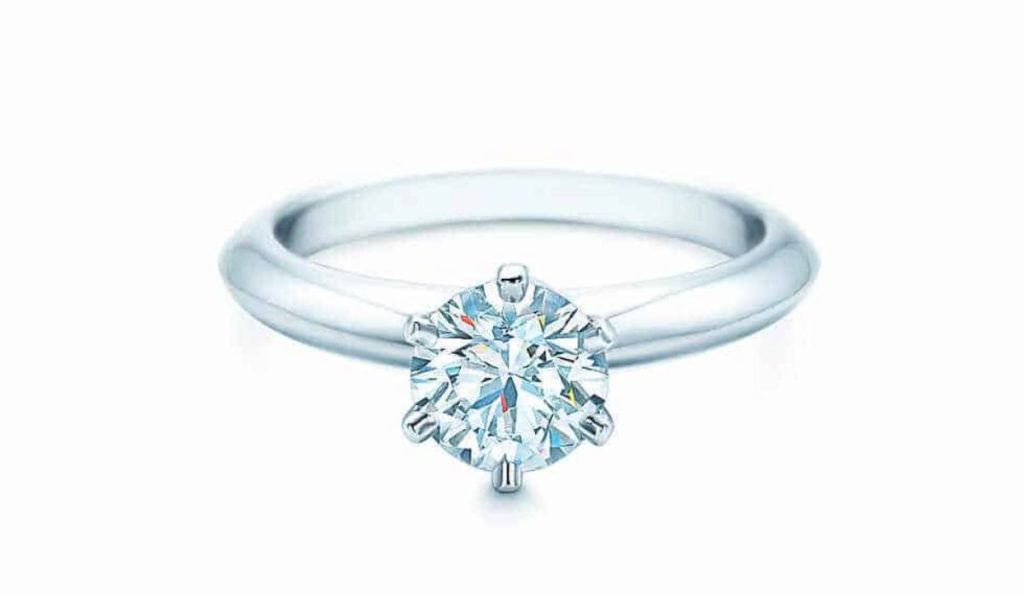 It is one of the most famous solitaire ring settings. As the name suggests, the famous Tiffany & Co are the designers of this setting. It uses a special six-prong design, which increases the amount of light reaching the centre diamond. The Tiffany setting uses a knife-edge along with the six thin prongs, which expose the diamond giving it the brightest possible sparkle. However, Tiffany & Co. have trademarked the original prong design. This means that the only place you can buy a "Tiffany" solitaire ring is from one of their stores.
Four and Six-Prong Solitaire Settings
The centre diamond remains at the place because of several small prongs. These prongs extend out from the ring band.
PROS AND CONS OF A SOLITAIRE RING SETTING
When it comes to buying a solitaire ring, one looks for a ring that matches the style of your significant other. You consider their lifestyle and that the diamond is relatively easy to maintain while buying a solitaire ring. To make your job easier, here we have listed the pros and cons of a solitaire setting you must consider before making your final decision.
Pros
Having a single diamond in the centre makes the ring more noticeable.

The solitaire setting allows a significant amount of light to pass through the centre stone. This, in turn, increases its fire and brilliance.

A solitaire setting complements a variety of diamond shapes and sizes.

Provides a classic, timeless look.

These are usually easy to clean and maintain.
Cons
Diamonds in a solitaire setting can snag on clothing, furniture, and other materials, particularly if the diamond is set high. Hence, we suggest buying a lower-set prong for the wearer with an active lifestyle.

Though not often, prongs in this setting may loosen over time. Hence, we suggest you get the prongs inspected every two years (at least) to ensure diamond safety.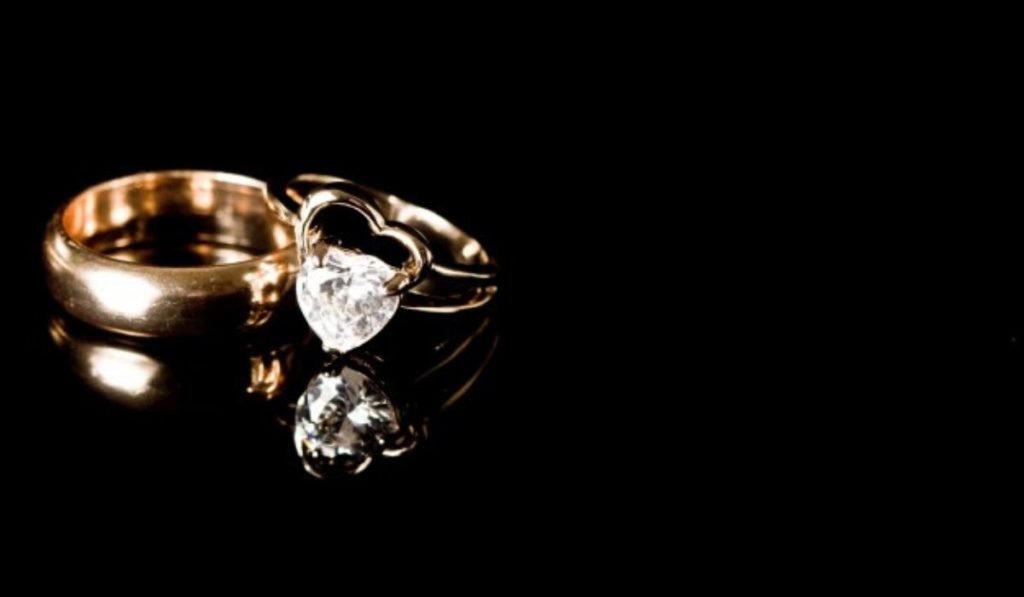 Conclusion
In recent years, the diamond industry has offered us many new ring styles for us to choose as per our personal preferences. Despite growing trends, many women prefer the timeless elegance of solitaire rings. Though there are certain limitations in terms of design using a single stone puts on, it is still possible to create a stunning solitaire engagement ring. It won't be wrong to conclude that a traditional solitaire is a symbol of the couple's enduring love as well as of a superior and classic lifestyle.
Frequently Asked Questions
Is a Solitaire Diamond Expensive?
Yes, a solitaire diamond is expensive.
Which is more expensive – solitaire or diamond?
A single diamond that weighs more than 0.30 carat is a solitaire. Hence, a single diamond costs more than several diamonds together that weigh equivalent to the single piece. This is because large single diamonds are usually rare. Moreover, smaller pieces can be easily made out of small rough pieces, which are in plenty.  
What is a Solitaire Engagement Ring?
Any ring setting with a single gemstone, say a diamond, is a solitaire engagement ring. 
How is Solitaire different from diamond?
Solitaire is basically a type of gemstone setting, wherein a single stone is mounted on a piece of jewellery. On the contrary, a diamond is a type of gemstone.