Diversity in our cultures and ethnicities makes our world a wonderful and beautiful place. Beauty comes in all shapes, sizes and colors. In honour of Black History Month, let us appreciate the bold, strong and beautiful black women whose presence illuminates the world.
The world loves these women. They give girls and women around the globe inspiration to stand up and fight for their rights. These black women have stood their ground and did not let anything deter their spirit.
The list does not rank these women. They are all beautiful black and extra-ordinarily accomplished women. From Zoe Saldana to Tyra Banks, here is a list of talented and gifted beautiful black women.
Beautiful Black Women
Today's women are extremely accomplished, be it in the field of acting, music or business. For you, we have a list of such exceptional beautiful black women, who make the world bow in front of them.
So, without further ado, let's dive in the list of such out of the ordinary black women.
Beautiful Black Actresses
1. Letitia Wright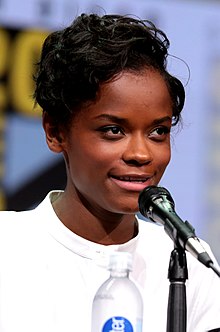 Wright is a Guyanese-British actress. You might better know this African-American beauty for her role as Shuri in Black Panther. She began her professional career in 2011. Wright has starred in several British drama series.
She has even starred in Black Mirror's episode Black Museum for which Wright received a Primetime Emmy Award. Wright is all set to reprise her role of Shuri in the coming Black Panther movie.
With the demise of Chadwick Boseman and MCU promising that they wouldn't recast the role, fans speculate that Shuri might be the next Black Panther. (Source)
2. Lupita Nyong'o – One of The Most Famous Black Women Actors
Lupita Nyong'o is a Kenyan-Mexican actress. She embodies the words black is beautiful. Nyong'o started her career in Hollywood as a production assistant. She made her acting debut in 2008 with the short film East River.
Lupita played the role of Nakia, a spy for the famous MCU film Black Panther. For her role in Black Panther, she learned the language Xhosa. She also undertook judo, jiu-jitsu, silat and Filipino martial arts training for the position. The movie became the 11th most grossing film of all time.
Lupita is involved with the Mother Health International organization. The organization works to provide relief to women and children in Uganda. In 2016, Lupita launched an anti-poaching campaign for the wildlife.
Nyong'o made her writing debut with Sulwe. The book talks about a family wherein the darkest daughter gets bullied. (Source)
3. Zoe Saldana – One Of The Hottest Female Actors
Accomplished and beautiful black women list cannot be completed without Zoe Saldan. Zoe Saldana is an American actress. She started her career with the theatre group Faces. She has acted in many movies, but her role in Avatar and her portrayal of Gamora in the Marvel Cinematic Universe is one of the most noteworthy.
As Zoe Saldana has appeared in three of the five highest-grossing films of all times, she is the second highest-grossing actress of all times. The three highest-grossing movies of her are Avatar, Avengers: Endgame and Avengers: Infinity War.
Zoe Saldana is a supporter of the microfinance organization, FINCA International. (Source)
4. Rosario Dawson
Rosario Dawson is not only an American actress but a voice artist, producer and activist too. She emplaces the word beautiful black woman like no other. Rosario Dawson debuted in 1955 in the controversial independent drama Kids.
She was featured at #19 in "Hot 100 of 2002″ in Maxim Magazine. Dawson has starred in several movies and Tv series. Dawson has mentioned in her interviews that she is a Star Trek Fan.
She is best known for her active involvement in politics and Philanthropy. Rosario Dawson is a hardcore Democrat. Over the years she has vocally supported Barack Obama. She was arrested in 2004 when she was protesting against George W. Bush.
Rosario Dawson supports multiple charities including, Global Cool, Operation USA, Amnesty International, Families and Friends of Lesbians and Gays and many more. (Source)
5. Gabrielle Union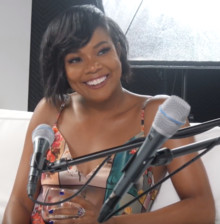 Union is an American actress, author, activist and voice artist. Union began her career in the 1990s as a sitcom actress. She then moved to support roles in movies. In 2000 she finally got her breakthrough with Bring It On. She has been unstoppable ever since.
In 2008, Union endorsed Barack Obama in his presidential campaign. After he became president, Barack Obama, appointed her to work with the National Advisory Committee for Violence Against Women.
Union announced her first book in 2017, a memoir, titled We're Going to Need More Wine. The book features short stories discussing a wide range of topics.
In 2020, Union released her first children's book named Welcome to the Party. (Source)
6. Aja Naomi King – One of The Best Looking Actresses
Aja Naomi King is the embodiment of the words "black beautiful". King is an African American actress. She began her acting career with small guest roles on television talk shows.
Aja Naomi King was recognized her role of Michaela Pratt in legal drama series, How to Get Away with Murder. Aja Naomi King received an NAACP Image Award for her performance in the show. (Source)
7. Kerry Washington – One of the Sexiest Black Women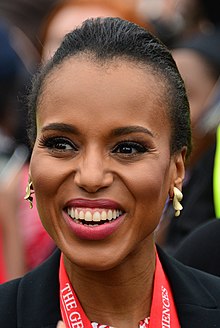 You cannot miss Kerry Washington while listing beautiful black women. Kerry Washington is an African – American actress and producer and director. She gained wide public recognition for her role of Olivia Pope in the famous ABS drama series Scandal.
Washington is an activist and a Democrat supporter. She strongly supports the rights of the LGBTQ community. Washington is an active member of the Creative Coalition. Creative Coalition is a board of artists of different fields who discuss the issues of the common public.
She is a member of V-Day. V-Day is a movement which stands for fight against violence against women and girls. (Source)
8. Viola Davis – The Queen Of Acting
Viola Davis is an African – American actress and producer. She started her acting career by taking up small roles in the local theatre productions.
She is the only African American actress to have won an Academy Award, a Tony Award and a Primetime Emmy award, i.e. the "Triple Crown of Acting". Viola Davis is also the first African American actress to have won five Screen Actors Guild Awards.
In 2012 and 2017, Time Magazine named her in their "100 Most Influential People in the World" list.
She is a philanthropist and has made donations for libraries and schools. She also supports and donates to the Hunger Is campaign, which works to eradicate hunger across the USA. (Source)
9. Taraji P. Henson – One of the Most Gorgeous Black Women
Taraji Penda Henson is an African – American actress. Henson started her career with small roles and appearances in talk shows. She got her breakthrough by the movie Baby Boy.
Henson received multiple accolades including an Academy Award for her role of a single mother in David Fischer's The Curious Case of Benjamin Button.
In 2015, Henson won the Critics Choice Television Award in the Best Actress category in a Drama series. She became the first-ever African American actress to win the award. Her 2016 movie, Hidden Figures, was a booming box-office success. (Source)
10. Regina King – The Emmy Queen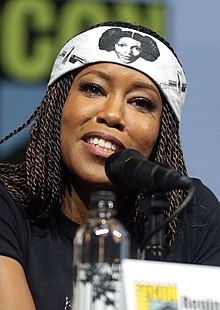 Rene King is an African American actress and director. She brings the words beautiful black women to life. King has received many awards and accolades over the years including an Academy Award, a Golden Globe award and four acting Primetime Emmy awards. No other African American performer has won four Emmys.
In 2019, Time magazine named King as one of the world's 100 most influential people. (Source)
Sexy Black Women Singers
11. Rihanna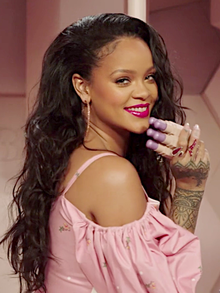 She doesn't need any introduction. An American singing sensation. She hails from Barbados. Rihanna is not only a singer but an actor and businesswoman too.
She was discovered by Evan Rogers, an American record producer. Rogers invited her to the USA for recording demo tapes. She has won many awards and accolades over the years.
Did you know she won her first Grammy for her famous song Umbrella. She currently holds 9 Grammy Awards, 12 Billboard Music Awards, 13 American Music Awards, 8 People's Choice Awards and 6 Guinness World Records. (Source)
12. Beyonce – The American Heartthrob
Beyonce Giselle Knowles-Carter is a woman of many talents and an African American idol. She is a singer, songwriter, record producer, dancer, actress and businesswoman.
She is the inspiration for girls around the globe. Even as a child, Beyonce knew what she wanted and participated in multiple singing and dancing competitions.
Fame embraced her 1990s when she became the lead singer of Destiny's Child, one of the best selling girl groups of all times. Her first solo album, Dangerously in Love, was featured in the top 4 out of 5 Billboard Hot 100.
Beyonce is a democrat and supported Barack Obama and Hillary Clinton in their election campaigns. She takes pride in calling herself a modern-day feminist. She strongly condemns police brutality against African American individuals and stands with the LGBTQ rights movement. (Source)
13. Alicia Keys – Singing Sensation
Alicia Keys is an African American singer-songwriter. Keys is a classically trained pianist. She began her career at a very young age. She began composing songs when she was just 12. By 15 years, she was signed by Columbia records.
However, her first album was released with J Records in 2001. Her first album, Songs in a Minor, earned her 5 Grammys in 2002 and ranked her in Billboard Hot 100.
Alicia Keys is the co-founder and Global Ambassador of Keep A Child Alive. It's a non-profit organization that provides medicines and orphan care to families suffering from HIV and Aids. The NGO is active in Africa and India. (Source)
14. Nicki Minaj
Nicki Minaj does not need an introduction. She is a sensational Trinidadian-American rapper, singer, songwriter, model and actress. She rose to fame for her colourful attires and wigs. Did you know, the real name of Nicki Minaj is Onika Tanya Maraj-Petty?
In 2010, Minaj released her first studio album Pink Friday. The album was certified triple platinum by RIAA(Recording Industry Association of America). Her song, Super Bass, made it to the Billboard Hot 100.
Minaj has sold over 100 million records worldwide and is considered as one of the most influential female rappers. (Source)
15. Cardi B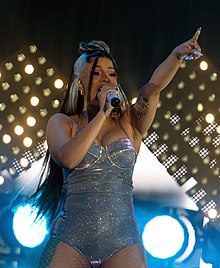 An African American rapper, songwriter, actress and television personality. She became a household name with her song Bodak Yellow hitting the Billboard Hot 100.
Her debut album, Invasion of Privacy, broke several streaming records and won her a Grammy for Best Rap Album. She became the first let alone black woman but only woman to win the award as a solo artist. (Source)
Sexy Black Girls – Models
16. Naomi Campbell – One of the Most Attractive Female Celebrities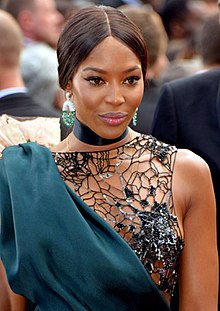 The list of beautiful black women cannot be complete without mentioning Naomi Campbell. Naomi Campbell is an English model, actress and businesswoman. She was discovered at a very tender age of 15.
Along with being a fantastic black model, Naomi Campbell has tried her luck in acting and singing. She is regarded as the most famous black model of her time.
She stands against discrimination. In her many interviews, she has said that though she may be famous and successful as her white counterparts, she does not make equal money. She has over and over again highlighted the bias that exists in the fashion industry. (Source)
17. Tyra banks
Tyra Banks is a woman of many talents. Banks is a black model, actress, singer, businesswoman, television personality and writer. Tyra started working as a model at the young age of 15.
Tyra Banks was the first-ever black woman or black model featured on the cover of GQ magazine. She featured on Sports Illustrated Swimsuit issue thrice, where once again she was the first woman of African American descent to do so.
In the 2000s, Tyra Banks was one of the world's top models. She was a Victoria Secret Angel from 1997 to 2005. (Source)
18. Jasmine Tookes
Jasmine Tookes is an African American model and a Victoria's Secret Angel. Tookes was not always a model. She was a gymnast for ten years. She tried her hand at volleyball and softball too.
Jasmine Tookes' mother is a celebrity fashion stylist. Tookes was discovered at the age of 15 when she was at her mother's boutique.
Tookes has been on covers of several magazines from different countries. She has featured in American, French, Italian, German and Spanish magazines.
She has walked for many brands ranging from Dolce & Gabbana to Prada and Tom Ford. (Source)
19. Chanel Iman
Chanel Iman Robinson Shepard is an American model of African American descent. She is a Victoria Secret angel. In 2000, Vogue Paris declared her as one of the top 30 models of the 200s.
She started her modelling career at the age of 12 with Ford Models. She has appeared in almost all high fashion brands ranging from Jean Paul Gaultier to Ralph Lauren.
No doubt, she is a beautiful black model, but she is highly involved in activism. She is attached to USAID (United States Agency for International Development) and advocates education. (Source)
20. Winnie Harlow
Harlow is a Canadian model of African American descent. She suffers from skin condition Vitiligo and is a public spokesperson for the same. Harlow starred in the 21st cycle of America's Next Top Model (ANTM). She was the first Canadian ever to be cast in ANTM
Harlow didn't win her cycle, but she left it promising Tyra Banks, the host, to become a Victoria Secret Model. In 2018, she came through on her promise and became a Victoria Secret Model. (Source)
Extraordinary- Extremely Accomplished Black Celebrities
21. Michelle Obama – An International Inspiration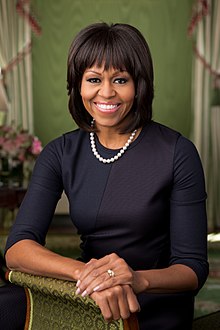 A lady of sheer grace, beauty and authority. She is an African American attorney and author. She was the first lady of the United States of America from 2009 to 2017.
Throughout 2007 and 2008, she campaigned for her husband- Barack Obama's presidential bid. She delivered a keynote address in 2008at Democratic National Convention.
She has delivered powerful speeches in 2012, 2016 and 2020 conventions. As the first lady Obama was a role model for women around the globe. She supports American fashion designers and is considered a style icon.
She works as an advocate for poverty awareness, nutrition, healthy eating, physical activity and education. In 2020, Obama topped Gallup's poll for the most admired woman in America for three years.
He has authored two books, namely, American Grown and Becoming. (Source)
22. Oprah Winfrey
Oprah Gail Winfrey is an African American actress, author, talk show host, producer and philanthropist. Her talk show, The Oprah Winfrey Show ran for 25 years from 1986 to 2011. She has been nicknamed as the "Queen of all Media".
Oprah became the wealthiest African American of the 20th century and North America's first-ever African American multi-billionaire. Winfrey has ranked as the greatest black woman philanthropist and quite a few times as the world's most influential woman.
In 1998, Oprah Winfrey founded Oprah's Angel Network. The charity supports non-profits by making donations and grants towards several NGOs around the globe. The charity was shut down along with the show in 2010. (Source)
23. Gayle King
Gayle King is an African American television personality and author. She is famous for being the co-host of NBS News' flagship program – CBS This Morning. She is the editor-at-large for the O, The Oprah Magazine.
In 2019, Gayle King was named one of the Time magazine's 100 Most Influential People. (Source)
24. Serena Williams – Queen Of The Court
Serena Williams is an African American professional tennis player. She was once the World No. 1 in women's singles tennis. She won 23 Grand Slam singles titles in lawn tennis.
In total, she has held the title of world's no. 1 for 319 weeks. She is the third woman just after Steffi Graf and Martina Navratilova. She has 39 Grand Slam titles, including 23 singles, 14 women doubles and two mixed doubles. (Source)
25. Simone Biles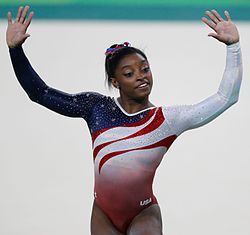 Biles is an African American artistic gymnast. She has a combined total of 30 Olympic and world championship medals under her fold. Biles is America's most decorated gymnast and third most decorated gymnast of the world.
In the 2016 Olympics, she won gold medals in three categories namely, All-around, Vault and Floor. A bronze in Balance Beam and a gold medal as part of the United States team. (Source)
Conclusion
Black is beautiful, and there is no denying it. These beautiful black women are just a few of the many who stood their ground and became sensational in the world. Their accomplishments are beyond bounds.
All the women in the world are amazing in their way. We could have had this list going on and on, but we needed to stop someplace.
What do you think about these women? Do you have a story of yourself that would inspire? Let us know in the comments below.
FAQs
Name a few hot black women singers.

There is no denying that black is beautiful. A few black women have defied all odds and have come out strong. A few of those beautiful black women are Nicki Minaj, Doja Cat, Alicia Keys, Beyonce, Rihanna, Diana Ross, Mary J. Blige, Janet Jackson, Missy Elliott.

Name the most hot black girls models.

Victoria Secret is famous for picking up the prettiest and hottest girls to walk for them. Here are a few models who are of colour and have walked for Victoria Secret: Winnie Harlow, Jasmine Tookes, Chanel Iman, Jourdana Phillips, Duckie Thot, Shanina Shaik, Cheyenne Maya Carty.

Who are the hottest female celebrities?

Zoe Saldana and Lupita Nyong'o are undeniable one of the few rare beauties. Their talent adds to their beauty and makes us all go gaga over them.

Which are the most famous black actresses?

Halle Berry is one of the pristine beautiful actresses we all are bedazzled by. Viola Davis, Taraji P. Henson, Angela Bassett, Regina King, Jada Pinkett Smith, Kerry Washington are just a few of the lost list of accomplished and extremely talented black actresses.

Who is the hottest black girl celebrity?

Zendaya is a young woman actress and there is no denying her talents. Her show, Euphoria, is winning hearts around the globe. She has also become famous for her role in MCU's Spiderman, playing the role of love interest of Spiderman.